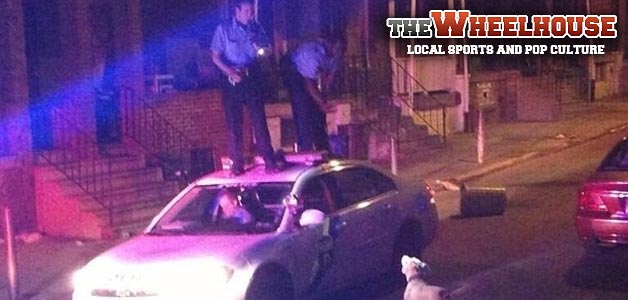 Early in the weekend, the internet was gifted with this image of a pair of Philadelphia police officers taking a stand against a rowdy local dog [h/t ster1ing via Reddit].
Florida responded with the following image, proving that no matter how many vicious the stray dogs are roving our neighborhoods, things could always be a lot worse.
[h/t ninjafaces via Reddit]
THEY BLUE IT
Well, it finally happened, and the Phillies were touched by all those terrible umpiring stories we've been reading about all season long. So naturally, now it's a serious problem.
The Brewers' Jean Segura dropped the ball during a pickoff play Saturday, and pinch runner Kyle Kendrick was beaten back to the bag. However, Segura clearly dropped the ball, deceived the umpire enough to get the call, and then strutted around second base with a stupidly arrogant grin on his face.
Fortunately for the Phillies, Dom Brown kept trying to make it all better.
[h/t Crashburn Alley]
A MESSAGE FROM THE LAW OFFICES OF BARRY ZUCKERCORN
Whatever we did this weekend, remember it, because whatever it was, we really impressed Henry Winkler.
Philly here I come PATS Cheesesteak here I come Wizard world here I come and now the last day here what a great time ..

— Henry Winkler (@hwinkler4real) June 2, 2013
MACHETE ENTERS SOME NEW TERRITORY, KILLS
In the Expendables series, Sylvester Stallone's goal is to give out-of-work action stars the chance to appear on a movie poster one last time before succumbing to the religious causes or governorship that await them in their post-film careers.
In the Machete series, Robert Rodriguez employs a similar technique, but instead of narrowing his cast to a specific genre of burn-outs, he rounds up the actually insane, like Charlie Sheen and Mel Gibson.
Either that or Rodriguez is shooting a children's movie based on a story his kids wrote. He's a complicated man.
Anyways, here's your first trailer for Machete Kills, starring Sofia Vergara as a woman who thrusts suggestively at buildings until they explode.
ROMAN HOLIDAY
A couple of Phillies losses this weekend were the type of losses that really made you want to take a shower.
After toweling off, remind yourself that while the future may be bleak, there are a few bright spots down on the farm, and one is frantic speedster Roman Quinn, who, despite some slumping in May, had himself a classic 'Roman Quinn' weekend.
Willie Carmona went 2-4 with 2 RBI's in the Lakewood win today. Roman Quinn stole home as well.

— Phuture Phillies (@PhuturePhilz) June 2, 2013
BATTERY POWERED
Chooch may not be playing right now, but his influence on his highly touted pitching staff has been well documented. It's easy to believe that not only does he forge a bond with each of them, but he would also continue to protect them in the event of a brawl, or zombie apocalypse.
Which is what upcoming horror film The Battery is trying to tell us, obviously.