We all miss Charlie Manuel already, but he's left us with no shortage of great moments throughout his nine-year career, both on the field and inside his mouth.
A rite of passage as a Philadelphia sports figure: sparring with Howard Eskin.
This is a classic, if only for the crystal clear audio from Bob Davidson. Also, Charlie blows a fuse, screams a hole in Davidson's face, and is stirred on by the crowd, whose applause only grows more thunderous as he lets his anger flow through him…
Gum can be tricky.
Charlie was a good interview, because he could take sugary, Phillies PR-approved crowd questions and say something like "…it really takes the glitter out of my day."
This year, the Phillies offense was so frustrating Charlie's teeth were falling out. All at once.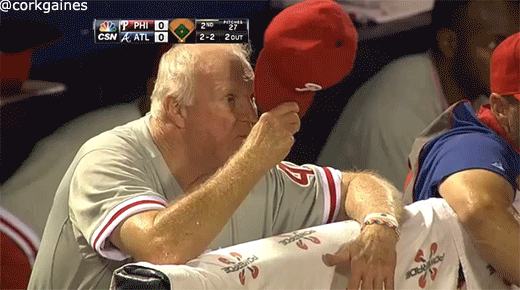 Charlie Manuel had to figure out what the hell Twitter was for this MLB Fan Cave segment, and pretty much nailed it for saying "pound" every time there was a hash tag.
In the 2011 NLDS, some blamed the Phillies' loss on a squirrel that ran across the field at Busch Stadium (It even made it onto the Cardinals' World Series ring). But what St. Louis didn't know was that that series may have had an entirely different ending, if only Charlie Manuel had had a gun.