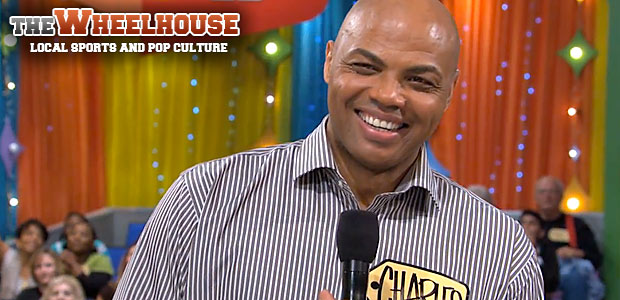 Turning 50 is always a transition.
But Charles Barkley completed his yesterday by appearing on The Price is Right, where he was asked to guess the cost of a Look Who's Talking Now DVD (A film in which the announcer explains he "played a game of hoops with a sassy toddler.") Barkley's guess was $3 – actual retail price $10 – leading him to announce that it was a "rip off."
Sir Charles went on to guess the price of a gallery of Charles Barkley-themed items, including the black dress he wore in a Weight Watchers commercial, all in classic "Charles Barkley" fashion; which is to say, through fits of laughter and at times, incorrect.
PLACES TO BE
Philadelphia was ranked the #5 worst city for driving by CNN, which says that Philly is the "least congested" of America's 10 largest cities, but any good will derived from this aspect of travel is unraveled by the ungodly nature of the Schuylkill.
Of course, one person had to really drive the point home by somehow doing this along the Schuylkill River Trail, which, according to the image, caused a back up of dogwalking.
CRASH LANDING
After Wednesday's excitement against the Penguins, the Flyers spent most of Thursday discussing the game plan against the visiting Panthers. Florida was coming into town on a five game losing streak, and nobody wanted to be the team who pulled them out of it.
By my unofficial count, Bryz has thrown his stick 3 times in the last 2 days.

— Sam Carchidi (@BroadStBull) February 22, 2013
Any momentum and/or enthusiasm for the Flyers was squelched during a 5-2 loss in which the Flyers upheld their curious inconsistency and were without their leading Panther-killer, Matt Read, who is out for six weeks due to a horrifying injury that ripped a bunch of muscles inside of his rib cage.
CHIP PASSING IN THE NIGHT
The Eagles are Philadelphia's most disappointing sports franchise, for now, but because of the Sixers' and Flyers' shenanigans, the Birds have slunk out of the headlines. The Andy Reid drama is over and the Chip Kelly drama is just beginning, but that didn't stop the two coaches from sharing a passing moment at the NFL Combine.
Whether Reid was giving Kelly a series of panicked, encoded warnings, or simply smiling with the knowledge of what Kelly is walking into, we'll never know. Both men have chosen silence in regards to their plans.
But what we do know is what all of the logos in the NFL would look life if they went through a "British stereotype" makeover. Standouts include the "New York Rather Large Men" and the "Washington Delightful Chums we have a Tendency to Oppress."