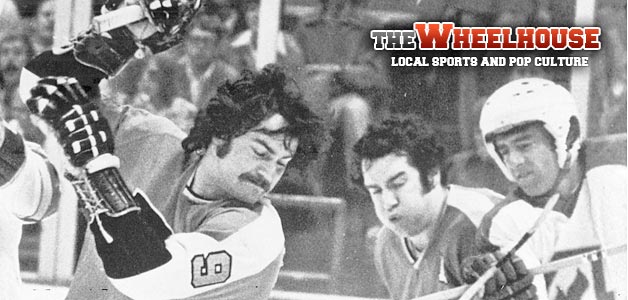 Director and musician Rob Zombie knows the pressure is on to get his Broad Street Bullies project right. So pure are his intentions with the source material that he is stretching himself further than he ever has for past projects like House of 1,000 Corpses or The Devil's Rejects.
On his finished script, Zombie said, "That was an epic battle because that was the first time I had to really research something."
That research included watching Game 6 of the 1974 Stanley Cup Playoffs on infinite repeat until he "had it memorized."
Another staunch departure for Zombie on this film is that people actually want to be in it. Rather than his last films – "no agent wants to put their client in a horror movie," Zombie said - there is a sense of historic legitimacy, and Zombie described the wave of people trying to jump on board as jarring after so many declines in the past.
The movie sounds more and more like it will put Rob Zombie further out of his element than he's ever been, so don't be surprised if the screenplay gets a few tweaks to include random disembowelings, just so he can find his bearings.
RYAN HOWARD WORKING LATE AT 'THE OFFICE'
Tonight, "The Office" is new on NBC. "New" and "tonight" are terms that still exist to describe television shows for people who organize their schedules around watching a TV program at a certain time, rather than on the internet, whenever they want.
Regardless, "tonight" will feature an appearance for the Phillies' Ryan Howard on a "new" episode of the "The Office." Howard, who smiled recently, has already guest starred on "It's Always Sunny in Philadelphia," in which he watched two characters wrestle drunkenly alongside Chase Utley.
Howard is probably best known for his role in a series of ads for Subway (for whom his advocacy is so tantalizing that people are forgetting to get out of their cars).
Howard is coming off an 0-for-3 night at the plate in Atlanta, when he struck out twice. So we could all use a laugh. The pressure's on, Ryan.
The pressure is… always on.
WE ACCEPT MORE THAN THAT
Last year, the NBA released a series of commercials with the tagline "BIG" for the 2011-2012 season. Featuring music, slow motion, and large, on screen text, the ads received a positive response from fans who felt the league was lacking those three things specifically.
Someone, however, felt that the Sixers were not featured enough in the NBA's ads and made one of their own starring Jrue Holiday. "In Philly we accept nothing less than success," it says. Which means, apparently, we have not been a very accepting city of late.
SOMEWHAT LESS THAN SUCCESS
Last night was a tough Philly pill to swallow. As Roy Halladay got knocked around by the Braves (though he struck out nine), Jrue and Justin Holiday combined for a 3-for-29 night from the floor in Charlotte.
At the Wells Fargo Center, the Flyers jumped to a 2-1 lead on the Bruins after Simon Gagne banked an Oliver Lauridsen wide shot into the net. It held for all of the next 20 seconds, in which the Bruins somehow scored twice to take the lead, the second time by deflecting a shot off Brayden Schenn and over the head of a frantically gesticulating Ilya Bryzgalov.
But the Flyers dug deep and pulled out the win, 5-3, courtesy of an Erik Gustafsson deflection and a Jakub Voracek empty-netter, saving the city from another one of "those" nights.