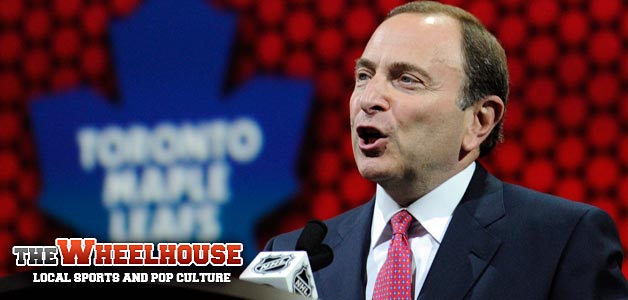 NHL commissioner Gary Bettmann, the smarmy, bitter face most associated with the most recent lockout, was booed lustily by fans in New Jersey with enough vicousness during yesterday's NHL draft to fill three Stanley Cup presentations at once.
"We have a trade to announce," Bettman pleaded with the fans. "I think you're gonna want to hear this."
They did.
BOOOOOOOOO
EVERYONE BAD IS GOOD AGAIN
The MLB teams with the best records during June 2013: Blue Jays, Royals, Athletics, Marlins, Pirates, and Dodgers. Three of those teams are in last place, and only one is in first place, and it's the Pirates, who've yet to log a winning season once in the last 19 years.
Yes, it feels like everybody has ridden a hot streak this season, except for the Phillies. How was that west coast road trip, boys?
Excellent. Excellent.
BIG NEWS FROM THE DYKSTRAS
Cutter Dykstra had some big news last night.
I will be on Big Brother at some point in my life.

— Cutter Dykstra (@CutterDykstra) July 1, 2013
FEEL THE LOVE/DEVASTATING HEAT
The Lakers are planning a commitee meeting to keep Dwight Howard from leaving Los Angeles. Phil Jackson will not be in attendance, but Kobe Bryant, Steve Nash, and the gang will all be there to munch on hors d'oeuvre and talk about all the reasons that Howard remaining the Lakers' center is the best thing for everyone.
Which, for a guy who felt like he was overshadowed by Bryant and misused by Mike D'antoni, could be tough. But the thing to remember here is that Los Anegels is currently on the verge of being burned off the face of the planet anyway, so this is all for nothing.
Keeping cool in this hot summer night in L.A. pic.twitter.com/3jxatWzLm8

— Beau†Hoe (@beaubeauxo) July 1, 2013
OR THE PREQUEL TO HELL BOY
And now, here's the trailer for Hell Baby, which was widely assumed to be a Sidney Crosby documentary.