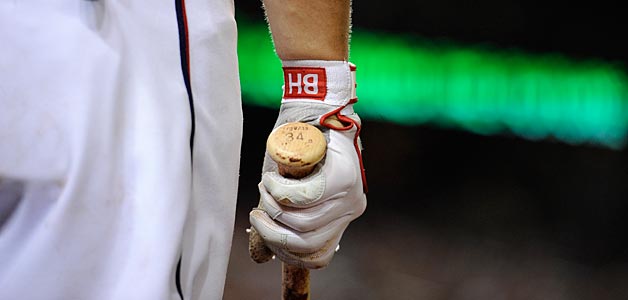 Something about Bryce Harper makes teams want to throw the ball at him.
Here was a brash, emotional young player wearing war paint, quickly ascending to the Majors who everyone was just salivating over for his first big league outburst.
Cole Hamels just couldn't wait, and threw a pitch into his spine. That went about as poorly as throwing at a hitter intentionally can go.
Harper eventually stole home in the inning.
He singled in his next at-bat off Hamels.
The Nationals got to have a pity party.
Hamels then admitted to throwing intentionally, which confused everyone, including his teammates and manager, and got himself suspended.
So that was great. It's a move that might have more appeal to a pitcher if it didn't result in him getting on base.
Most recently, the Braves put a crosshair on Harper's back, which led to even further boo-hooing from the Nationals' broadcast booth and Twitter account.
@Braves Which part, giving up the home run, or drilling the 20-year-old on the first pitch his next time up?

— Washington Nationals (@Nationals) August 7, 2013
Pointing out that Bryce Harper is 20 doesn't make him any more sympathetic. If he's old enough to play pro ball, he's old enough to get hit with a pitch. He may not particularly like how it feels, especially when it's perceived to be on purpose, but "he's just a baby!" is not one of the more endearing excuses.
He's a star and a centerpiece. If you're going to throw at someone on the roster, he's not a bad choice, especially if he just stood in the batter's box, ogling his own home run.
Even his own father couldn't resist.
But that's neither here nor there, and regardless of how many people share it, it's still only an opinion. And it doesn't necessarily warrant purposeful physical harm.
For that matter, it doesn't even happen often. Harper's had the ball bounced off him a grand total of four times in 2013. MLB's current leader in HBP is Shin-Soo Choo, who with 23 is apparently batting in a shooting gallery. Harper's probably done more physical damage to himself, chucking his body into a wall repetitively.
But it's always high profile, and the media knows this brash, emotional young player is probably going to have a camera-worthy reaction.
If you're Harper, the beanballs should serve as motivation. And as pitchers, you should know the best revenge would be keeping Harper off the base paths.
But most likely is that nothing will change, and the next time it happens, we'll all be watching. I'll probably put it in the Wheelhouse.