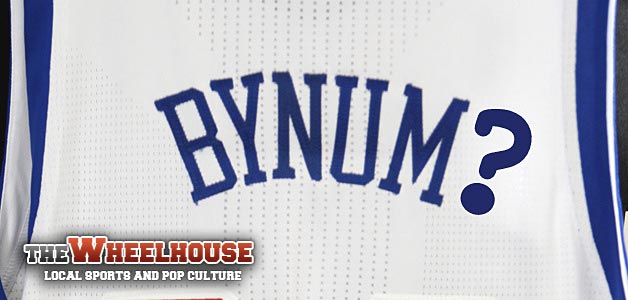 When the Sixers brought Andrew Bynum to Philadelphia, it was considered one of the most cataclysmic moves in franchise history. What it actually was was the world's greatest hoax.
Somebody who only watched the Sixers play basketball games this year would never even have known Bynum was around. He existed only in the form of headlines and stock photos.
Yesterday, Bynum failed to show for the official team photo, proving once and for all that he was never real, and we spent the whole NBA season getting updates on a poorly made scarecrow in a terrible wig sitting on the Sixers' bench.
And tragically, the night before team photo day, he was stored too close to an open flame, presumably one of the leftovers from Collins' nightly séances begging for mercy from the basketball gods.
WILL POWER
Will Smith's age (44), was for some reason the topic of some highly repeated trivia yesterday on Twitter, all day long.
This isn't exactly mind-blowing, but he has gone from starring in green screened sci-fi action flicks to starring in green screened sci-fi action flicks with his young son (which was originally about a car accident and he apparently he had to work to change it to a green screened sci-fi action flick).
"Will Smith then decided to change the setting to 1000 years in the future, which imposed a higher budget." en.wikipedia.org/wiki/After_Ear…

— Dan McQuade (@dhm) April 11, 2013
Perhaps that is all the evidence we need that young Will is no longer a young rabble-rouser, getting in classic West Philly schoolyard scraps that end with him being picked up and twirled around.
LIVING IN THE NOW
Interest in the Eagles is at an all-time "average," rather than the "foaming at the mouth" passion that typically takes over this time of year when the Phillies don't immediately impress.
People like good teams, or at least developing teams. The past year has not been a great one for any of the city's franchises, especially when compared to previous eras.
But the instinctive hopelessness doesn't take the future into account; the Eagles are evolving, the Phillies are winning, and the Sixers will soon be doing what they do best - taking time off to think about their mistakes. Perhaps the near future holds hope not just for perceptions of our teams, but of us, the fans.
As long as nobody goes to see 42.
FOREVER YOUNGS
The Phillies can't wait to get Delmon Young into this lineup so he can out-produce a John Mayberry/Laynce Nix platoon, maybe, and get some further on-the-job training in right field under his belt. He's due to play two games in Clearwater this week – in a row ­– thus solidifying his role as this generation's Cal Ripken, Jr.
So excited is everyone for Delmon Young to return to Philadelphia; or, more accurate,to come here for the first time, that we are already pretending his is here.
During last night's broadcast of the Phillies extremely satisfying overpowering of the Mets, Michael Young was due to bat third as they entered the bottom of an inning. To the delight of the fans, it looked like the Phillies had a little surprise in store.
But what was thought to be a mid-game, somewhat questionable pinch-hitting ambush was actually just a producer's miscue.
Darn.