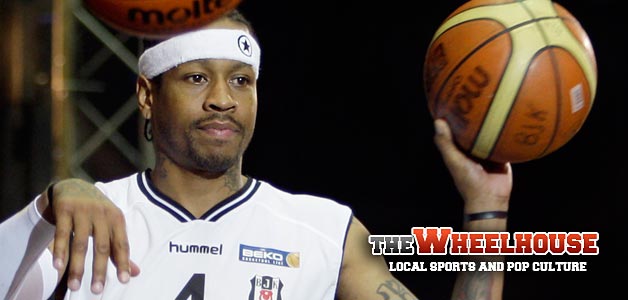 First there was fan appreciation night, but now the Sixers are using the lure of celebrity to draw your interest.
THOUSANDS OF GOOD SEATS ARE STILL AVAILABLE FOR AI NIGHT at Sixers.com. This is a game you should attend in person.

— Adam Aron (@SixersCEOAdam) March 29, 2013
I can remember a time when every night was Allen Iverson night in Philadelphia. Now, that honor is bestowed upon an evening of bobbleheads and shots of AI on his phone as the Sixers turn the ball over, again.
If you're feeling nostalgic, maybe head on down to the Wells Fargo Center Saturday night, where you can watch a team whose best option might be losing at this point, or rub elbows with Philadelphia's hoity-toity elite. But be careful that some wayward basketball player doesn't make you spill your red wine all over your face to the delight of the studio audience!
IT'S ALWAYS LESS SUNNY IN PHILADELPHIA THAN CLEARWATER
The Phillies have returned to Philadelphia, albeit briefly, but they have indeed escaped that horrible, sundrenched dungeon in beautiful Clearwater, Florida. It is nice to have them home, despite their heightened odds of various unpleasant things just by being here.
The homecoming is in the wake of another start by Roy Halladay which featured cause for forced optmism, if you believe in that sort of thing. Doc's excuses for his performance are becoming both creative and unnecessary, as all he would have to say is that he's still recovering and we'd just find a way to deal with it.
Halladay blamed a "mushy mound" for lower velocity last time. On Thursday, he said the ball was not rubbed properly.
— Matt Gelb (@magelb) March 28, 2013
MORE LIKE "WE'RE NEW YORKERS; IT'S EXPECTED OF US"
The Mets are long gone, the Yankees are broken and useless, the Knicks are underwhelming, the Rangers... well, the Rangers are pretty dominant, but the number one sport in New York remains "assuming you're better than everyone else."
That's the message from this trailer of the Sons of Ben documentary about the Philadelphia Union superfans of the same name. Here, we see fans of the New York Red Bulls explaining why the S.O.B. are nonfactors, but don't worry, as one guy explains, "we're New Yorkers; we can say that."
CAPITAL PUNISHMENT
At a time of intensified international threats in real life, there really isn't a better instance to debut a blockbuster film about an attack on U.S. soil; namely, the White House.
It's like Olympus Has Fallen, but without all the subtlety.
Yes, our nation's second "White House in flames" movie has a trailer now: the Roland Emmerich vehicle, White House Down. The comparisons to Olypmus are inevitable, but some key differences do exist; where Olympus Has Fallen is being called "Die Hard in the White House," White House Down is more like "Olympus Has Fallen but finished with editing a few weeks later."
In the trailer below, we can also see we have Channing Tatum instead of Gerard Butler, Jamie Foxx instead of Aaron Eckhart, Richard Jenkins instead of Morgan freeman, and Roland Emmerich instead of a director.