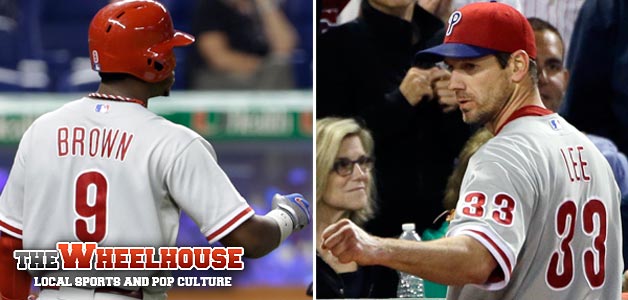 The Phillies are sending two of their own to Citi Field, who in their last appearances combined for a triple, a home run, and 6.1 innings pitched.
Now that the All-Star teams are no longer keeping us in horrible ambiguity, we can start complaining about what we know. In Philly, there is little to say. During a season like this, two representatives is honor enough, and with one of them being Domonic Brown, there is almost no reason to cause a ruckus.
The A's, however, might have more of a case. The AL West-leading former pride of Philadelphia has but one All-Star in the form of 40-year-old Bartolo Colon, who hasn't been dropped into the Midsummer Classic since he won the AL Cy Young in 2005. The chiefest of Oakland's complaints is the snub of Grant Balfour, the only AL closer to not blow a save in 2013.
Fortunately, Colon pitches the Sunday before the All-Star Game, and may excuse himself from actually playingdespite appearing in the proceedings, and thusly allowing for Balfour's potential roster spot.
And that ends any and all complaints people can have about the All-Star Game.
A TRAIN TO THE END OF THE WORLD
And now, we get Snowpiercer, the story of the little engine that could… house the remains of humanity on a future earth decimated by climate change, in which social class is separated by train car, leading to the Human Torch/Captain America sparking a bloody coup headed for the engine.
IF YOU'RE INTO WATCHING THAT SORT OF THING
Ehhhhhh. RT @ESPNSteinLine: Team to watch in chase for Andrew Bynum: Cleveland. Hearing Cavs can make lucrative one-year offer.

— Michael Levin (@Michael_Levin) July 8, 2013
I mean, what's the harm in pursuing a center who spent the whole season saying he'd play and then not playing, collecting a paycheck, and then refusing to work out for any teams interested in his services for the following season?
The NBA's most charming offseason acquisition, however, was probably Kevin Durant.
#JUSTKIDDING
Jason Kidd took over as the Brooklyn Nets' head coach in the Orlando Summer League, and things went pretty well, until the technical foul.