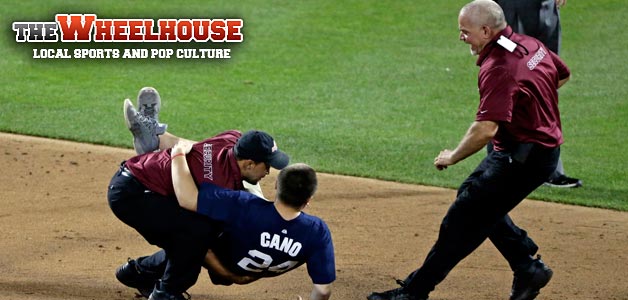 No MLB All-Star Game is complete without a brazen display of jackassery, and that's what this Yankees fan brought when he hopped the fence and strolled around on the infield.
But this was no unmotivated plea for attention. With Robinson Cano being hit by a pitch and taken out of the game, he probably thought he could slip out there in a Cano jersey and no one would be the wiser.
This was due to the horrible influence of… social media.
1000 RT's and ill run across the field.. #ASG #CitiField

— dyl (@MasoneDylan) July 16, 2013
ma stop yelling at me... pic.twitter.com/a2ly1HFxs7

— dyl (@MasoneDylan) July 17, 2013
Just as bad as being called out by his mom, the fan was called out on Twitter by his girlfriend.
So was Twitter really responsible for this happening? It seems like the guy's mom and girlfriend - not to mention stadium security - would agree this incident was influenced more by him… being a jackass.
IT'S CUTE HOW THEY COMMUNICATE NON VERBALLY
Seriously, why else would you give Mr. Met your phone number? You know it's probably just going to be another pyramid scheme.
'ENTHUSIASM, BROUGHT TO YOU BY OUR SOFT DRINK OVERLORDS'
Lipton is the new official iced tea of Major League Baseball, ending the reign of whoever was aching for that title before them.
But instead of using their position to just be a thing they say at the end of commercials, Lipton plans on capitalizing immediately on their newfound power. Starting with you, the fan.
The next time you see a Jumbotron, it may be commanding you to do "The Lipton Rally Wave," a new version of the wave that simultaneously advertises iced tea.
Because if there's one thing baseball fans like more than doing the wave, it's being told to do the wave by a soft drink company.
"We thought about the fan experience and we looked at the wave and kind of considered it that quintessential time when every fan connects in a shared way. To us, it felt like sharing iced tea at home."

-- Marc Hanson, marketing director for the Pepsi Lipton Partnership via Sports Business Daily
Presumably, there are about 6-8 sentences missing from this quote, with which Mr. Hanson effectively connects the two concepts he presents, because as it stands, it almost sounds like he's just babbling incoherently from an approved bit of copy written by a room full of disconnected executives.
MEL ON EARTH
Human disaster Mel Gibson will continue his crawl back into cinema with a joke-role in Machete Kills, and if that wasn't enough, which it will be, Sylvester Stallone made an incredibly unsubtle reference to recent casting for The Expendables 3.
Mad Max vs Barney Ross......

— Sylvester Stallone (@TheSlyStallone) July 16, 2013
So, that's good news.
AND THAT'S ABOUT ALL THAT HAPPENED ON THE INTERNET
Oh, and Nicolas Cage as every Disney princess.
Sorry.