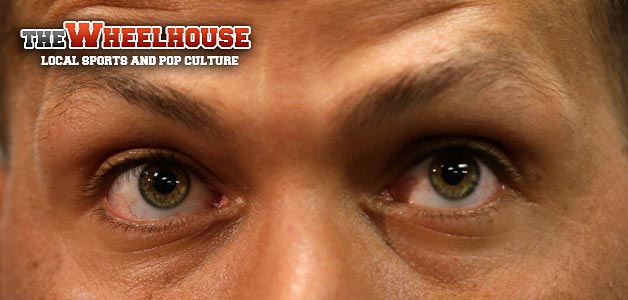 Baseballtown was a small, unassuming hamlet, where the people quietly went about their business, attending minor league baseball games. They were no different from you or I, really; they put their pants on one ostrich leg at a time.
But then, A-Rod came to town… and everything changed.
As a member of the Trenton Thunder, Alex Rodriguez will be rehabbing against the Reading Fightin' Phils this very week, dragging behind him a PED scandal and a plea agreement to the league which he "doesn't know anything about." Maybe it'll be like his recent rehab start in Tampa, which he did not attend.
The point is this: Things are about to change in Baseballtown, putting what used to be the central point of warm Sunday Americana into the middle of swirling, drug-fueled controversy.
Jesse Biddle said he will likely start Thursday for AA. He will miss Alex Rodriguez. "I want to face A-Rod. So bad. I'd love to do that."

— Matt Gelb (@magelb) July 14, 2013
For one night. Then it's back to the ostrich thing.
A MAN, A PIG, A LEGEND
Marred by endless doping accusations and the face of the sport becoming one of the most despised public figures in a lot of countries, cycling is in the midst of a rough patch.
But that doesn't mean this weekend at the Tour De France wasn't an opportunity to witness the grandeur and majesty of humanity's physical prowess, flanked by the intense beauty of the French countryside.
THAT'S PRETTY FOUL
Look at this jerk, catching four foul balls at one game when some people have never even caught one. And then he gives them to his kids like some kind of spectacular father.
Jerk.
Found him: Tribe Season Ticket Holder Greg Niel has caught four foul balls today. Nice work Greg! pic.twitter.com/vmiIQuwefL

— Cleveland Indians (@Indians) July 14, 2013
TALK AROUND THE WATER COOLER
The ominous trade deadline apparoches, and who knows what the Phillies are planning! What we do know is what they've done in the recent past - so how about we check in on the interesting lives of some key former Phillies.
Hunter Pence: Saved Tim Lincecum's no-hitter on Saturday with this catch.
Raul Ibanez: On pace to hit more home runs than Barry Bonds and Ted Williams did when they were 41.
Shane Victorino: Playing through injury while creating sheer joy, one busload of children at a time.
Welp, sounds like everybody is doing pretty grea--oh, wait.