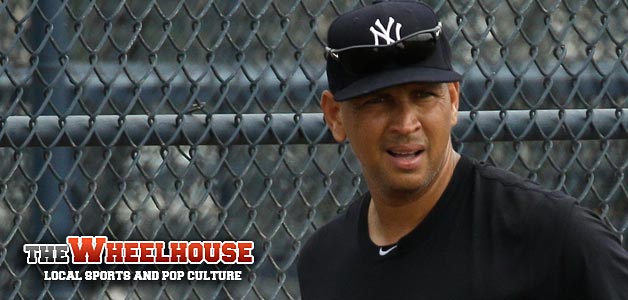 Well, it finally happened. A-Rod found out he can hit on girls on the internet.
Please welcome @AROD to the internet.

— SB Nation MLB (@SBNationMLB) June 24, 2013
now, on twitter @AROD maybe not even a hoax? @ChrisCotillo twitter expert found him.

— Jon Heyman (@JonHeymanCBS) June 24, 2013
I'm assuming the @AROD twitter feed is some kind of mad science project to collect all the rage on the Internet as an alternate power supply

— Mike Bates (@commnman) June 24, 2013
WaIt, why are we equating Twitter to the entire internet, again?
LACK OF WILL POWER
What was your favorite part of text book definition summer popcorn flick/non-scientology related Will Smith sci fi vehicle Independence Day?
If you were like any teenager, you loved shots of Jeff Goldblum arguing with Judd Hirsch, or Bill Pullman finding out his wife is dead. You didn't need any of those Will Smith mid-air fighter jet battles or awesome one-liners. No, sir.
BOOOOOO.
Which is good, because it turns out that the sequel - yes, that's right; the sequel to Independence Day - is only going to include the two thirds of the principal cast you actually liked.
So I hope you enjoyed that re-living of Smith's best line in ID4. Because you aren't getting anymore.
BYNUMB
There was an Andrew Bynum update yesterday, because they're apprently still doing those.
From now on, our Andrew Bynum updates will consist of his agent force-feeding us our own vomit.

— Michael Levin (@Michael_Levin) June 25, 2013
IT'S A CRYING SHAW
The Blackhawks' Andrew Shaw, shortly before becoming a Stanley Cup Champion, had a puck bounced off his face bones last night. He fell to ice in pain which, yes, technically stalled play.
And you know those Bruins fans; they could all take a shot to the noggin and hop right back up, so they let Andrew know how much of a baby he was being.
THERE IS NO 'OFF' BUTTON
Philllies 3B prospect Maikel Franco is catching on quick, after his promotion to Double A Reading five games ago. The 20-year-old was 8-for-17 with the Fightin Phils going into last night's game, and he continued not wasting any time.
Another two hits for Maikel Franco tonight...

— Phuture Phillies (@PhuturePhilz) June 25, 2013
Make that 3 hits for Maikel Franco tonight, 7 hits over the last 2 days.

— Phuture Phillies (@PhuturePhilz) June 25, 2013
When a guy does this well, I know we usually say it's an unsustainable bout of luck, but I think maybe this time the guy is actually this good.
Maikel Franco last struck out 40 PA's ago. He's hit 6 homers, 1 double, 1 triple, drawn 4 walks, and gone 18/35 since then. .514/.550/1.114

— The Good Phight (@TheGoodPhight) June 25, 2013
Yeah.
This time…
EFF THIS
We're all allowed the occasional string of profanity at our jobs. Who of us hasn't unleashed a toxic cloud of vulgarity on the nearest horrified co-worker? None of us, that's who.
But we don't have to do our jobs in front of cameras.
SPOILER: NSFW language to follow.