Justin Klugh, Sports Producer
As touched on in the Wheelhouse, Sunday isn't vindicated without Eli Manning's face crumbling into an aw shucks, between a pair of waggling arms. We got it, certainly, but the Giants also won, keeping their Big Damn Heroes narrative alive as they are now... 5-7?
5-7?! At this point, I'd say the Giants are a team of destiny and will at least screw somebody else's chances up along the line of making the playoffs, so analysts can foam at the mouth over how they never gave up and fight over the chance to narrate the 30 for 30 on the 2013-14 New York Giants scrambling to finish at .500.
Sunday is just more fun when they lose.
Justin Klugh, Sports Producer
ESPN 2's broadcast of the Hawks' game against LSU featured a new-look St. Joe's squad.
We are not quite sure who these guys are, but none of them are who their attached names say they are - except for Halil Kanacevic.
Philly.com Staff
Chip Kelly met with the media Monday afternoon and, among other things, spoke about whether or not Nick Foles will remain the starting quarterback going forward.
"As long as he can stay healthy," Kelly said. "That's what I've qualified it this whole time. How many quarterbacks have gone down this season in the NFL? It's a pretty high amount. It's a very difficult game, they take a lot of hits."
As he has maintained all season, the first-year coach is not looking far into the future.
Justin Klugh, Sports Producer
- With two or three minutes left in the fourth quarter, Al Michaels and Cris Collinsworth agreed on one thing about this Giants-Redskins Sunday Night matchup - it turned into a good game.
Eli Manning couldn't help but express his thoughts via Manning Face.
Justin Klugh, Sports Producer
Apparently, most of the country, as well as the small planet that hovers off the coast of Florida, believes now that at 7-5, the Eagles will in the NFC East. As of just before 2 am, the 39,253 votes were swaying heavily in the Eagles' favor. The Cowboys, crazily, are only supported by Texas and Oklahoma.
So much for 'America's Team.' If you can't even get the support of Tiny Earth, then how seriously can you post season chances be? I ask you.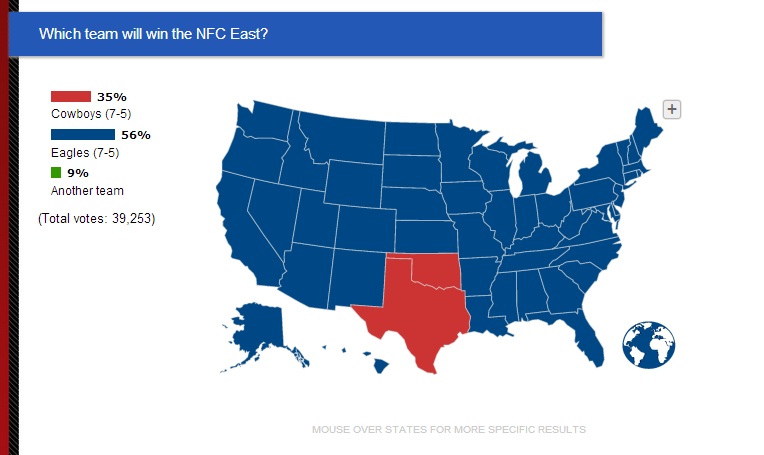 Justin Klugh, Sports Producer
Twitter is so fun 100% of the time, we forget about those anomalies in which it is a hateful, reactionary, meaningless, nasty place. There are those who exist in this world who go so far as to harass athletes via Twitter, as if revealing they have hideous brain problems by way of crude insults will somehow fix their shallow, purposeless lives.
Some of those creatures attacked Santonio Holmes last night, just because the Jets managed to squeak out a mere third quarter field goal while the Dolphins tail-whacked them stupid, 23-3.
And Holmes, as it is always advised, responded trollfully.
Justin Klugh, Sports Producer
If you remember correctly, the MLB playoffs this past year were a story of young, rambunctious teams having fun and the older, boring, joyless jerks who chastised them for it.
The Braves were part of the latter, endlessly exemplifying their crappy attitudes with narrative after narrative involving the unwritten rules or Brian McCann's feelings being hurt. One such instance included Braves legend Chipper Jones being dissed by the entire team for predicting that the Dodgers would win the NLDS, which they did.
So pathetic were the Braves following Chipper's harmless prediction that they refused to catch his ceremonial first pitch before a game of the NLDS. Now, with former Braves pitcher Tim Hudson - who caught the ceremonial first pitch of the guy who did wind up throwing it out, Bobby Cox - being signed by the Giants, Chipper took to Twitter to bring up an issue that, while stupid, has been dead for weeks.
Justin Klugh, Sports Producer
In 2012, the Falcons were embarking on a magical season. They were the it-squad of the year, unable to lose, fun to watch, and led by Matt Ryan, a non-threatening quarterback qho hadn't massively offended any person or race that we knew about.
Just look at those 2012-13 Falcons go!