Archive: July, 2012
Philly.com Sports
The famed doubles team of brothers Bob and Mike Bryan visited the Pavilion at Villanova University on Monday night as the Kansas City Explorers faced the Philadelphia Freedoms.
The Bryans easily beat the Freedoms' tandem of Luka Gregorc and Jordan Kerr, but Philadelphia won overall on the night, 20-16.
Tyler Jett of the Inquirer was on the Main Line and talked with the Bryans during their visit.
Philly.com Sports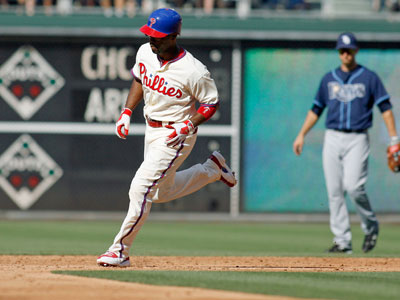 As the Phillies and Dodgers meet for a three-game series at Chavez Ravine, CBSSports.com's Danny Knobler is reporting that Los Angeles may be interested in trading for Jimmy Rollins.
In addition to Rollins - who signed a three-year, $33 million contract with the Phillies in December - Knobler reports that the Dodgers are also looking at Cole Hamels and Shane Victorino.
Rollins has a full no-trade clause because he has spent at least 10 years in the majors and at least five with the same team. But the chance to move to a contender could prove tempting, as the Dodgers are currently battling the rival San Francisco Giants for first place in the National League West.
Philly.com Staff
Reading Phillies outfielder Jiwan James made one of the most spectacular catches you'll ever see on Saturday, robbing Bowie's Jonathan Schoop of a home run with a defensive gem that has jaws dropping all over the country.
In the third inning of the R-Phils' 4-2 loss to the Baysox at FirstEnergy Stadium, Schoop blasted a fly ball to deep center which appeared to be a sure homer. James, on a dead sprint, climbed the centerfield wall, reached up with his glove hand — and whiffed.
But James, after landing hard on his back, immediately reached up to display the ball safe and secure — amazingly — in his bare right hand. Video of the catch went viral on social media almost immediately and landed James on ESPN's SportsCenter Top 10 on Sunday.
Philly.com Sports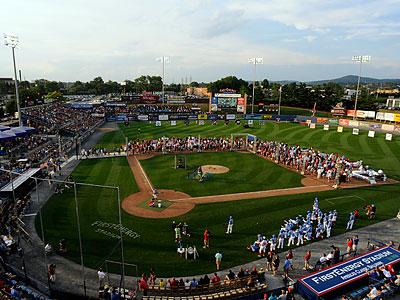 Showcasing a classic sense of minor league baseball humor and flair, the double-A Eastern League held a very unique style of Home Run Derby during its All-Star festivities in Reading. Philly.com's Ryan Petzar reports.
(Video by Samantha Corrado/Philly.com)
Philly.com Sports
Former 76ers guard Lou Williams is expected to sign with the Atlanta Hawks, according to reports.
ESPN.com reported Wednesday that Williams has agreed to a multi-year deal with Atlanta. That came after Williams posted on Twitter that he is headed to the Hawks:
ATL... LOUWILLVILLE.. happy to be apart of a team thats similar to the Sixers.. Young, athletic, and hardworking.. ‪#highlightfactory‬
Philly.com Sports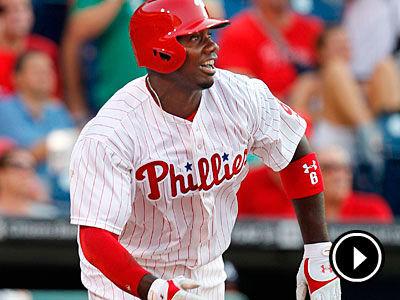 Video: CineSport's Brian Clark sits down with the Phillies' 1B Ryan Howard to talk about his return to the Phillies lineup, experiencing the MLB All-Star Game and his Go To Bat Program.
Philly.com Staff
The Philadelphia Phillies' Cole Hamels and Jonathan Papelbon discuss injuries, their team's first half and trade rumors surrounding Hamels.
Ryan Petzar
We're only 24 hours away from one of the most insane events to ever take place on a baseball diamond: the Baseballtown All-Star Home Run Derby in Reading.
For those not in the know, the Reading Phillies are hosting the Eastern League All-Star Game this year. But instead of having the traditional, "back-back-back-back-back!"-style Home Run Derby, the team has gone absolutely insane decided to do something a little more interesting:
The team will actually be hosting a catered party on the field during the derby by way of a 12-foot net strung from first to third base. Fans will be eating, drinking, and generally partying as baseballs go flying over their heads (and occasionally directly at the net directly in front of them).