Archive: February, 2013
Matt Mullin, Sports Editor
Yesterday, Tigers slugger Miguel Cabrera hit a monster home run of Phillies' closer Jonathan Papelbon.
In what was an obvious attempt to show up Cabrera, Phillies outfielder Domonic Brown took a 7th inning pitch from Yankees pitcher Zach Nuding, a 22-year-old non-roster invitee, and put it into orbit.
Cabrera's dinger may have been impressive, but Brown's cleared the batter's eye in centerfield - you know, the big screen in dead center that reaches high above the actual home run fence.
Justin Klugh, Sports Producer
Something has to pull the Flyers out of this funk. Will it be a big win? A fun song? A numb acceptance that under .500 is as good as this team can get? Because we're trying that and it's awful.
No, what the Flyers need is some new hardware, which Ilya Bryzgalov - or Mr. Universe, as he is referred to by disembodied phone-bots - received today in the form of a Star Wars-themed goalie mask.
Ilya Bryzgalov has a new mask designed by Franny Drummond... Check out the pics #Flyers twitter.com/NHLFlyers/stat…

— Philadelphia Flyers (@NHLFlyers) February 26, 2013
Philly.com Staff
Looking to buy Phillies spring training tickets this year? Philly.com has partnered with A View From My Seat to help you choose the best seats in Bright House Field, spring training home of the Phillies in Clearwater, Fla.
Make sure you download the app (available for iPhone and Android) and upload your own photos.
Here are the top five photos from from Bright House Field that were uploaded using the app:
Justin Klugh, Sports Producer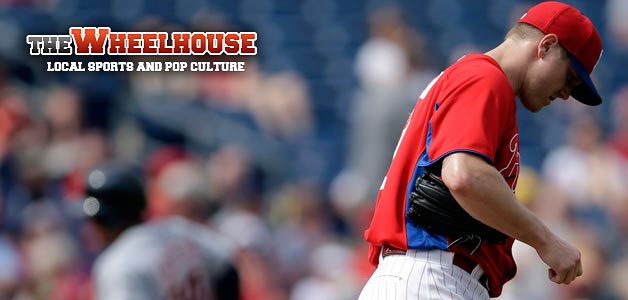 Ryan Howard is back, and he is hitting lefties. The Phillies' slugger proved his numbers against southpaw pitching were not just a one-game anomaly by maintaining them into a second game yesterday off lefty Drew Smyly, notching a single and a sac fly.. It was a great sign from a guy most were hoping would just be able to walk.
Cliff Lee also looked great, and he looked even better by comparison after the bullpen was finished getting 10-runned by the Tigers. Jonathan Papelbon's spring debut was marred by a six-run inning, in which defending American League MVP Miguel Cabrera shelled the Bright House Field tiki bar with this 440-ft. failure on Papelbon's part.
Vaughn Johnson, Sports Producer
The city of Philadelphia is 331 years old, dating back to 1682. During those 331 years, Philadelphia has seen its share of great sports teams.
We here at Philly.com would love to give you a list of the teams in the city's entire 331-year history, but that would be virtually impossible. Instead, we've decided to dwindle it down to the last 50 years.
One team that will not be on this list, however, is the 1960 Eagles. Yes, they were arguably the best team in franchise history, but they won that championship 52 years ago, not 50.
Poll: Philly's best teams in last 50 years

(1024 votes)
Philly.com sports
Join our chat for live updates and commentary as the Phillies take on the New York Yankees at Bright House Field in Clearwater, Fla. The game is scheduled to begin at 1:05 p.m.
On a mobile device? Click HERE to join the chat.
Jerry Gaul, Sports Producer
Flyers goaltender Ilya Bryzgalov's musings about the universe are well-documented after HBO's 24/7 aired leading up to the 2012 Winter Classic. He stole the show with his thoughts on the "Humongous Big" world in which we live. But did Bryzgalov display enough expertise to be dubbed, "Mr. Universe"?
According to Apple's Siri, that is the case.
But it goes even further. Not only is Bryzgalov, "Mr. Universe," but Siri also believes that he is the universe itself. Her logic is quickly exposed as flawed, however, as Siri acknowledges that the universe - or Bryzgalov - is only 32 years old.
Philly.com Sports
It's time once again for you to write the caption to Rob Tornoe's latest sports cartoon. Post your best ideas in the comments. Rob will pick the best and we'll announce the results in a few days.