Archive: April, 2013
Michael Kaskey-Blomain, Assistant Sports Producer
After the disaster that this season developed into for Dwight Howard in Los Angeles, many are questioning if we have seen Dwight's last days as a Laker.
Howard is a free agent this summer, and despite a subpar season plagued by injury issues and questions about his mental makeup, he will have several suitors.
Dwight's dominance during his days in Orlando, although largely based on his sheer size and ability to out-muscle the majority, has elevated him to most sought-after center in the league status.
Philly.com Sports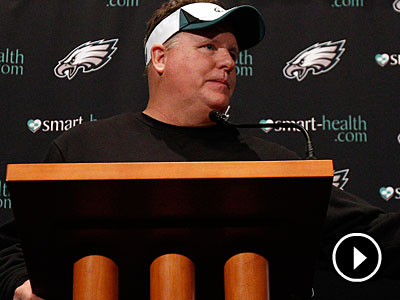 Should Eagles fans have a better understanding of Chip Kelly after his first draft? CineSport's Noah Coslov and the Daily News' Rich Hofmann discuss this, Jason Collins & Philly's playoff gap.
Justin Klugh, Sports Producer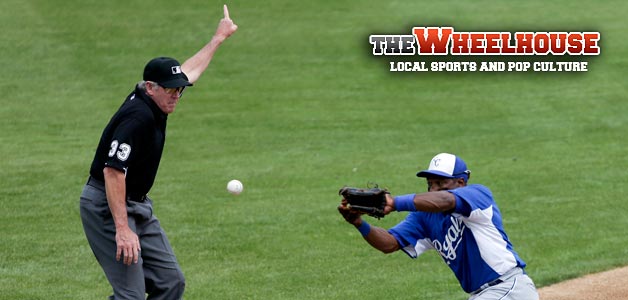 There's an epidemic in baseball right now; a painful, unchecked facet of the pastime that consistently ruins somebody's night.
Confirmed: we have a direct hit on a umpire's cup in the Giants DBacks game.

— A Busted Posey (@A_B_Posey) April 30, 2013
Jonathan Tannenwald, Sports Producer
We're all used to staying up late to watch the Phillies when they play on the west coast. But it isn't often that a game ends just before people on the east coast start to wake up.
That's what happened to the A's and Angels last night in Oakland. They played a 19-inning marathon that lasted six hours and 32 minutes. The game ended at 1:41 a.m. Pacific Time - 4:41 a.m. here in Philadelphia.
And of course it finished with a walk-off homer. Brandon Moss did the honors, giving the Athletics a 10-8 victory.
Philly.com Sports
NBA veteran Jason Collins became the first active male player in the four major American professional sports to come out as gay on Monday. The same day as the New York Jets released backup quarterback Tim Tebow. Cartoonist Rob Tornoe's gives his take on the day's events.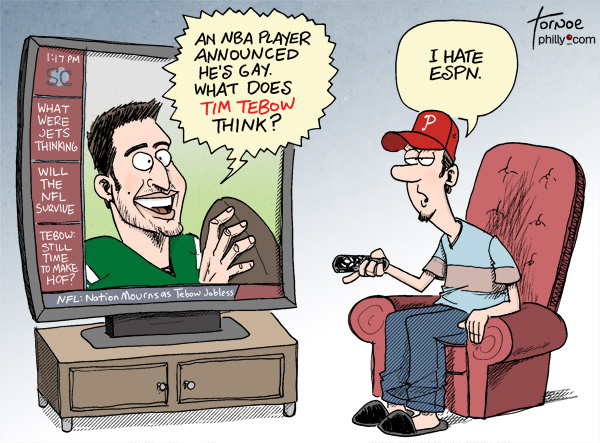 Brian McCardle, Sports Producer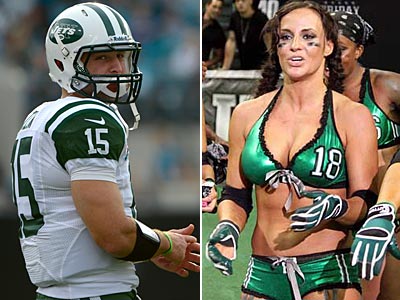 The New York Jets released backup quarterback Tim Tebow on Monday. Tebow spent one season with the team, racking up a total of eight pass attempts. His future in the NFL remains uncertain.
But the Legends Football League, formerly known as the Lingerie Football League, has reportedly offered Tebow a new coaching job.
"Now that it appears Mr. Tim Tebow's career in the National Football League may be coming to an end, we at Legends Football League would like to extend him an offer to become our Quarterbacks Coach nationally," LFL President Mitchell Mortaza told TMZ in a statement.
Justin Klugh, Sports Producer
As expected, the current Philadelphia Flyers have no place in the 2013 playoffs. However, many of those who have donned the orange and black in the past are contending for the Stanley Cup.
From former captains to future Hall of Famers, the NHL post season is crawling with ex-Flyers.
Here's the complete list of old friends:
Philly.com Sports
It's time once again for you to write the caption to Rob Tornoe's latest sports cartoon. Post your best ideas in the comments. Rob will pick the best and we'll announce the results in a few days.