Archive: February, 2012
Philly.com Sports
The Phillies finally take the field for a Spring Training exhibition game today. We'll have live coverage of their matchup with Florida State University, starting at 1 p.m.
If you're on a mobile device, click here to follow along and post comments.
Ryan Petzar
As reported by Fox Sports' Ken Rosenthal, Danys Baez has announced that he has retired after 11 seasons in MLB.
After stops in Cleveland, Tampa Bay, Los Angeles, and Baltimore, Baez signed a two-year deal with the Phillies before the 2010 season. He was mostly unremarkable with the Phils, posting a 5.81 ERA in 83.2 innings, before being released in August of 2011.
Philadelphians will likely look back fondly upon Baez because of the time he pitched five full innings during the famous 19-inning game against the Cincinnati Reds. Baez's willingness to just keep throwing would allow the Phils to wear down the Reds and put Wilson Valdez in position to become the first player since Babe Ruth in 1921 to start a game in the field and earn the win as a pitcher.
Ryan Petzar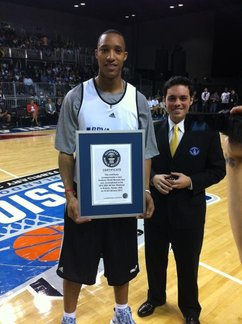 76ers PR guru Michael Preston tweeted out a surprise this morning.
It turns out that while in Orlando for the All-Star Game festivities, Evan Turner set a Guinness World Record for a very specific feat. Turner hit 14 shots from behind the backboard in one minute.
It's worth noting that not only is this a world record, but it is an official Guinness World Record, as Guinness had one of their notoriously strict judges on-hand to verify the results.
Philly.com Staff
Video: What should the Phillies do with Domonic Brown this season? David Murphy of the Daily News and Bob Brookover of the Inquirer run through some scenarios in the 2012 premiere of "That's Baseball."
Ryan Petzar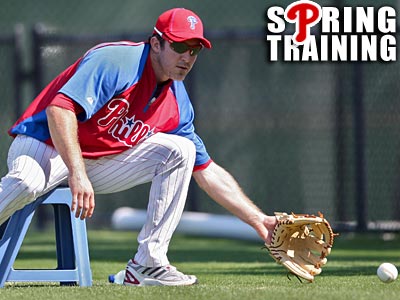 Phillies second baseman Chase Utley spoke to the assembled media at 12:30 today from the Carpenter Complex in Clearwater. He touched on his feelings from last year, the status of his knee, his injured teammates, and his plans for 2012. Here are some of the highlights:
About his knees:
"I think it's something that I'm going to have to monitor forever. It's something that I'm going to have to deal with on a daily basis, but I'm willing to put the effort in to make sure it's not an issue."
Philly.com Sports
Join Philadelphia Wings forward Max Seibald for a live chat about all things lacrosse Wednesday at 1 p.m.
If you're on a mobile device, click here to follow along and post questions.
Ryan Petzar
The 2012 USA Curling national championships are being held just outside Philadelphia this week. I've been interested in learning how to play ever since curling made its debut as an Olympic sport in 1998, so I visited the Philadelphia Curling Club in Paoli on Monday to get a crash course in the sport.
(Video of my little adventure is embedded at the bottom of this post.)
Isn't it just like a giant version of shuffleboard on ice? How hard could it really be?
Philly.com Sports
With the first spring training workout for pitchers and catchers just nine days away, the Phillies packed up a 53-foot equipment truck with thousands of items Sunday and drove down to Bright House Field in Clearwater, Fla.
(Video by April Saul/Staff Photographer)
Philly.com staff
Live chat: Join Philadelphia Wings defenseman Brett Manney as he answers your questions on the Wings and Major League Lacrosse on Friday at 1 p.m.
The Wings host Buffalo at the Wells Fargo Center on Sunday at 4 p.m.
On a mobile device? Click HERE to join the chat.
RYAN PETZAR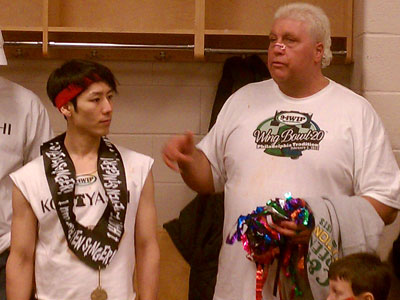 By Ryan Petzar
Philly.com
Philly.com reporter Ryan Petzar was embedded in the Takeru Kobayashi entourage at SportsRadio 94 WIP's Wing Bowl XX.