Archive: November, 2012
Jonathan Tannenwald, Sports Producer
Earlier this week, we gave you the opportunity to write the caption for Rob Tornoe's next Eagles-themed cartoon.
We got nearly 300 entries, which was a tremendous response. Now we can announce the winner, as picked by Rob himself.
First, though, the runners-up:
Justin Klugh, Assistant Sports Producer
Victor Cruz made a heads-up play the other day after his passer dropped the ball.
No, unfortunately, it wasn't another Eli Manning brain fart for the blooper reel. The Giants' receiver's teammate in this case was a plane, flying overhead. In a stunt arranged outside the Red Bull Arena in New Jersey, Cruz lined up and caught a football dropped in mid-flight.
The ensuing video is most likely responsible for his spike in the Pro Bowl voting.
Throughout this season, Inquirer cartoonist Rob Tornoe has been sketching - and skewering - the Eagles' ups and downs.
Now you get to play a role in Tornoe's next creation.
We've got this exclusive sketch, but it needs a caption. Post your ideas in the comments section below. We'll pick the best and run the result on Friday.
Philly.com Sports
Eagles coach Andy Reid held his regular day-after-game press conference at the NovaCare Center on Tuesday afternoon. Here's a summary of Reid's remarks from our Eagles beat writes via Twitter.
If you're on a mobile device, click here to read it.
Jonathan Tannenwald, Sports Producer
Whoever runs BuzzFeed's sports page either is a Philadelphia sports fan or has some kind of weird hair fetish. Or maybe both.
Earlier this month, the popular sports aggregation site made fun of Andrew Bynum's wide variety of hairstyles this season.

Today, the site has taken aim at Spencer Hawes. The same writer who put together the Bynum piece weighs in on Hawes' mullet. He calls it "the most controversial mullet in the NBA."
"Despite more exposure to the mullet, Hawes' hair remains a point of controversy among NBA fans," the author says.
Justin Klugh, Assistant Sports Producer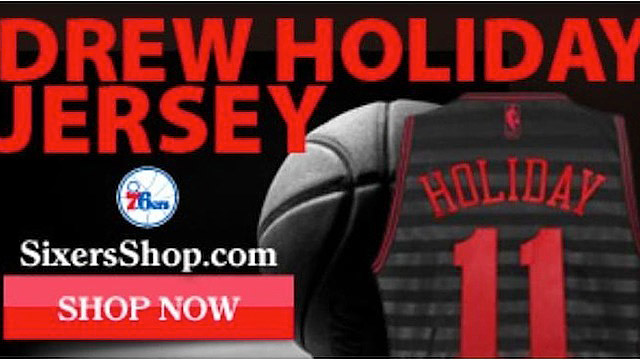 After a 33-point outburst from starting guard Jrue Holiday against the Suns on Sunday night, the Sixers excitedly began to push the sale of Holiday jerseys on their official site.
Unfortunately, whoever put up the ad banner was so excited they forgot to double check small details, like the spelling of his name, giving all the Drew Holidays of the world a brief glimpse of stardom.
Justin Klugh, Assistant Sports Producer
It can be hard to find the perfect gift for your significant other, so we decided to make a handy guide of what will impress the male sports fan on your list, and what will leave them wishing for coal instead.
Shopping for your girl? Check out some sports-themed tips from our style department.
DO NOT BUY
Philly.com Staff
In all likliehood, the Andy Reid era in Philadelphia will come to an end some time between now and the Super Bowl.
Many will likely chase the most-tenured coach in the NFL right out of town, but shouldn't we stop for a second to remember all the good things he has done for the city and its football team? Division titles, an NFC Championship, and a list of memorable quotes that could fill an entire play sheet.
Here's a look at some of Reid's most interesting, memorable, and perplexing quotes during his time as the Eagles head coach:
Andrew O'Brien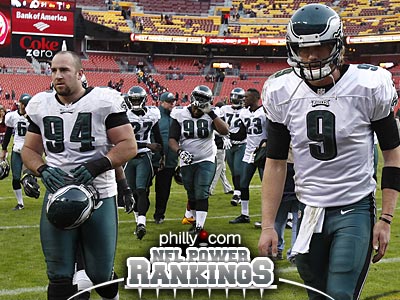 Week 11 confirmed that the Eagles and Chargers are done, the Texans and Falcons are vulnerable and that Ed Hochuli can review a play without reviewing it. Chicago dropped the furthest in this week's rankings following their blowout loss to the 49ers and Tampa Bay continued their climb into the top 15.
Coming up: Can the Bears survive without Jay Cutler? Is Chad Henne the best quarterback in NFL history? And which team did you forget existed during their bye week?
1. Houston (9-1); Last week: 1
Week 11 result: Won vs. Jacksonville, 43-37 (OT)
The Texans have allowed more than 30 points just twice this season. One of those opponents employs both Blaine Gabbert and Chad Henne at quarterback. Andre Johnson had a career day with 14 catches for 273 yards and the game-winning touchdown in overtime. Imagine what he could do with a real quarterback like Henne instead of Matt Schaub.
Next up: at Detroit
Jonathan Tannenwald, Sports Producer
Famed local comedian Joe Conklin and his daughter, Casey, have teamed up on a music video that mocks Andy Reid's failures this season.
The video is based on Taylor Swift's song "We Are Never Ever Getting Back Together." It's a fair bet that many Eagles fans have been saying just that to Reid throughout this season.
By the way, the Eagles announced Wednesday morning that Taylor Swift will perform at Lincoln Financial Field on July 20 as part of next year's tour schedule. We doubt Reid will still be around at that point, but if he is... how about a duet?