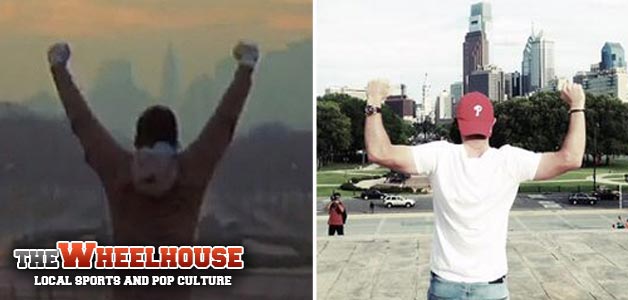 Rory McIlroy's Rocky interpretation was well-documented yesterday, but the question has yet to be asked.
Philadelphia: Who wore it better?
Rocky: Blue-collar boxer, represents the Spirit of Philadelphia, life has been endless series of training montages and being yelled at by people.
Rory McIlroy: Doing impression of that first guy; has a Phillies hat.
Advantage: McIlroy. Phillies hat carries a lot of weight in this town. At least, it used to.
FEATURING OVER TWO ACTUAL SOUNDS!
Sick of the LeBron vs. Jordan debate? This infographic, courtesy of Sportsbook, encourages your participation in the Tiger vs. Nicklaus comparison, only with fun 8-bit graphics to make it feel like it's 1990.
Speaking of which, Jack Nicklaus has never been more 8-bit than he was in 1990.
NOW'S YOUR CHANCE
Are you the kind of person who sits at home watching golf, hurling stuff at the TV and swearing you could do anything those so-called "professionals" do if you hadn't suffered that tragic golf injury while playing in the big match with your high school golf team?
Whenever dad & I watch golf and someone shoots a bogey, my dad always says "See, I could be a pro golfer! I do that like it's my job!" Lolol

— Chad Pruehs (@Chad_ToThe_Bone) June 11, 2013
Well, now's the time to put your money where your endless complaining is.
This handy guide from CNN informs you which courses on the USGA's roster of locales for the Open can be played on by anyone – yes, even you. All you'll need are the friends who can still stand you and several thousand dollars of airfare.
NOWHERE TO RUN
... Meanwhile, at Merion, the rain is making an enthusiastic effort to get indoors.