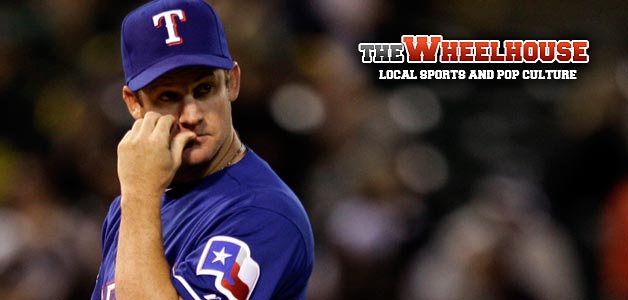 Roy Halladay had just left last night's Phillies game with seven more earned runs under his belt, a performance that would lead him to call himself a "horse's ass" after the game. We were a little emotionally vulnerable, which was what made Roy Oswalt's timing so curious.
The 35-year-old pitcher announced he had control of the Twitter account known as "Roy Oswalt's Website," then immediately launched into his 2013 "Hire Roy Oswalt" campaign.
Just a update , I haven't felt this good since 2010 ,

— Roy Oswalt's Website (@royoswalt44net) April 9, 2013
I would love to come back to Philly , loved my time there , amazing fans

— Roy Oswalt's Website (@royoswalt44net) April 9, 2013
"Just a quick personal health update for all of you out there, staring out the window at the horizon, wondering if Roy Oswalt is okay."
Oswalt's agent confirmed that it was actually the pitcher tweeting.
A new pitcher certainly sounds nice, but maybe one who is about the same age as Doc and started having injury problems a long time ago isn't the answer – especially the kind of injuries that require you to periodically hop on social media to remind people you're doing just fine.
LET IT FLOW
"Sports" and "beer" go together like "Philadelphia sports" and that "nagging feeling of awful dread." In fact, with Philly sports, one often segways seamlessly into the other.
One brilliant fan ("tsulahmi") has managed to force the two into each other and the end result is some aesthetically pleasing homebrews featuring versatile styles and perfect names.
Starring "Danny Briere's Fist Pump-kin Ale," "Jakub Voracek, Claude Giroux, Scott Hartnell Ginger Line Strawberry Wheat," "Lockout Edition Gary Bettman Bitter," and "Zac Rinaldo's Right Hook Rye," it's one of those things one person did that makes us all feel special. (Unfortunately, due to liquor laws, they cannot be sold).
So impressive were these creations, the brewer reports that one of them took home an award from a recent "Philly Beer Scene: Annual Battle of the Homebrew Shops' Competition."
SHUT IT DOWN
The New York Times stuck a fork in the Phillies this morning.
"There seemed to be more sadness and confusion than anger in the air," wrote Tyler Kepner on Roy Halladay's exit from the game last evening.
Jumping beyond fan speculation and local columnist musings, the Horrible Roy Halladay Thing that is currently happening has reached new levels of concern. With every fourth inning departure, every seven or eight-hole hitter's RBI, the idea that he will turn it around and drag the team back to .500 gets less and less likely, leading some of us to lose complete control.
Fargle Bargle

— Zoo With Roy (@zoowithroy) April 8, 2013
So, after days of claims that it's still early, which it is, the Times has quietly pulled the plug on the Phillies' 2013 season. Though I've heard Roy Oswalt is available.
PARTY AT JAMES FRANCO'S HOUSE
So, to counteract the Roy Halladay news, here's a trailer that can be filed under the same "this is the end" mentality while avoiding the "intense sadness" of real life.