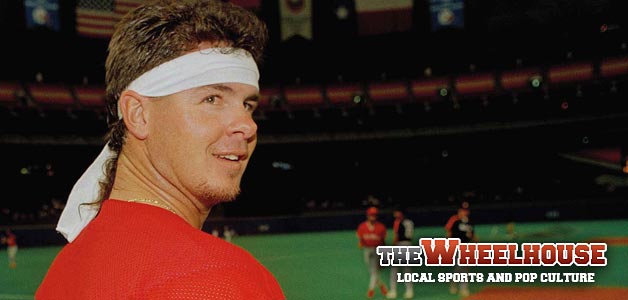 It was two decades ago on this very evening that Veterans Stadium filled with rain and drunks.
At three in the morning, the second game of a 1993 Phillies-Padres double header was in full swing. Bar patrons were delighted to realize that something was still open, and not only that, but they could get in for free.
A 5-5 tie sent the game into extra innings, obviously, and it wasn't until close to sunrise that the end came on a walk off hit from closer Mitch Williams, the delirium of which had Harry Kalas spout the most humiliating on-air nickname of Williams' career.
And that's why we all call him Mitchie-Poo.
TWADING PLACES
I know, I know.
You woke up this morning and the world had changed. When you lay your sweet head upon a pillow last evening, Stanford's Twitter account was still @SUAthletics. By the time you were frosting a pop-tart this morning, it was @GoStanford. And not only that, but it was Syracuse using the @SUAthletics handle.
"I don't even want this thing anymore!" you shrieked, hurling the pop-tart against the wall, frosting side first, and watching it slowly ooze to the floor.
This is just the world we live in now. College athletics programs can perform official trades of Twitter accounts in exchange for fruit. And better yet, it was a clear power grab, with no real intention on Syracuse's part other than to own a second morsel of the internet.
@tjbasalla We are not sure what we will do with @suathletics but we didn't want anyone else to grab it after Stanford was done with it.

— Syracuse Athletics (@Cuse) July 1, 2013
Speaking of fruit, maybe start including some of that with breakfast. Might help your violent, sugar-based mood swings.
No? You're gonna try to win fried chicken for life from Federal Donuts?
Fine.
KICK IN THE ASTROS
Boy, it just keeps getting tougher to be an Astros fan, doesn't it.
DODGE THIS
July means we will become privy to MLB deals and rumors of deals and hints of rumors of deals.
But now, at the beginning of the month, we have the always entertaining "theory of a hint of a deal rumor," which can be identified by its headline that ends in a question mark.
Jon Heyman of CBS Sports reports, "Is Los Angeles' own Chase Utley on Dodgers' radar?"
"It isn't known if the Dodgers have gone so far as to contact the Phillies regarding Utley, and if they do, Phillies general manager Ruben Amaro doesn't seem anxious to trade Utley..."
"So, no; nothing has happened or been said, and nothing that has been done or said indicates something else will be done or said, but oh man - can you imagine if it had?!"
This is all actually very normal, it was just a lot more fun when we were the team getting players, instead of deciding which beloved mainstay is going to play for the... Dodgers.
ON THE BUBBLE
This is what Bubble Football looks like, FYI.
Okay, carry on.