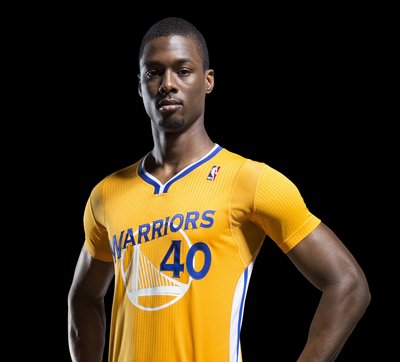 Earlier today, the Golden State Warriors introduced a new alternate jersey that has sleeves. And no, not a jersey with a t-shirt underneath like we used to rock in grade school.
This is a new "revolutionary" uniform system designed by Adidas that will debut on February 22.
The "adizero NBA short sleeve uniform systems," with special moisture-absurbing fabric, will be 26% lighter than the current sleeveless uniforms worn around the league. But as Deadspin pointed out earlier, couldn't they then be even lighter without the sleeves?
I'm not convinced this is the future of NBA uniforms, but people may have felt the same way when the Michael Jordan decided he needed bigger, longer shorts so he had something to grab onto when bending over to catch his breath.
Although he also attended the University of North Carolina, I'm pretty sure Harrison Barnes (pictured wearing the new jersey) doesn't have the same kind of cachet as Jordan.