Temple announces 2013 Big East football schedule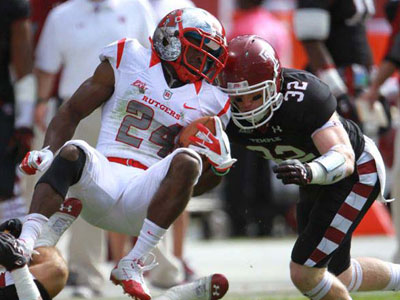 Temple's schedule for the coming season was finalized Wednesday as the Big East released its full slate of conference games for the year.
Temple announces 2013 Big East football schedule

The conference currently named the Big East announced its 2013 football schedule on Wednesday.
Temple will open conference play by hosting Houston on Sept. 7 at Lincoln Financial Field.
The Owls' other conference home games include Louisville (Oct. 5), Central Florida (Nov. 16) and Connecticut (Nov. 23). Temple's road conference games are Cincinnati (Oct. 11 on ESPN or ESPN2), at Southern Methodist (Oct. 26), at Rutgers (Nov. 2) and at Memphis (Nov. 30).
You already knew that the Owls will open the season with a much-anticpated, non-conference trip to Notre Dame on Aug. 31. Here's the full schedule for the season. All kickoff times are to be announced, as is television broadcast information for games where it's not stated below.
Saturday, August 31: at Notre Dame
Saturday, September 7: vs. Houston (Big East opener)
Saturday, September 14: vs. Fordham
Saturday, September 21: Bye
Saturday, Septembr 28: at Idaho
Saturday, October 5: vs. Louisville
Friday, October 11: at Cinicinnati (ESPN or ESPN2)
Saturday, October 19: vs. Army
Saturday, October 26: at Southern Methodist
Saturday, November 2: at Rutgers
Saturday, November 9: Bye
Saturday, November 16: vs. Central Florida
Saturday, November 23: vs. Connecticut
Saturday, November 30: at Memphis