Archive: September, 2011
Steve Addazio's concern was warranted.
Coming off last week's huge victory, the Temple coach wondered how his team would respond against Toledo.
The answer was less than stellar.
A victory over Maryland has made Temple a stronger candidate to possibly receive an invitation to join a Bowl Championship Series conference down the road. But at this moment, the Owls are focused on their first true Mid-American Conference test in Toledo.
I'll point out things to look out for in Saturday's contest at Lincoln Financial Field.
RECORDS
Former Temple quarterback Adam DiMichele has signed a contract with the Philadelphia Soul, as announced Friday.
The 6-foot-1, 202-pounder played for the Erie Explosion of the Southern Indoor Football League last season.
DiMichele played at Temple in 2007 and 2008. He finished his Owls career with 5,024 passing yards and 45 touchdowns.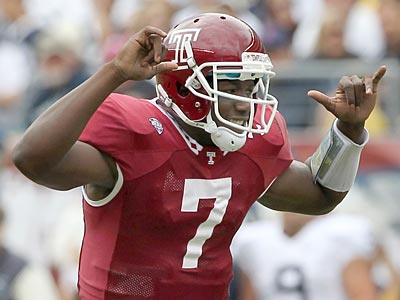 Join The Inquirer's Keith Pompey for his weekly chat about all things Temple football, starting at 2 p.m. Thursday.
If you're on a mobile device, click here to follow along and post questions.
Temple's game against Toledo on Saturday at noon at Lincoln Financial Field will air on WIP-AM (610).
The game moved from WPHT-AM (1210) to accommodate the Phillies playoff broadcast.
Temple will host Toledo on Saturday in its annual Breast Cancer Awareness game.
It will also be known as the Owls' bargain game.
That's because fans, who don't already have tickets or were going to this weekend's Phillies or Eagles games, can buy Temple tickets for $5.
The Philadelphia Inquirer's Rick O'Brien is reporting that Abington defensive end Bryan Osei recently gave an oral commitment to Temple after backing out of his commitment to Villanova.
The 6-foot-2, 220-pound senior had been Villanova's 10th recruit for the Class of 2012. Now, he's the 25th player in Temple's recruiting class.
"I reevaluated things," Osei told O'Brien. "I like that Temple's football program is on the rise and on the verge of doing big things. Also, it turns out that the school has a higher educational ranking for psychology [his intended major]."
Toledo could resemble a battered and bruised team in Saturday's game against Temple at Lincoln Financial Field.
And here's why.
Three starters – running back Adonis Thomas, linebacker Danny Molls and free safety Mark Singer – won't play because of injuries. Two more starters – cornerbacks Taikwon Paige and Desmond Marrow – are listed as questionable.