Archive: August, 2012
My look at some of the best and worst performances and happenings from Temple's 41-10 victory over Villanova in Friday night's Mayor's Cup game the Lincoln Financial Field:
Best player of the game: Matt Brown toyed with Villanova. The Temple senior finished with 270 all-purpose yards in the lopsided victory. The 5-foot-5, 165-pound tailback had game-high 145 rushing yards on 19 carries. The highlight came on a 56-yard TD run to put the game out of reach 21 seconds before intermission. Brown four punts returns for 84 yards. His longest one went for 45 yards. He also returned three kickoffs for 41 yards.
West performance of the game: I hate to do this to Temple's outside receivers, especially when Wildcats quarterback Chris Polony completed just 2 of 7 passes and threw an interception. But I can't overlook that Deon Miller, C.J. Hammond and Ryan Alderman were all held without a catch. Hammond failed to catch a very catchable pass on the deep throw toward the Wildcats' sideline. In Miller's defense, he's getting over a viral illness. But slot receiver Jalen Fitzpatrick, who caught two passes for 33 yards, will need help if the Owls expect to keep teams from loading the box to stop the run.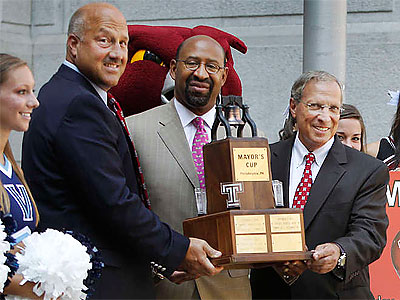 Temple vs. Villanova keys to the game
Here are my final thoughts for Friday's Temple vs. Villanova matchup at Lincoln Financial Field.
The Owls are looking to cap the final Mayor's Cup game with a third consecutive victory over the Wildcats. But Villanova is determined to avenge last season's embarrassing 42-7 setback.
SERIES INFORMATION
Temple all-time vs. Villanova: 14-16-2
Temple in games at Temple: 8-13-2
Follow along below as The Inquirer's Keith Pompey provides live updates via Twitter from the Temple-Villanova Mayor's Cup football game at Lincoln Financial Field.
If you're on a mobile device, click here.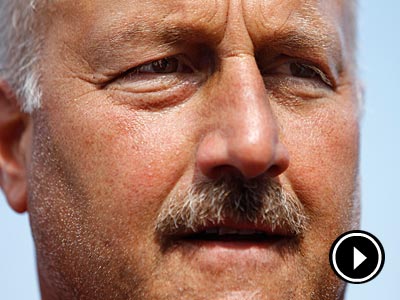 Video: The Inquirer's Keith Pompey talks with Temple football coach Steve Addazio about Friday's Mayor's Cup season-opening game against Villanova at Lincoln Financial Field.
Steve Addazio wants all Philadelphians to be proud of his Temple Owls.
With that said, the Temple coach doesn't think his team should be judged solely by this season's win-loss total.
"We are building something here for the long haul," Addazio said.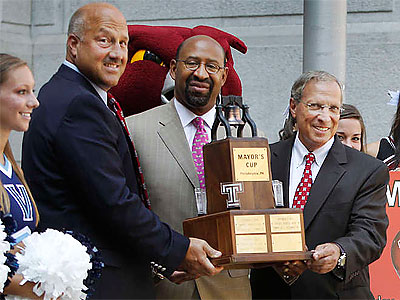 Join the Inquirer's Keith Pompey as he talks Temple football in a chat scheduled to start Thursday at 1 p.m.
On a mobile device? Click here to join the chat.
Seniors Justin Gildea, Marcus Green and Martin Wallace were named Temple's team captains for the 2012 season. A fourth game captain will be selected for each contest.
Gildea finished with 51 tackles and three sacks last season from his strong safety position. Wallace, a right tackle, is a fourth-team preseason all-Big East selection. And Green, a defensive end, had seven tackles and a sack last season in a reserve role.