Archive: March, 2011
Amile Jefferson, a junior basketball player at Friends' Central School, took an unofficial visit to Temple on Wednesday. The 6-foot-8 power forward is regarded by ESPN as the nation's ninth-best college basketball prospect in the Class of 2012.
"It was good. It was good," Jefferson said of his visit. "I stayed with one of the players, Khalif Wyatt. So I just stayed with him for a little bit, just looking at the school, the coaches and the campus and things like that. So it was good."
During his unofficial visit, Jefferson had a meeting with Temple coach Fran Dunphy.
Joan Lewis always talks about having lived a full and rich life.
Well, on Tuesday, it got a little richer, as the grandmother from Virginia, who has Stage 4 pancreatic cancer, fulfilled another dream before she dies.
Two days after seeing the Connecticut women's team compete in the NCAA tournament, the devoted Huskies fan was a guest at Tuesday's shootaround at the Liacouras Center. The 74-year-old even gave top-seeded UConn a pep talk for Tuesday night's Philadelphia Regional final against second-seeded Duke.
Temple is expected to formerly offer Math, Civics & Sciences swingman Jeremiah Worthem a scholarship, according to sources close to the situations.
The 6-foot-6 sophomore has offers from Rice, St. Joseph's, Drexel and La Salle. He's also receiving some interest from Pittsburgh and Maryland.
Worthem finished with 22 points and 12 rebounds to lead Math, Civics & Sciences to a 70-55 PIAA Class A state championship victory over Lincoln Park on Friday in State College.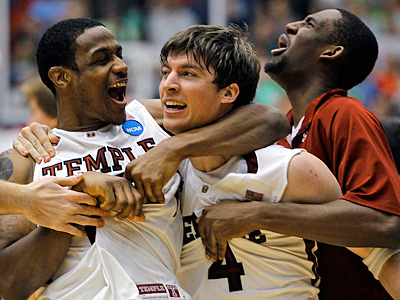 TUCSON, Ariz. – Yes, this was Juan Fernandez's biggest shot at Temple.
The junior guard even admits that he enjoyed watching highlights of his game-winner on ESPN.
"But, you know, that shot was big [Thursday]," Fernandez said of his basket with 0.4 seconds left that gave Temple a 66-64 NCAA tournament second-round victory over Penn State.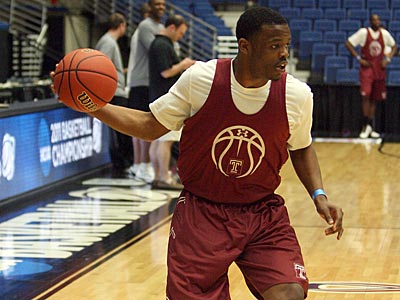 Temple swingman Scootie Randall is expected to see action when No. 7 seed Temple faces No. 10 seed Penn State in Thursday's NCAA tournament second-round matchup at the McKale Center.
The 6-foot-6 junior will come off the bench after missing the past seven games with a hairline fracture in his right foot.
"He was pain free on Monday and Tuesday," Temple coach Fran Dunphy said. "So we're hopeful that he can give us some minutes tomorrow.
One would assume that every student at Penn State is excited about the Nittany Lions reaching the NCAA tournament.
After all, 10th-seeded Penn State (19-14) will make its first tourney appearance since 2001 when it faces No. 7 seed Temple (25-7) in a West Region second-round game Thursday in Tucson, Ariz.
But, some PSU students, perhaps playfully, complained to the Lions Monday that their at-large bid denied more deserving teams a tourney appearance.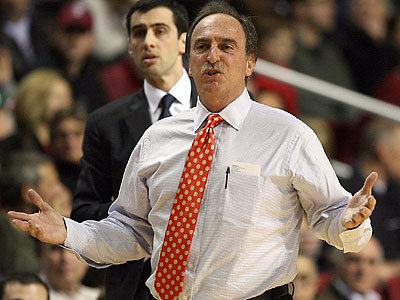 Joe Lunardi, a college basketball analyst for ESPN, predicts that Temple will receive the No. 7 seed in the East when the NCAA tournament pairings are announced Sunday evening. Lunardi, known as Joey Brackets, has the Owls (25-7) facing his predicted 10th-seed Florida State (21-10) in their opening-round matchup in Washington.
The winner will face the winner of the No. 2 Connecticut vs. No. 15 St. Peter's game in the next round.
Lunardi, a St. Joseph's graduate who does Hawks radio broadcasts, has correctly selected 64 of the 65 teams in the 2010 NCAA tournament.
ATLANTIC CITY – Temple is held to a higher standard than it was several seasons ago.
The 24th-ranked Owls (25-6) no longer get praised for blowing out teams everyone expected them to beat. And whenever they beat teams with losing records, we highlight the fact that they did just that: beat a losing team.
Well, Temple did both in Friday's Atlantic Ten Tournament quarterfinal round here at Boardwalk Hall.