Archive: November, 2011
The Chicago Tribune is reporting that Temple football coach Steve Addazio may be a potential candidate to become the next coach at Illinois.
If so, Addazio could replace Ron Zook, who was fired on Sunday.
The Tribune points out that, as a former assistant coach at Notre Dame and Indiana, Addazio has ties to the Midwest.
Temple football players Bernard Pierce and Matt Brown both received Mid-American Conference East Division player of the week honors on Monday.
Pierce, a 6-foot, 218-pound junior tailback, was named the MAC East's offensive player of the week. Brown, a 5-5, 170-pound junior tailback, earned the division's specialist of the week.
In a backup role, Pierce rushed for season-best 189 yards and three touchdowns in Friday's 34-16 victory over Kent State. This is the Ardmore native's fourth offensive player of the week honor this season and eighth of his career.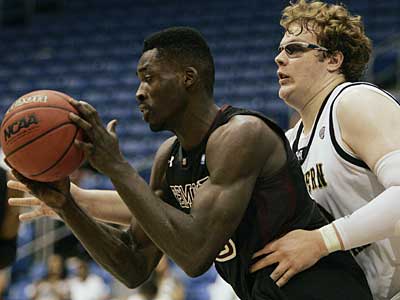 BOWLING GREEN, Ohio -- Temple center Micheal Eric reinjured his right kneecap and did not make the trip for Sunday's game against Bowling Green.
The 6-foot-11 graduate student, with senior eligibility, suffered the knee injury during Friday's practice. He will have the kneecap examined this week. His status Saturday's home-opener at the Liacouras Center against Central Michigan is unknown
Eric is averaging 10.5 points and 11.3 rebounds. Redshirt freshman Anthony Lee will start in his place Sunday.
Temple football player Matt Brown was named the national kickoff returner of the week by the College Football Performance Awards on Sunday night. The 5-foot-5 junior also garnered honorable-mention honors at running back.
Brown tied a school record with a 100-yard kickoff return for a touchdown in Friday's 34-16 victory over Kent State. He also returned two punts for 24 yards and rushed 11 times for 32 more yards.
BOWLING GREEN, Ohio -- Temple begins a very winnable three-game stretch against Mid-American Conference opponents on Sunday.
The Owls (3-1) face Bowling Green (3-2) in a 2 p.m. contest at the Stroth Center. Afterward, the Atlantic Ten power entertains Central Michigan on Saturday and travels to Toledo on Dec. 7.
Temple, which defeated MAC team Western Michigan on Nov. 17, has a 12-game winning streak against MAC opponents.
Temple coach Fran Dunphy talks about Sunday's 67-64 setback to Bowling Green. Playing without injured center Micheal Eric, the Owls lacked a defensive presence and struggled down the stretch.
BOWLING GREEN, Ohio -- The streak is over.
Temple's domination of Mid-American Conference teams ended Sunday. Bowling Green defeated the Owls, 67-64, in a nonconference game at the Stroh Center.
That upset snapped Temple's 12-game winning streak against MAC opponents. It also dropped the Owls to 3-2 on the season.
Temple quarterback Chris Coyer suffered a sprained left AC joint during the Owls' first offensive series.
The redshirt sophomore will miss the next two weeks due to the left shoulder injury, according to a source. Mike Gerardi replaced Coyer at QB for Temple's second offensive series. The Virginia native went to the locker room and returned with a sling on his left arm.
Coyer had two carries for seven yards.