Archive: October, 2011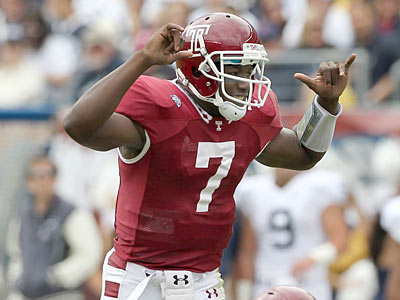 Join The Inquirer's Keith Pompey for a live chat about all the latest Temple football news, starting at 2 p.m. Thursday.
If you're on a mobile device, click here to follow along and post questions.
Video: Temple coach Steve Addazio said Saturday's game at Ball State will be a good challenge for the Owls. He also said Temple didn't follow the plan to win in last weekend's 36-13 setback to Toledo.
Temple men's basketball coach Fran Dunphy will shave his mustache on Thursday morning to honor former Owl Dionte Christmas' graduation. This wil mark the first time since 1971 that Dunphy will not have hair on his upper lip.
Yes, Christmas will be there for the event.
Steve Addazio won two national championships as an assistant coach at the University of Florida.
He also had assistant coaching stints at Notre Dame, Indiana and Syracuse.
As a result, he has faced plenty of Bowl Championship Series competition in the Southeastern, Big Ten and Big East conferences.
Losing the way it did to Toledo on Saturday may be the best thing for Temple.
The 36-13 Mid-American Conference drubbing brought the Owls (3-2, 1-1 MAC) back to reality.
Prior to the game, Temple's players heard how great they were for beating Maryland. And they were starting to believe it.
Temple released its depth for Saturday's game at Ball State.
Here's a look at the offensive and defensive two-deep spots. (Starters are in bold):
OFFENSE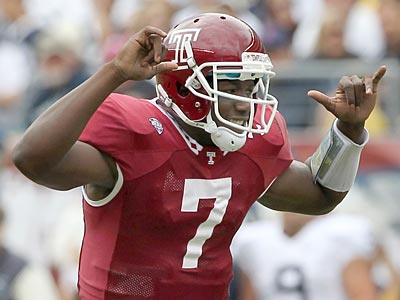 Chester Stewart is being introduced to the world of Twitter.
On the real-time information network, Stewart is perhaps the hottest topic surrounding Temple's football team.
Judging by responses, a portion of Owls' fans want him to play a different position.
Temple tailback Bernard Pierce lost his position as the nation's scoring leader. At the same time, the Owls no longer have the nation's top-ranked scoring defense.
Those things were expected after Toledo beat Temple, 36-13, on Saturday in a Mid-American Conference game at Lincoln Financial Field.
Pierce failed to score a touchdown for the first time this season. And the Rockets (2-3, 1-0) did whatever they wanted to do against the Owls defense.