John Mitchell
Temple will honor former coach Wayne Hardin this weekend for his selection to the 2013 Football Subdivision College Football Hall of Fame.
Hardin, who coached the Owls from 1970-82, is the winningest coach in Temple history. He will be recognized in front of the home crowd at the end of the first quarter of the Owls' home-opener against Houston at Lincoln Financial Field on Saturday.
Under Hardin the Owls went 80-52 in 13 seasons.
John Mitchell
All programs have players that get away from them in terms of recruiting, and this weekend Temple will get a look at a guy who falls under that category – sort of.
Before Houston freshman John O'Korn and his family moved from Huntingdon, Pa to Fort Lauderdale and O'Korn became a highly touted quarterback prospect at St. Aquinas High School (nationally, Rivals.com ranked him 31st; 247Sports had him 34th), O'Korn, who moved away following his sophomore season in high school, developed a pretty decent relationship with Temple.
O'Korn attended former Temple coach Al Golden's football camps. He also attended a few Temple games, made unofficial visits to Temple's campus and developed a relationship with Temple coach Matt Rhule.
John Mitchell
PROVIDENCE, R.I. – The American Athletic Conference has announced the winners of the league's weekly football honors for the first week of the college football season.

AMERICAN ATHLETIC CONFERENCE OFFENSIVE PLAYER OF THE WEEK
Teddy Bridgewater • Jr. • QB • Louisville • Miami, Fla.
Bridgewater, the 2012 Big East Offensive Player of the Year, picked up where he left off last season in Louisville's 49-7 win against Ohio Sunday. He completed his first nine passes on his way to a 23-for-28, 355-yard day that included five touchdown passes and one interception. Bridgewater threw four touchdown passes in the first half, helping the Cardinals take a 28-0 lead into the break and giving him 13 consecutive games with at least one TD pass.

AMERICAN ATHLETIC CONFERENCE DEFENSIVE PLAYER OF THE WEEK
Terrance Plummer • Jr. • LB • UCF • Orange Park, Fla.
Plummer had a game-high 10 tackles with three tackles for loss and a pass breakup in the Knights' 38-7 win against Akron last Thursday. He led a UCF defense that kept Akron off the scoreboard until the Zips' final possession as Akron finished with 250 yards of offense, crossed midfield just three times and made just one trip to the red zone.

AMERICAN ATHLETIC CONFERENCE SPECIAL TEAMS PLAYER OF THE WEEK
Richie Leone • Sr. • P/K • Houston • Roswell, Ga.
Already considered one of the nation's top punters, Leone added placekicking and kickoff duties in the Cougars' 62-13 win against Southern. He scored 11 points – the first points of his career – by converting field goals of 30 and 38 yards and going 5-for-5 on PATs. Leone also averaged 47.0 yards on four punts, dropping three inside the 20-yard line.

WEEKLY HONOR ROLL
Blake Bortles • Jr. • QB • UCF • Oviedo, Fla.
Completed 18 of 24 passes for a career-high 314 yards with three touchdowns in a 38-7 win against Akron.

Nick Temple • Jr. • LB • Cincinnati • Indianapolis, Ind.
Had with two tackles, both for losses, an interception and a pass breakup in a 42-7 win against Purdue. Helped limit the Boilermakers to 65 rushing yards and 226 yards of offense.

Daniel Spencer • Jr. • WR • Houston • Grandview, Texas
Had nine receptions for 102 yards and two touchdowns and added a 45-yard rushing touchdown in a 62-13 win against Southern.

Preston Brown • Sr. • LB • Louisville • Cincinnati, Ohio
Had a team-high nine tackles in a 49-7 win against Ohio, helping to limit the Bobcats to just 81 rushing yards.

Gary Nova • Jr. • QB • Rutgers • Elmwood Park, N.J.
Completed 26 of 41 passes for 348 yards and five touchdowns with one interception in a 52-51 overtime loss at Fresno State.
John Mitchell
Here are some lose ends from the Owls' final practice before heading out to South Bend to face Notre Dame in Saturday's nationally televised game.
*Coach Matt Rhule announced that freshman Jarred Alwan will get the nod over sophomore Nate D. Smith and start at MIKE linebacker. Smith, who finished second on the squad last season in tackles (75) will definitely see some playing time, according to Rhule.
*Starting at cornerback across from returning starter Anthony Robey will be Tayvon Young. Rhule is going to go with Abdul Smith and Stephaun Marshall at the safety positions.
John Mitchell
If your are making the trip out to South Bend to watch the Owls season opener vs. Notre Dame, don't get caught holding the bag. Here is a look at what will and will not be permitted in Notre Dame Stadium this Saturday:
• What types of bags are prohibited?
Backpacks, duffel bags, and tote bags are strictly prohibited.

• What can I bring into the Stadium?
Smaller bags, including purses and draw-string sack packs, will be allowed but will be inspected by trained security personnel.

• Can I bring my medical bag or diaper bag into the Stadium?
Yes, medical bags and diaper bags will be allowed into the Stadium, but will be inspected by trained security personnel.

• Why does Notre Dame feel it is necessary to institute a bag policy like this now?
As we learned this past spring in Boston, backpacks and other larger bags can be used for destructive and tragic purposes. This policy is part of an ongoing effort to continuously improve the game-day environment and enhance safety.

• How long will the bag inspection process take?
The trained inspectors will work quickly yet carefully to ensure that delays are kept to a minimum while keeping safety at the forefront.

• How will my property be handled during the bag inspection process?
Please know that our trained professionals will ensure personal property and privacy are respected at all times.

• How was this policy determined?
The University benchmarked its bag policy with those of other Universities and NFL programs and developed a policy that would best fit with Notre Dame's Stadium and other processes in place.
John Mitchell
Sophomore linebacker Nate D. Smith has made a strong push in the final days leading up to Temple's season opener at Notre Dame to return to the starting lineup.
On Tuesday, at his weekly press conference, coach Matt Rhule surprised some when he said that freshman Jarred Alwan had won the starting Mike linebacker job over Smith. Last season Smith started 10 of 11 games at middle linebacker. He finished with 75 tackles, second on the team to fellow linebacker Tyler Matakevich, who last season set the true freshman record (101).
However, following a rainy Wednesday morning practice that featured the Notre Dame Fight Song looped over and over again at an ear-deafening decibel level, Rhule said that the Smith was still in the running to start Saturday's nationally televised game against 14th ranked Notre Dame.
John Mitchell
Had a few questions answered by Temple offensive coordinator Marcus Satterfield regarding what the offense might look like and the process of transforming the offense from the ground-and-pound approach of the past to the pro-style offense that the Owls will deploy moving forward.
The most interesting statement was that Satterfield, 37, said the offense, when clicking, should look a whole lot like a certain NFC East foe of the Philadelphia Eagles.
"When it's running smoothly the offense is going to look very, very, very, very much like the New York Giants' offense," Satterfield said. "It will shadow it. When you watch the Giants – and when their offense is rolling – it's balanced and it's fun to watch. That's what we're shooting for here."
John Mitchell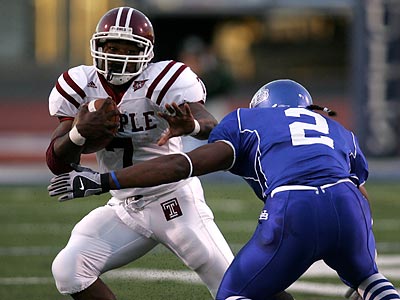 Things are going pretty well for former Temple standout Tim Brown.
A member of the BC Lions of the Canadian Football League, Brown was most recently named the CFL Special Teams Player of the Week.
In the Lions' 26-22 win over the Calgary Stampeders, Brown returned a first quarter kickoff for a 97-yard touchdown. All told, Brown returned four kickoffs for 140 yards and nine punts for 72 yards. Brown finished the game with 212 all-purpose yards.