Archive: November, 2011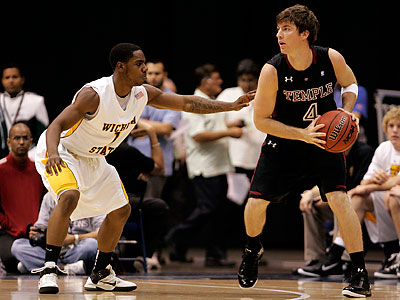 Temple took a 78-74 overtime victory over Wichita State in Sunday's Puerto Rico Tip-Off third-place game at the Coliseo de Puerto Rico.
Fifth-year senior shooting guard Ramone Moore scored six of his team-high 23 points in the overtime period. Junior guard Khalif Wyatt tallied six of 13 points in the extra session.
Senior point guard Juan Fernandez (15 points) and Micheal Eric (13) were Temple's other double-digit scorers. The Shockers were led by Toure Murry's game-high 24 points.
Josh Brown, a junior point guard at St. Anthony High School (N.J.), gave an oral commitment Saturday to play basketball at Temple.
The 6-foot-3, 185-pounder is the Owls' first commitment for the class of 2013.
Brown is a close friend of Temple 2012 signee Quenton DeCosey, a senior forward at St. Joseph in Metuchen (N.J.). Brown was also reportedly receiving interest from St. Joseph's, La Salle, Cincinnati, Seton Hall, Rutgers, Massachusetts and Monmouth.
Temple's Brandon McManus and Bernard Pierce were named College Football Performance Awards national player of the week honorable mentions on Sunday. This is McManus' third consecutive week being honored.
The placekicker/punter earned this week's honor after averaging 46.3 yards on three punts in Saturday's 42-14 victory over Army. Pierce, a junior tailback, rushed for 157 yards and three touchdowns on 21 carries. He missed last week's victory over Miami of Ohio with a concussion.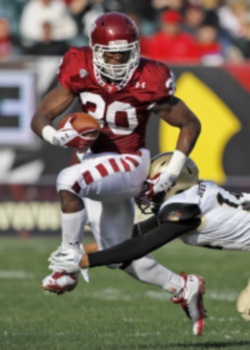 Temple running back Matt Brown gave teammate Bernard Pierce the business after Pierce finished the scoring in Saturday's 42-14 win over visiting Army with a 49-yard touchdown run.
That touchdown came with 5:11 left and both Brown and Pierce received the rest of the afternoon off.
Not that Brown enjoyed the time off.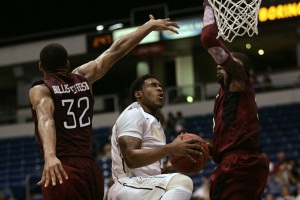 SAN JUAN, Puerto Rico -- Temple was denied an opportunity to play for its first in-season tournament title since 1998.
Purdue defeated the Owls, 85-77, in Friday afternoon's Puerto Rico Tip-Off semifinal at the Coliseo de Puerto Rico.
The Boilermakers (4-0) advanced to Sunday's 7:30 p.m. championship game against the winner of Friday night's Wichita State vs. Alabama game. The Owls (2-1), on the hand, will face the loser of the Wichita State vs. Alabama game in Sunday's 5:30 p.m. third-place game.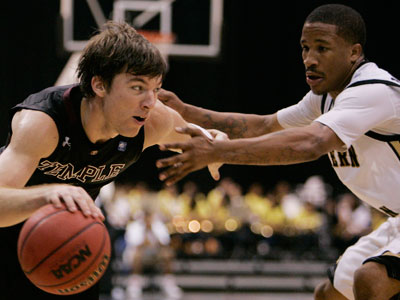 SAN JUAN, Puerto Rico – Temple defeated Western Michigan, 69-55, in Thursday's opening game of the Puerto Rico Tip-Off at the Coliseo de Puerto Rico.
The Owls (2-0) advance to Friday's 1 p.m. semifinal against Purdue. The Broncos (0-2) will face Iona in Friday's 3:30 p.m. consolation game.
All five of Temple's starters scored in double figures.
SAN JUAN, Puerto Rico -- One would assume Temple has to face the Dallas Mavericks after listening to Owls coach Fran Dunphy.
"They are a team with very few weaknesses," Dunphy said of the Purdue Boilermakers, Temple's Puerto Rico Tip-Off semifinal opponent. "I think they guard you very, very well … It's going to be a great, great challenge for us."
The Owls (2-0) advanced to Friday's 1 p.m. contest with a 69-55 victory over Western Michigan on Thursday. Purdue (3-0) defeated Iona in a 91-90 thriller.
Join The Inquirer's Keith Pompey for his weekly chat about all the latest Temple football news, starting at 2 p.m. Thursday.
If you're on a mobile device, click here to follow along and post questions.