Archive: May, 2013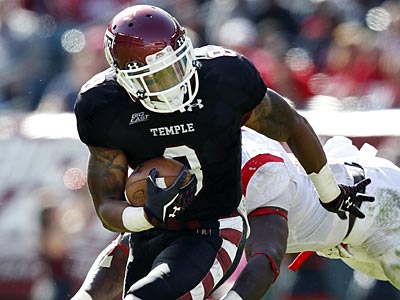 Montel Harris' tenure with the Hamilton Tiger-Cats of the Canadian Football League was the equivalent of a three-day weekend.
The former Temple tailback was released from the team Friday – two days after signing a three-year contract.
This is just another disappointment for the all-Big selection.
The American Athletic Conference - you may know it as the Big East - unveiled its new logo Thursday.
Here's more from the press release:
The creation of the logo and marks is a part of the ongoing branding of The American, formerly known as the Big East. The new logo features a simple, athletic letter A in red, white and blue, which each institution can customize with its own colors. The marks were created by LeslieAnne Wade and MadCreek Advertising.
On a day when the American Athletic Conference released its new logo, commissioner Mike Aresco said there are no plans for future expansion.
"We feel like we are complete," Aresco said during Thursday's teleconference.
The conference formerly known as the Big East will consist of Temple, Connecticut, Cincinnati, South Florida, Southern Methodist, Memphis, Houston, Louisville and Rutgers on July 1.
Thanks to an expired passport, Matt Brown gets a chance to live out an NFL dream instead of playing for the Saskatchewan Roughriders.
Thirteen days after announcing that he would play for the Canadian Football League team, the former Temple running back/return specialist signed a contract Wednesday night with the Tampa Bay Buccaneers.
The 5-foot-5, 165-pounder was able to join the NFL team since he never signed his contract with the Roughriders. Brown was scheduled to fly to Saskatchewan on Tuesday to sign it. However, he was unable to board the plane in Baltimore due to an expired passport.
Former Temple tailback Montel Harris signed a three-year contract with a Hamilton Tiger-Cats of the Canadian Football League on Wednesday.
The all-Big East selection wasn't selected in April's NFL draft and had unsuccessful tryouts with the Eagles and Tampa Bay Buccaneers.
Harris rushed for a combined 4,786 yards and 39 touchdowns during his college career at Temple and Boston College. He had 1,054 yards and 12 touchdowns in 10 games in 2012, his lone season as an Owl. He average of 105.4 rushing yards per game led the Big East. The first-team all-Big East selection rushed for school and conference single-game records of 351 rushing yards and seven touchdowns against Army on Nov. 17.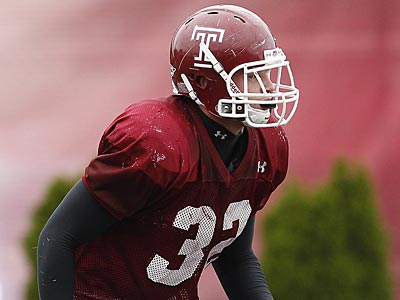 Tyler Matakevich, a sophomore linebacker at Temple, was named to Phil Steele's preseason all-American Athletic Conference team.
The Stratford, Conn. native was the 2012 Big East rookie of the year and ECAS defensive rookie of the year after starting eight games last season. Matakevich led the Owls last season with 101 tackles, three pass breakups, two fumble recoveries and a forced fumble. He became the school's first true freshman to register 100 tackles.
Temple junior cornerback Anthony Robey was named a fourth-team selection by Phil Steele.
Former Massachusetts guard Jesse Morgan is enrolled in summer courses at Temple and could possibly play for the Owls next season. This was first reported by OwlScoop.com.
The Olney High graduate, who has one season of eligibility remaining, is a continuing studies student at Temple. He could play for the Owls in 2013-14 if he completes this summer's course work and clears the NCAA clearinghouse.
The 6-foot-4, 190-pounder has been reportedly forced to withdraw from UMass due to violation of a school policy before the start of last season. After serving a one-game suspension, he averaged 13.4 points before suffering a season-ending ACL injury in January.
Pat Kraft has been named Temple's deputy athletic director.
He comes to North Broad Street after spending the past two years as the executive senior associate athletic director at Loyola in Chicago. Before that, Kraft worked on the senior athletic staff at Indiana. He was responsible for the Hoosiers' branding and marketing efforts.
"Pat Kraft brings a wealth of knowledge in athletics administration to Temple University," said Temple interim athletics director Kevin Clark, formerly a senior associate athletic director at Indiana. "I witnessed firsthand his efforts in branding and marketing Indiana athletics as we served together on IU's athletics senior staff. His business acumen and his ability to engage fan bases will be critical as Temple is poised to enter a new era in its athletics program in 2013-14 with the move to the American Athletic Conference."