Owls remain fifth in Big East Power Rankings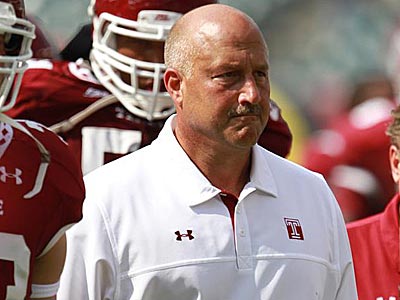 Big East Power Rankings: Week Three
Owls remain fifth in Big East Power Rankings

Big East Power Rankings: Week Three
Temple didn't play particularly well in Saturday's 36-27 loss to Maryland.
Despite that poor showing, the Owls (1-1) are still better than Connecticut, Syracuse and Pittsburgh. That's why they remain fifth in the updated Big East Power Rankings. But things could change with a poor showing at winless Penn State on Sept. 22.
Here's a look at my power rankings:
1. LOUISVILLE (2-0)
Skinny: After spanking Missouri State, No. 19 Louisville is 2-0 for the first time since 2007. Cardinals quarterback Teddy Bridgewater has completed 81.7 percent of his passes (49 of 60) in two games. Louisville is also nine-for-nine in red zone scoring opportunities, including seven touchdowns.
Previous ranking: 1
Up next: vs. North Carolina at 3:30 p.m. Saturday
2. RUTGERS (2-0)
Skinny: Is Rutgers' Jawan Jamison quietly becoming the Big East's best running back? His 110 yards against Howard on Saturday marked his third consecutive 100-yard performance. He is the first Scarlet Knight to accomplish that feat since current Baltimore Ravens tailback Ray Rice. Jamison combined with Rutgers' stingy defense could present problems for conference opponents.
Previous ranking: 2
Up next: at South Florida at 7:30 p.m. Thursday
3. SOUTH FLORIDA (2-0)
Skinny: South Florida can thank quarterback B.J. Daniels for Saturday's 32-31 victory at Nevada. After a shaking start, the senior rallied the Bulls from an 11-point deficit with less than three minutes to play. Daniels threw a pair of TDs in the final 2:37. His second, a 56-yard strike to Andre Davis with 38 seconds left, won the game. South Florida will be tested again on Thursday. How will South Florida respond? Better yet, how will Daniels respond?
Previous ranking: 3
Up next: vs. Rutgers at 7:30 p.m. Thursday
4. CINCINNATI (1-0)
Skinny: Cincinnati didn't look like a rebuilding team Thursday night against Pittsburgh. After scoring on their first offensive play, the Bearcats rolled to a 24-point victory. Quarterback Munchie Legauw accounted for a career-best 322 yards in the win. No offense to Pittsburgh and Saturday's opponent, Delaware State, but the Bearcats' first true test comes Sept. 29 against Virginia Tech.
Previous ranking: 4
Up next: vs. Delaware State 7 p.m. Saturday
5. TEMPLE (1-1)
Skinny: It's probably good for Temple to be entering this season's first of two bye weeks. There are a lot of things the Owls must work on if it expects to beat Penn State on Sept. 22. The game could have huge bowl-eligibility implications for the Owls.
Previous ranking: 5
Up next: at Penn State on Sept. 22
6. CONNECTICUT (1-1)
Skinny: The Huskies would be 2-0 if their offense wasn't so ineffective. UConn was held to 35 rushing yards, made just two third-down conversions and had four turnovers in Saturday's 10-7 setback to N.C. State. It's hard to win a game playing like that.
Previous ranking: 6
Up next: at Maryland at 12:30 p.m. Saturday
7. SYRACUSE (0-2)
Skinny: Give Syracuse credit for going toe-to-toe with No. 2 Southern California for three quarters before eventually losing 42-29. Orange quarterback Ryan Nassib had his second great game with 322 passing yards and two touchdowns. But the loss was Syracuse's seventh consecutive, dating back to last season.
Previous ranking: 7
Up next: vs. Stony Brook at 4 p.m. Saturday
8. PITTSBURGH (0-2)
Skinny: Pittsburgh is worse than I thought, giving up 34 and 31 points in blowout losses to open the season. The Panthers received a solid performance from running back Ray Graham (103 yards) against Cincinnati. But it wasn't enough to stop Pittsburgh from dropping its third straight game, dating back to last season.
Previous ranking: 8
Up next: vs. Virginia Tech at noon Saturday