Archive: December, 2012
DJ Adrian Hardy celebrated his birthday at his NYE Birthday Bash at Whisper Night Club on Dec. 29, 2012. (AL FOR / Philly.com)
Maria Papadakis
Virtual personal styling service CakeStyle hosted a pop up shop event with its founder Cecelia Myers at The Sporting Club at the Bellevue in mid-December. Philly.com's Maria Papadakis was there to learn more about the company's background and unique offerings.
Watch the video, below. Viewers get an exclusive 10% off coupon code with philly10.
CakeStyle from FocusedStudios on Vimeo.
Mike Bertha
'Tis the season for giving, raiding your aunt's closest to find the most hideous, holiday-themed garment imaginable, and drinking beers that keep your belly warm.
In Fishtown on Thursday, Yards Brewing Company hosted its 2nd Annual Cancer is Ugly! Sweater Party to raise money for the Leukemia and Lymphoma Society and make sure Philly could cover all of their holiday bases with one stop.
Folks donned their ugliest holiday garb as celebrity judges Jay McCarroll (of Project Runway, Season 1 fame), Cara Kahn from Real World Chicago, Esther Lee, the style editor and entertainment producer here at Philly.com, and HughE Dillon, whose work appears on PhillyChitChat.com, Philly.com, Good Day Philadelphia and in Philadelphia magazine, selected the people with the ugliest outfits. The final winner, chosen based on audience applause, wore an impressively nasty green sweatshirt littered with a busy holiday scene and punctuated with, of course, glitter.
Philly.com
The 15th annual Reindeer Romp in Fairmount took place on Dec. 20, 2012 at 11 different bars in the area to support the charity, Feel The Warmth. (AL FOR / Philly.com)
Leah Kauffman
From the opening of Xfinity Live! to a bevy of holiday-themed runs and charitable events from our favorite local athletes, it's been a great year for parties in Philadelphia.
The Inaugural Flyers Wives Fashion Show kicked off in style at The Bellevue in Philadelphia with notables such as Lisa Nutter, Tammy Reid, Angelika Kallio, and Lauren Pronger. The event benefited Comcast-Spectacor Charities.
HughE Dillon
Garrett Getlin Snider, grandson of Flyers owner Ed Snider, hosted a charity shopping night with Saks Fifth Avenue Wednesday night to help benefit the Ed Snider Youth Hockey Foundation, an organization that targets inner-city boys and girls who would otherwise lack the opportunity to learn to skate or to play ice hockey.
Guests enjoyed holiday cocktails, shopping and hors d'ouerves as they mingled with guests like Bernie Parent, Bob Kelly, Lauren Hart, the Laviolettes, and the Holmgrens. 10 percent of all proceeds from the event went to the Foundation.
Pictured above is former Flyers great Bernie Parent, who signs Kyle and Brett Mezrow's Flyers jersey while their parents, Steve and Abby, take a photo. At left, Flyers head coach Peter Laviolette, shops for presents for his wife, Kristen, alongside former Flyers great Bob Kelly. Fox 29 sports anchor Howard Eskin is pictured in the background.
HughE Dillon
Last night Christie Honigman of The Honigman Group, hosted her annual Holiday Party for friends and clients at Opa Restaurant (1311 Sansom St.) To the right is her friend Judy Munroe of Munroe Creative.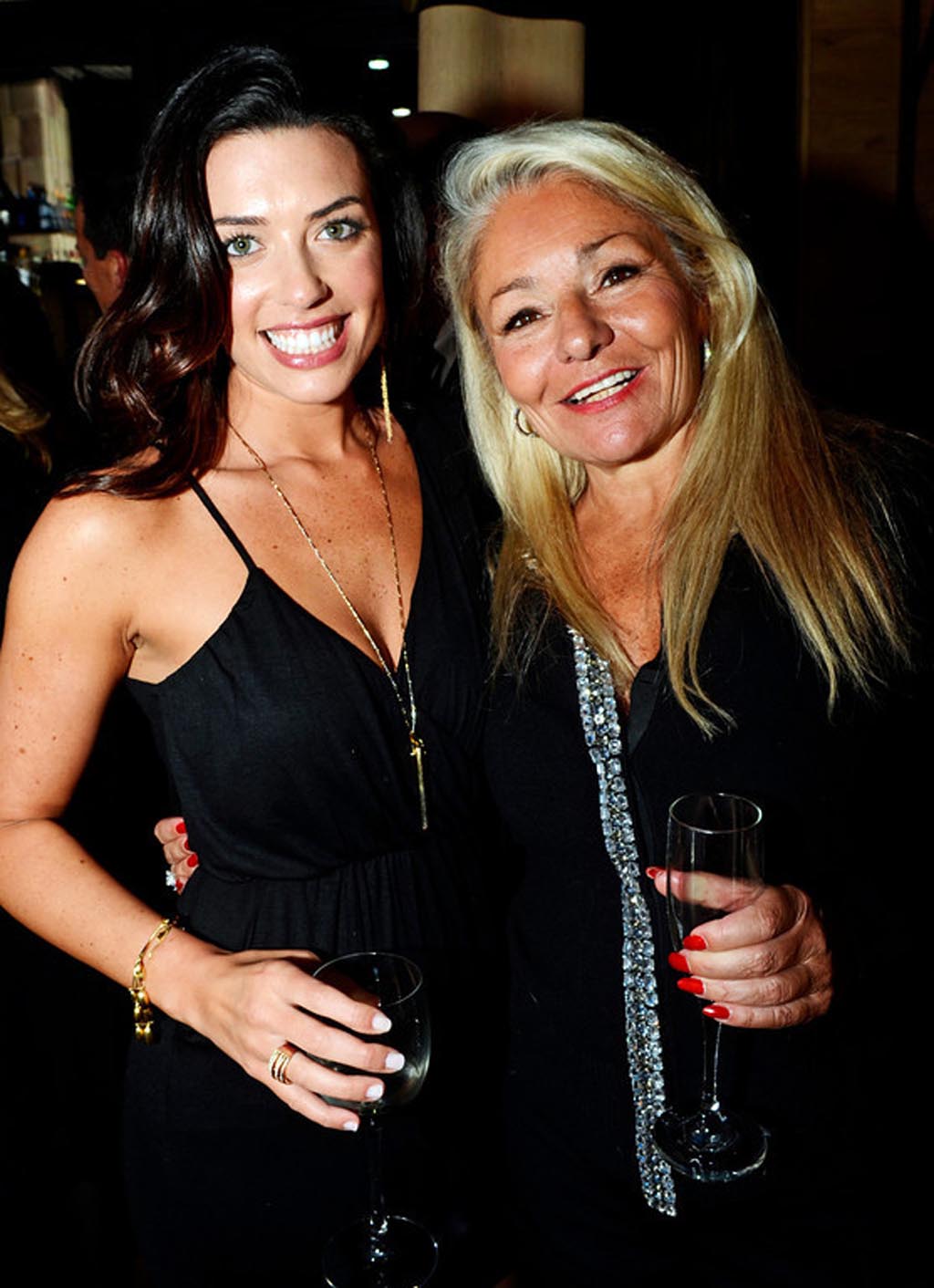 Congratulations are in order for Philadelphia Eagles linebacker Demeco Ryans and his fiance Jamila White, who just got engaged on Sunday. The two met at church, and have been dating for about a year. On Sunday they went to NYC to see the Lion King, then over to Rockefeller Center to see the Christmas Tree. He got down on one knee, "in front of all the people," and proposed. It was a magical moment, and the crowd around them cheered and clapped for them. Very sweet. The ring is gorgeous, and he bought it at Jeff Kellmer's Jewelery Store. Jeff popped in for a few minutes to congratulate the couple himself.
Philly.com
Talk Radio 1210's 4th Annual Christmas Season Event & Broadcast of the traditional seven fishes was held at the Crystal Tea Room in the Wannamaker Building Monday evening.