Archive: March, 2013
Maria Papadakis
In the latest edition of Out and About, Maria Papadakis interviews participants and revelers during Philadelphia's 2013 St. Patrick's Day Parade.
Hillary Petrozziello
Guests flocked to the National Constitution Center to enjoy local food and beer pairings at The Brewer's Plate on March 10, 2013. The event benefited Fair Food, a nonprofit organization uniting local farmers, businesses and consumers.
Colin Kerrigan
The Erin Express took over the city on March 9, 2013, where participants traveled from bar to bar in an early celebration of St. Patricks Day.
Al B. For
The 2013 Philadelphia Flower Show hosted their third annual Girls Night Out event on March 7, 2013 at the Pennsylvania Convention Center. The night featured a VIP party where guests enjoyed exclusive shopping, food and wine tastings, as well as health and beauty product demos just for the ladies. Buddakan and Continental AC provided the food while other brands such as Hope Chest Fine Lingerie, Burberry, Saks Fifth Avenue were there, too.
There was also a special meet & greet with Ramona Singer, star of "The Real Housewives of New York City," and Sandra Lee, author and television cook.
Maria Papadakis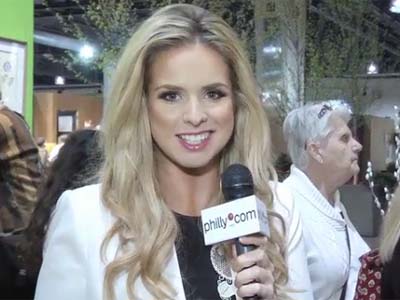 In the latest edition of Out and About, host Maria Papadakis takes us to the Philadelphia Flower Show, the world's longest-running and largest indoor flower show.
HughE Dillon

, philly.com

On Tuesday, March 5, 2013, Rita's Italian Ice hosted a party at the Comcast Center's renowned Table 31 Restaurant for a private tasting of a new concept, 'Spiked Ice, by Rita's,' which features their famous Italian Ice infused with traditional spirits. Guests of the Bucks County-headquartered franchise sampled eight flavors of the product and noshed on delicious bites prepared by Chef Chris Scarduzio during the highly anticipated debut.

The infused treat will be available at Table 31 and other restaurant/bars, and will make its public debut at the Center City District's SIPS happy hour program, which starts in June and runs all summer long. There are eight different flavors ranging from what seemed to be everyone's favorite, "Honey Vanilla Pear Twist" with a blend of Jack Daniels Honey, to watermelon margarita blended with key lime juice, to orange and lemon zest infused with Jimador Blanco 100% Agave Tequila.
HughE Dillon

, philly.com

The 2013 Philadelphia Flower Show opened on Friday March 1, 2013 with a black tie gala where guests enjoyed hors d'oeuvres and a buffet dinner under the shadow of the spectacular digital Big Ben clock. This years theme is Brilliant! and celebrates everything Great Britain, from formal English gardens to country cottage gardens, fashion, and interpretation of the Crown Jewels to Jack the Ripper.

There are several theme nights during the week long show, which ends March 10, 2013. Sunday was Philadelphia Magazine's LGBT Party. Philly Mag's G Philly and PHS joined forces and hosted the LGBT party. Guests enjoyed a live performance from Philadelphia Drag Cabaret's Martha Graham Cracker and sipped on British-themed cocktails. Other nights include Wedding Wednesday and Girls Night Out on Thursday. For more information on the flower show and special events click HERE.
Maria Papadakis and Hillary Petrozziello
Flyers players, wives, and coaching staff Sunday hosted the Flyers Wives Carnival at Wells Fargo Center. Fans had a chance to pose for photos with their favorite players, play video games, and tour the Flyers press box.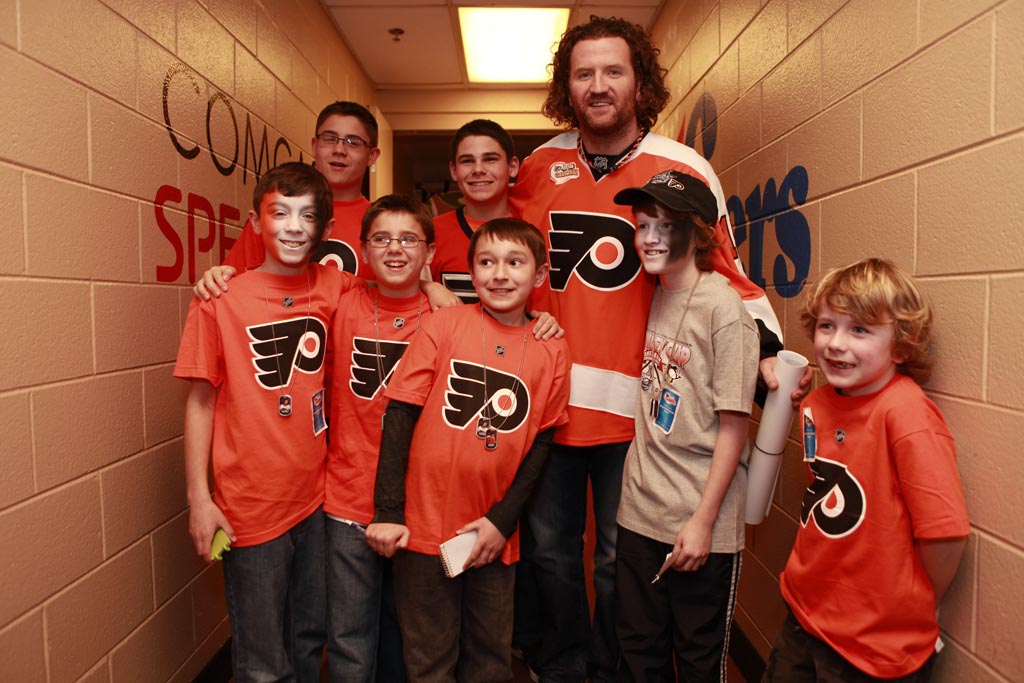 Flyers player Scott Hartnell poses with young fans