Archive: February, 2013
Blaire Monroe
In honor of Black History Month, Joan Shepp hosted the 13th Annual Women of Substance and Style event where honorees and guests were treated to an evening of socializing amongst notable women in the Philadelphia Region.
On Wednesday, February 13th, guests were invited to celebrate this year's honorees at Center City's high fashion retail store, Joan Shepp. The 13th Annual Women of Substance and Style event honors women in the community who are pillars of success in their industries and bestows awards to those outstanding African-American women for their achievements.
The stunning store served as a backdrop as honorees including: Desiree Peterkin-Bell, Elka Battle, Tina Wells, Berlinda Garnett, Dr. Janice Johnson Dias, Keesha Boyd, Melanie Johnson, Kharisma Mcilwaine, Amy Dowling and more were celebrated.
Philly.com
Animal lovers brought their pups to the 23rd Street Armory for the 6th Annual Puppy Love Valentines Party. The event was held on Tuesday, Feb. 12 to raise funds for the PSPCA of Philadelphia.
Blaire Monroe photos by Hillary Petroziello
On Friday, February 8th, we ventured into the depths of one of the biggest tattoo conventions in the world: The Philadelphia Tattoo Convention 2013. As two attendees with virgin skin (both Hillary, the photographer, and I are not inked), we were immediately drawn into the scene. Not only were most people covered in tattoos, but many of those who attended also had interesting piercings and other unique body alterations.
One thing we learned was that with every tattoo comes a story. Here are some of our favorite stories from the convention –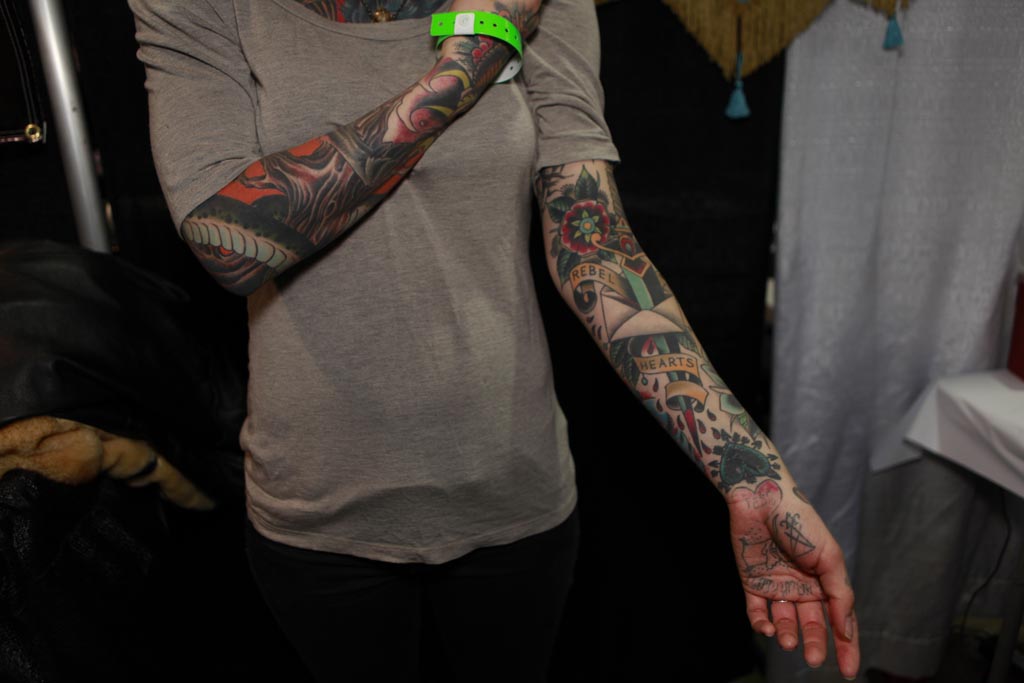 HughE Dillon

, philly.com

On Saturday night, Bancroft school celebrated their 20th annual Butterfly Ball. Their signature event and key fundraiser was held at the Merion in Cinnaminson, N.J., and raised awareness and resources for Bancroft's vital services for people with autism, acquired brain injuries and other intellectual or developmental disabilities. Nearly 300 people attended the gala and raised more than $400,000 through ticket sales as well as a silent auction. (HughE Dillon / Philly.com)
Blaire Monroe
The reasoning behind the ink is always a question that comes to mind when hearing the word "tattoo". This past weekend at the Philadelphia Tattoo Convention 2013, attendees showed off their freshest ink and a few of them even opened up about the stories behind their favorite pieces and the countless hours and dollars that went into their artworks.
Blaire Monroe
Last night special guests were invited to Old City's Barra to catch a sneak preview of tonight's Red Bull Thre3style Regional event at Voyeur Nightclub. Invitees jammed out to the sounds of tonight's competitors - DJ PHSH, DJ LAYZEEBOY, DJ Petey C, Trayze, Zeke - while sipping on complimentary drinks and enjoying the buffet.
Philly.com
The Hamels Foundation celebrated the grand opening of its new office and retail store on the Main Line (880 W. Lancaster Avenue, Bryn Mawr, PA). Cole and Heidi Hamels layed hosts to friends and foundation sponsors for a cocktail and hors d'oeuvres party Friday evening.
The Hamels Foundation's retail store will sell autographed memorabilia from Hamels and his teammates, in addition to Phillies merchandise. Hamels Foundation apparel, boutique items like Jen Groover's Empowered jewelry line, graphic tees, Alex and Ani bracelets, and baby gear will also be housed in the new location. Proceeds from purchases made at the store will benefit The Hamels Foundation.
View photos from the event below.
HughE Dillon

, philly.com

I spent the first quarter Sunday watching the Super Bowl at Baltimore Raven Joe Flacco's Hometown Party at Kove's Restaurant in Audubon, NJ.

Nearly 800 people packed the restaurant's three floors for the event which was organized by the borough and the Audubon Fathers' Association. The typical die-hard Eagles fans dined on football vites like wings, chicken fingers, sausage, and pasta. I grew up in Audubon, NJ until I was 10 years old, and my father was the ob-gyn in town. My claim to fame is my dad delivered Joe Flacco at Virtua Hospital on Jan. 16, 1985.

Audubon has a population of about 9,000 people, and is about a quaint as a community as you can imagine. Sports are a big part of the community's fabric.