Archive: September, 2011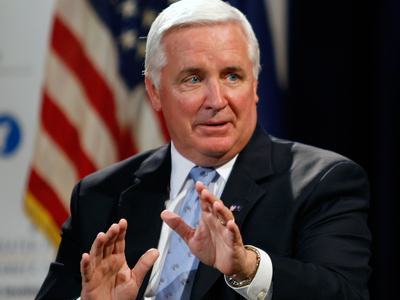 We don't see anything especially problematic about the fact that Tom Corbett's privatization panel is composed mostly of folks who favor privatization. Sure, it would be nice for the panel members to hear opposing viewpoints as they "further evaluate potential privatization, public-private partnerships or managed-competition opportunities." But the fact is, Corbett pretty much knows where he stands on privatization. This is a "what and how" panel rather than a "whether" panel.
That said, there's still reason to look carefully at who's on the panel. At least eight members have made campaign donations to Corbett in the past. Do any of these folks -- who gave Corbett money and are now serving on this panel for free -- work for companies that could benefit directly from the privatization of government services, by say, winning a contract? Would the administration negotiate the best possible deal with them, under the guidance of its privatization panel?
State ethics law prohibits public employees and officials from using their authority for the benefit of themselves, family members or affiliated businesses. But a) as we've seen here in Philly with School District legal contracts, that doesn't prevent all questionable arrangements, and b) state ethics law won't even apply to this panel, because the law doesn't cover bodies that are purely advisory (meaning they lack governmental decision-making power). We've got a call in to the Corbett administration to find out more about exactly what the panel will be doing, whether conflicts of interest might come up, and what other protections might be put in place. We'll update if we hear more.
Earlier this week, Holly Otterbein reported on the School District's payments to outside counsel -- which include payments to law firms that employ members of the SRC and firms that employ board members of the nonprofit Children First Fund, which has a stated mission of raising money for the School District.
Last night, Holly went on Newsworks Tonight to discuss the issue. Check her out.
Follow us on Twitter and review city services on our sister site, City Howl.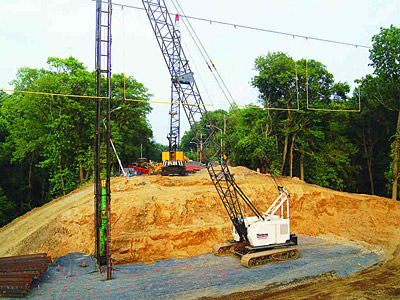 This summer we wrote about the Holme Avenue Bridge, the reconstruction of which had been wreaking havoc on Holme Circle neighbors. Residents complained of poorly marked detours and overwhelming traffic, saying that PennDOT hadn't done enough to ease the burden of the construction. But peace is soon to return, the Northeast news site NEastPhilly reports today. Construction of the bridge is two months ahead of schedule and is slated to be finished by the end of October, says Harold Windisch, assistant construction engineer on site, at the Holme Circle Civic Association meeting last night. HCCA has even created a beautification committee to usher in the reopened bridge, NeastPhilly writes:
HCCA President Joe Razler explained the association has also formed a committee to beautify the circle in conjunction with the end of construction. Those lanes will be repainted and the HCCA wants to install neighborhood signs similar to the one at the Winchester Park entrance.
Help Desk is happy the neighbors of Holme Circle can get back to their normal routines.

What do your taxes pay for? It's Our Money is getting to know some of the 25,000 people who provide city services in Philadelphia, to find out what they do, how much they get paid, and how their work affects you.
Michele Farrell, Warden
Salary Range for position: $71,207-$91,553

A DN editorial discusses the end of gun court:
We all should be disturbed at the news that a special gun court is shutting down because of budget cuts, especially coming, as it does, during a week in which four people were shot in one night, including a 2-year-old.
Created in 2005 to try to reduce violence from illegal gun possessions, the gun court, within Common Pleas Court, was designed to provide more heavily supervised probation and education for offenders. The creation of the court followed the shooting death of 10-year-old Faheem Thomas-Childs, and was jointly announced by then-District Attorney Lynne Abraham, the U.S. Attorney's Office, then-Police Commissioner Sylvester Johnson, and state Rep. Dwight Evans.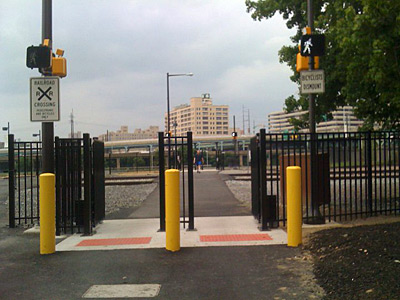 Have a question about city services? Ask Help Desk reporter Juliana Reyes at noon on Wednesday.
And make sure to read today's column, Gates of Hell! What's going on with Schuylkill trail rail gates?
On a mobile phone? Click here to join the chat.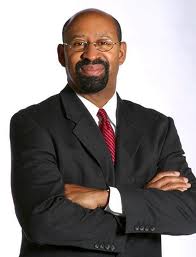 We didn't get a chance to catch NBC10's "Ask the Mayor" town hall last night – how did it go? Did the mayor field real, challenging questions?
Generally we're glad to see Mayor Nutter making himself available to the public in this way. But what about Candidate Nutter? That's what today's IOM editorial in the Daily News is about:
Last night, Mayor Nutter appeared on NBC10 for an "Ask the Mayor" town- hall meeting. This concerned Karen Brown, the Republican nominee for mayor, who pointed out that Mayor Nutter is also Candidate Nutter, and argued for "equal time" under federal law.
Holly reports that Council took a big step toward zoning reform yesterday:
The city's proposed new zoning code took an important step toward becoming law yesterday, but still has some hurdles to clear.
Council moved toward voting on the new code this fall after holding its last public hearing on the changes yesterday.