Archive: September, 2010
Looks like it's going to be a challenging couple of days for city service providers on account of this storm -- down trees, down power lines, flooded roads. The mayor's office just sent out a press release announcing that 3-1-1's hours will be extended:
Residents should call 311 for updates or to report issues. The 311 Call Center's hours will be extended to help residents cope with the storm. Tonight, September 30, 311 will operate until midnight. On Friday, October 1, the Center will open at 8 am and remain open until midnight on Saturday. Residents should only call 911 in case of emergency.
There's also lots of good information about who's at risk, and where they can go. The city has a bunch of emergency measures lined up:
Yesterday, the State House passed a tax on natural gas extraction in the Marcellus Shale. That's a big step toward ending the a lengthy saga over the a new levy on gas drilling in Pennsylvania. Now, all eyes are on the State Senate to see if lawmakers can keep their promise of passing a tax by October 1st -- which is tomorrow.
Throughout the process, we've been calling on lawmakers to voluntarily disclose contributions from drillers, environmental groups, and other special interests related to the Marcellus Shale, in real time. We've set up a website in partnership with Common Cause, Marcellus Shale Money Watch, where you can see which lawmakers agreed to participate.
Today, we got another donation report from Senator Jake Corman, the Majority Chairman of the Senate Appropriations Committee. He received a $1,000 contribution from Range Resources Energy Independence PAC.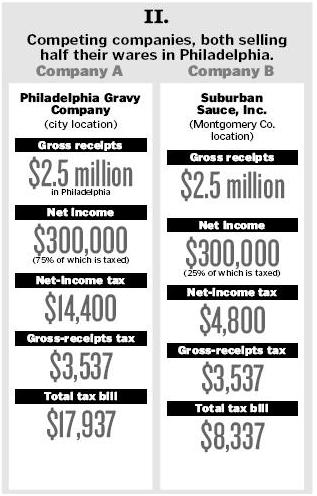 One of IOM's first projects took a look at the BPT. Ben put together charts comparing the tax burdens of hypothetical companies in and out of Philadelphia. You can see all three of them over here, but the situation in the chart to the right is one of the things today's legislation is looking to address-- businesses selling things in Philadelphia but not located here pay much less in business taxes than firms headquartered in town.
We're going to be hosting a discussion on this matter in the coming weeks. Here's an update from a recent press release from Green and Sanchez:
The Business Privilege Tax reform legislation introduced today was co-sponsored by 15 members of City Council. Public hearings will be scheduled on the legislation in early November.
We've discussed the need for Philadelphia to keep its tax code up-to-date before (plenty of other folks have, too). Today, Council members Bill Green and Maria Quinones-Sanchez are expected to introduce a bill that would make major changes to the city's business tax structure. Catherine Lucey's got all the details. We'll have some thoughts about the proposal after we dig into it. Here's the rub:
The city's business-privilege tax has two parts - a gross-receipts portion, which taxes firms on their sales, and a net-income portion, which taxes profits.
Based on a long-held belief that the gross-receipts portion is unfair because it charges businesses even when they lose money, Council and the mayor have been gradually reducing the gross-receipts tax since 1995.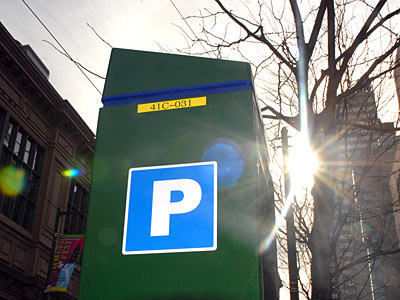 Help Desk is off today, but in its stead we thought we'd return to our old "Howl of the Day" feature. Here's a complaint from user "lsteltzer" about those new muni-meters:
kiosk expired tickets
I just paid my second parking ticket received in a kiosk parking spot. The first was issued one minute after the kiosk receipt expired, I arrived three minutes later. The second ticket was issued two minutes after the receipt expired, and I got to the car less than a minute later. In both cases, there wasn't a meter reader in sight by the time I arrived. I suspect the kiosk sends out an electronic alert when a receipt expires and the meter reader makes a beeline for that block. So for overstaying the meter by even just a minute or two, I end up paying 12x the cost of parking. Unlike with the meters, there's no inherent grace period. If you get stuck at the doctors office a few minutes longer than you expected, you don't have a sporting chance of avoiding a $36 ticket.
Last month, "It's Our Money" and Common Cause launched "Marcellus Shale Money Watch," a website where lawmakers can report campaign donations in real-time during the debate over an extraction tax on natural gas. We asked the top ten recipients of donations from the gas industry if they would participate. You can see which lawmakers have agreed to disclose donations by visiting the site.
Today, we got another contribution report. State Senator Jake Corman, a Republican representing Centre, Juniata, Mifflin, Perry, and Union counties, received a $1,000 donation from the Williams Companies. Williams is a pipeline and midstream company with some production operations in Pennsylvania. Based in Oklahoma, Williams is publicly traded on the New York stock exchange .
Corman is the chairman of the powerful Senate Appropriations Committee, which will have to approve any Marcellus Shale tax before the proposal is voted on by the full Pa. Senate. According to an analysis by Common Cause, he has received more than $30,000 from natural gas companies over the last ten years.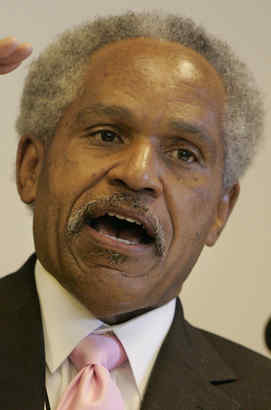 The paper also brings a bit more detail about the question of whether Carl Greene was really such a "flawed genius," or if he just successfully executed a change happening in public housing agencies around the country. Read the whole thing:
On Thursday, the Philadelphia Housing Authority board voted 4-1 to fire Executive Director Carl Greene.
But the job of restoring order to the agency is only half done. Now it's the board's turn to go.
Yesterday, the House Appropriations Committee took the first step toward passing a severance tax on natural gas extraction in the Marcellus Shale region. The bill, which would generate about $200 million in new revenue, could come up for a vote in the State House as soon as today.
That's a positive step, even if Republicans warn that the tax rate passed by the Appropriations Committee is unlikely to pass at it's current level. It's time for the state legislature to stop dawdling and join the rest of the country in taxing companies that mine natural gas in Pennsylvania.
Make no mistake: the natural gas drillers are not waiting to use our natural resources. Over the past two years, more than 3,000 drilling permits were issued by the Department of Environmental Protection. That number is projected to skyrocket in 2010, with another 5,200 permits expected.