Archive: May, 2010

The corruption case against State Rep. John Perzel is headed to trial:
There is enough evidence for the case against State Rep. John M. Perzel (R., Phila.) and nine others to proceed to trial, a district judge ruled Thursday.
Perzel is facing 82 counts of corruption stemming from the alleged use of taxpayer money to fund campaign activities for the House Republican Caucus.
As you may have read yesterday, SEPTA is hiking fares on July 1st. Over at Eschaton, Atrios bemoans the increase and argues that there might be a better way to generate revenue.
You know what would also encourage people to buy monthly passes... lower prices! The city zone only pass is overpriced. If they cut the price by 35% and heavily marketed it (and, of course, made it easier to buy one...) they might get good results!
While we agree with parts of the post, we have to point out that SEPTA would essentially be taking a huge gamble by drastically reducing prices to attract new riders. If the gambit didn't work, SEPTA would face serious cash flow problems and likely be forced to either cut services or dramatically raise prices.
The major point in Phil Goldsmith's column this week is about "pruning" rather than "planting" budget items during a recession, but there was a sharp secondary observation that we wanted to make sure didn't get lost:
We need to be more surgical, strategic and politically courageous in reducing the size of government. But when the administration proposed closing all swimming pools last budget season, then proposed no closings this year, I worried about whiplash as I followed budget proposals that went from one extreme to the other. There doesn't appear to be a coherent strategy or political appetite for sizing up our infrastructure and determining what's needed - and affordable - for today's population.
As Phil observes, this isn't just on the mayor; perhaps his strategy would appear more coherent if Council hadn't rejected a property tax hike one year and then insisted on one the next. But still -- do you feel like you have a sense that your elected officials know what a leaner city government should look like?
Attorney General and gubernatorial candidate Tom Corbett has released a new campaign ad, entitled "Spinal Tap," in which he attacks Gov. Ed Rendell for opening the "spending spigots in Harrisburg" (thanks to Capitol Ideas for pointing out the ad). Nothing strange here - just the usual Republicans vs. Democrats on taxes.

We seem to remember Corbett singing a different tune before the legislature in February when he was asking for more money:



Corbett told lawmakers, while he's been frugal and made cutbacks in his office, he could not guarantee continued ... success of programs like the gun violence and drug task forces and the child predator unit, without adding more staff. Capitolwire.com reports that Corbett said he'd lose 32 positions if Rendell's proposed $85.6 million appropriation for the Attorney General's office - a one percent reduction over 2009-2010 - goes through.



Of course, this doesn't mean there isn't waste somewhere in the budget. But just as Corbett doesn't think any of it is in his department, presumably other department heads don't think it's in theirs'.

Follow us on Twitter and review city services on our sister site, City Howl.





Here's an interesting item: If the Pennsylvania Gaming Control Board decides to revoke the Foxwoods license, State Sen. John Wozniak wants to move the casino to Johnstown. The relocation would mean that Philadelphia would only have one casino, located in the Northern Liberties section of the city.
If the Foxwoods investors continue to fail to make headway on getting the casino up and running, the idea could gain some momentum. A combination of community opposition and troubled finances has thus far led to numerous delays. In fact, the Gaming Board already took steps last month to revoke the license because the process has been so slow.
It is a small good thing that Court administrators have canceled their no-bid development deal in the wake of the Inquirer's report on the matter last week. It would be a better thing if, as the Daily News requested on Monday, the attorney at the center of the kerfuffle would return the money he's been paid (whether the courts will seek to recover any remains up in the air), and it would be a better thing still if taxpayer money weren't treated with such carelessness in the first place. The money wasted on the Family Court building could have gone to reduce a social worker's caseload (or paid for additional training for him, or toward future pension payments, or back into taxpayers pockets ... any number of places!).
Follow us on Twitter and review city services on our sister site, City Howl.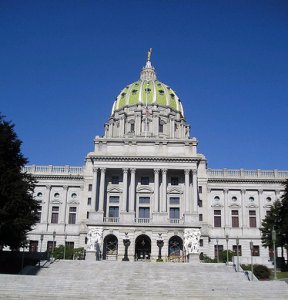 Earlier this week, the grand jury investigating the Bonusgate scandal made some radical recommendations for reforming state government. In today's Daily News, the editorial quotes some of the more explosive findings in the report.
For example, the grand jury says that far too many people work in the legislature and says lawmakers should reduce staff.
"There are 2805 staff people employed by the General Assembly that equates to on average, more than nine support staff individuals for each state rep, and 17 for each state senator. A consensus among those who have worked inside the legislature is that the number of employees could be significantly cut with no measurable decrease in the ability of members to perform duties."

As the Nutter administration and City Council complete their second budget of the recession, a $2.5 million plan to plant 300,000 trees symbolizes the disconnect between the city's fiscal problems and its elected officials.
As someone who served briefly as executive director of Fairmount Park, I believe our park system is one of our most undervalued and underappreciated assets. In the best of times, planting more trees should be applauded. But this isn't the best of times. Far from it.
Still, the administration's tree proposal was part of a budget that included a 10 percent real estate tax hike. Not much pruning there.