Archive: March, 2011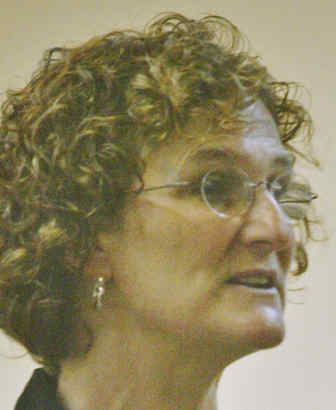 OVER the last decade, we've heard a steady drumbeat of stories about corruption in local government.
We heard about Mayor Street's treasurer, Corey Kemp, who traded contracts for sports tickets and a new deck. Then there was Rick Mariano, the city councilman who sold his office to pay credit-card bills.
Besides these high-profile cases, there's the steady drip-drip-drip of employee theft and infractions. Just last year, for example, an employee in the Records Department was busted for selling more than 20,000 documents on the side, depriving the city of $600,000 in legitimate fees.

An IOM editorial in the Daily News:
What's the biggest problem with the Philadelphia Sheriff's Office? Is it the history of shoddy accounting and millions in missing public funds uncovered by a recent audit? Or is it that the office is redundant and shouldn't even be an elected position?
If you attended the sheriff's departmental budget hearing at City Council yesterday, you might get the impression that the real problem is that Council can't find enough ways to express its love for the office.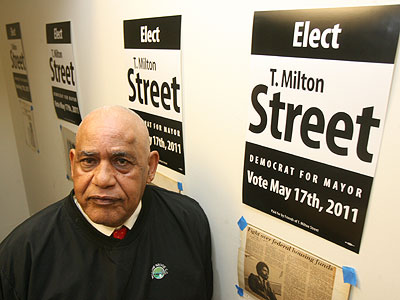 An editorial in the Daily News:
Democracy is a beautiful thing. We think that pretty much every day, but especially around election time. For the purposes of making endorsements, this board meets one-on-one with candidates. We are always impressed with how wildly varied the candidates are - ranging from sophisticated attorneys to rowhouse laborers - most of whom share a commitment to the city that, at the risk of getting mushy, is inspiring.
Running for office, especially here, is not for the faint of heart. But generally, the more people who try, the better we are. Still, it's not unreasonable to suggest there should be some basic standards for fitness to serve. The first cut is usually proper filing of paperwork and signatures.
City Council resumes budget hearings today. Next up: Independent elected officials, also called 'Row Offices.' That includes the City Controller, Register of Wills, and the Sheriff. Council will also hear from the city's Human Relations Commission.
Some of these row offices-- particularly the Sheriff-- have been a flash point for controversy in recent years, thanks to a series of high profile scandals. Both the reform group Committee of Seventy and budget watchdog Pa. Intergovernmental Cooperation Authority have called for the row offices to be abolished or consolidated.
You can watch the hearings, which start at 10am, live on Channel 64. You can also read PICA's report on the row offices. And here is a link to IOM's recent coverage of the Philadelphia Sheriff's Office. We'll also be occasionally tweeting about the budget hearings -- just search for the hashtag #phillybudget on Twitter to find our commentary.
THE PROBLEM: It wouldn't take much, said Lauren Hall, for someone to stumble near the embankment behind the houses on the 6400 block of Glenmore Avenue and "fall straight down to the tracks."
No barrier separates the alley that runs behind the houses from a steep slope that leads to some railroad tracks.
This isn't Hall's only concern about the block, where she owns two rental properties. In December, Help Desk spoke with Hall about heaps of trash on the corner. She had tried everything from calling 3-1-1 several times to contacting City Council President Anna Verna's office.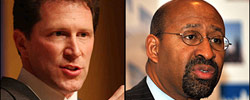 An IOM editorial in today's Daily News:
THERE'S only one thing that can make people as neurotic, conflicted, and irrational as sex can, and that's real estate.
And for extra spice, make that real-estate taxes. That's true even under the best of circumstances, but in Philadelphia, we have a dark and twisted history of property-tax psychosis. The way the city has valued and taxed property has been criminally broken for years.
The Philadelphia Inquirer has put a big spotlight on violence in public schools, and now two local elected officials say it's time to act. According to the Public School Notebook, State Rep. John Taylor and State Rep. Bill Keller want to bring back the Office of the Safe Schools Advocate.
The Office of the Safe Schools Advocate was created in 2001 to address the vast underreporting of violent crimes against students and teachers in Philadelphia public schools. By re-establishing the office, Reps. Taylor and Keller, who co-authored the 2001 law as well, hope to assist victims of school violence and help ensure that violent incidents are being reported accurately.
Sounds like a good idea, right? After all, keeping children safe in school seems like a pretty basic government function. So why isn't something that was created back in 2001 still on the job?