Archive: March, 2010
We'd be curious to hear what readers think of this post from Matthew Yglesias arguing against (or at least, encouraging skepticism toward) "process" criticisms of a reform mayor. After highlighting a quote from a DC resident who has soured on that city's current mayor because "I think he's been making a lot of decisions behind closed doors," Yglesias writes:
I think you have to be suspicious in municipal politics when you hear people offering a lot of process criticisms of a reform mayor. The fact of the matter is that if you take a city like Washington that's been known for years for public services that don't perform well, and then you try to improve those public services, you're going to make some people mad. Under the circumstances, complaints about Fenty's style—complaints that seem to be the center of Gray's campaign—seem to me a lot like complaints that President Obama is "moving too fast" or trying to "do too much." In other words, they're excuses for the fact that you just don't want to see change.
One thing to say about this is that part of the point of process criticisms is that a bad process often leads to bad outcomes (insider deals and the like). We suppose Yglesias would say that in that case, you just look at the outcomes, but a more transparent process presumably makes it easier to identify fishy stuff (and thus harder to do fishy stuff). We think a good process can also help build a more engaged, more informed public. Lord knows we've made process criticisms of Nutter.
Head on over the Clout to chat about the city budget with Catherine Lucey at noon today.
Here's some background reading: Catherine's story from today's Daily News, which explains where the city stands with its public sector union contracts, and why:
Neither Nutter nor the unions seem in any hurry to make a deal. The city has not had formal bargaining sessions since December with District Council 33 of the American Federation of State, County and Municipal Employees. And it hasn't sat down with AFSCME District Council 47 since July.
Heard in the Hall has the details. Patrick Kerkstra says the administration looks ready to drop its trash fee proposal, but sees an opportunity to make the sugary drink tax happen, and is making a push to convince Council that a) the tax wouldn't kill jobs and b) it would really work as a public health initiative.
Follow us on Twitter and review city services on our sister site, City Howl.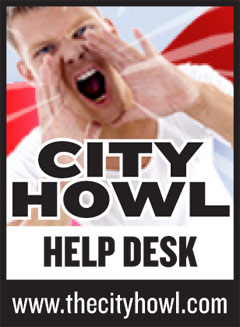 City Howl is a Web site that allows citizens to post their raves or rants about city services. Every Wednesday, we publish highlights of our investigations iinto some of these problems. In this installation, Kirstin Lindermayer helps a Philadelphia woman get rid of an erroneous $2,500 water bill.
The nightmare
Jessica DiPaolo bought her Fairmount house in September. When she started getting her water bills, she paid them on time, but noticed that they were "estimated" bills. Curious, she thought she was doing the right thing when she called the Water Revenue Bureau, the collection arm of the Water Department.
The Daily News asks what's becoming a typical refrain this budget season: What about those union contracts?
A spill of contaminated mud from Marcellus Shale drilling may make Gov. Rendell reconsider his push to lease more land for drilling this year.
Kutztown University is facing cuts thanks to stimulus money drying up and flat funding planned by the state.
Time and Location: Wednesday, March 31st @ 10:30 am, City Council chambers (4th floor of City Hall). There is no public testimony built into the schedule.
What it is: The Board of Pension & Retirement oversees the city's pension fund. This includes administering benefits to eligible retirees and investing the assets of the pension system. The board has nine-members, including the Director of Finance, City Solicitor, Managing Director, and City Personnel Director (all appointed by the mayor), the City Controller (an independent elected office), and four at-large members elected by the city workforce. The board is in the process of hiring a new executive director for the fund. The position has been open since January.
How much $$$ is involved: According to Mayor Nutter's five-year-plan, the city will pay $350 million into the pension fund by the end of the fiscal year. That number is expected to increase to $480 million in FY11 and almost double to $602 million by FY15. Next year, pension costs are expected to eat up 13 percent of the total $3.9 billion budget.

Attorney General Tom Corbett is probably riding high. Earlier this month, he enjoyed the first conviction of a major target in his Bonusgate investigation, former House Minority Whip Mike Veon. And early polls show Corbett both running away with the Republican primary for governor and beating Democrats in the general election.
Despite all of these positives, though, Laura Vecsey, a columnist based in the state capitol, thinks Corbett might be in for some trouble. She writes in the Harrisburg Patriot-News that his focus on prosecuting corruption could be a problem for him politically.
There are reasons to consider that Corbett's campaign could be relieved that statewide voters have made the economy and taxes their primary issues, because it has kept widespread attention away from the prosecutions, not to mention the conflict-of-interest charges leveled at Corbett — as well as pending court motions and lawsuits against Corbett that remain potential liabilities.
Via Clout, the Committee of Seventy has a helpful Q&A on its website about the Board of Revision of Taxes ballot question. Here's the question (the passage of which, Seventy says, is not guaranteed):
"Shall the Board of Revision of Taxes be abolished, and its powers, functions and duties be reassigned to a new Office of Property Assessment (with respect to the making of assessments) and to a Board of Property Assessment Appeals (with respect to appeals from such assessments), with the members of the Board appointed from nominations made by a Board of Property Assessment Appeals Nominating Panel?"
Here's Seventy's translation: