Archive: February, 2012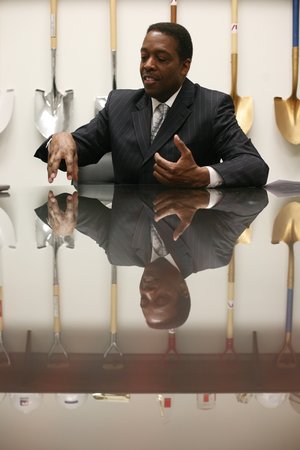 For residents who want to give their two cents about this year's upcoming budget — even if they can't necessarily make it to City Hall on a weekday — there's good news. City Council is planning to hold budget hearings in neighborhoods throughout the city.
The first is in Southwest Philly, and more will be announced soon, according to a press release from Council President Darrell Clarke's office.
"I strongly encourage all constituents to take this opportunity to participate in their government," said Clarke in a statement.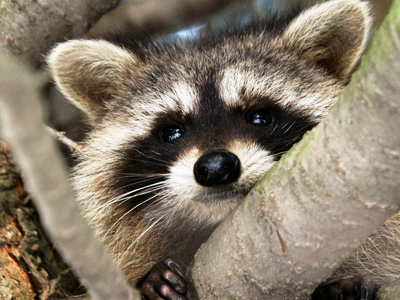 Today's Daily News editorial considers the results of a new Pew poll that finds many Philadelphians concerned about their tax burden, but still valuing in city services. It calls for a thorough accounting of what exactly we're getting for what we pay -- something that pushes the PhillyStat envelope (check out this paper about Washington, D.C.).
City Howl, our city services beat, looked at the Pew poll and asked ourselves: What services have we heard citizens asking for more of? Here's our unscientific analysis:
A more aggressive response to vacant properties;
Abatement of animals, especially raccoons;
Residential street-cleaning;
Parking enforcement on residential streets that the Parking Authority doesn't cover (not a top priority for police, whose job it is.)
Even more than this, residents want a more customer-friendly city. We've heard repeatedly from residents who call multiple departments about a problem, only to be told by each one that it's not its responsibility. These exasperated folks want the departments to step up and help figure out how to get problems solved.
Mayor Nutter is in the midst of trying to fix the city's broken, unfair property-tax system. But as noble as that goal may be, it might not be reached if the state doesn't soon pass "enabling" laws that allow the city to provide certain types of property-tax relief to residents.
For instance, State Rep. Michael McGeehan has introduced enabling legislation that would allow the city to give a "homestead exemption" to certain owners, which would excuse them from paying a portion of their property taxes.
These types of relief laws are often used to ensure that people on fixed incomes, like senior citizens, don't get hit with huge tax hikes.
This week we're launching The Howl, your monthly guide to quality-of-life issues in the city. The concept is simple: we bring you news about getting things done in your community. In each issue, we'll recap the problems that Help Desk has been tackling, and we'll also feature a community group and the work it's doing to improve its neighborhood. We hope it'll be a way for you to see what other involved residents are doing in each corner of the city. We hope it inspires you.
You can check out our first issue here: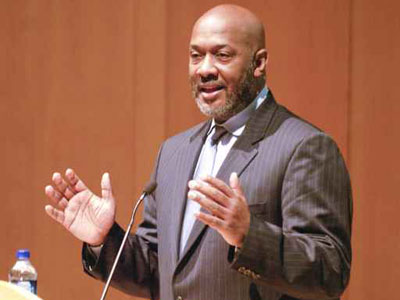 Philadelphia city officials spent part of last week warning about the dire consequences they foresee if Gov. Tom Corbett's budget passes as-is. Services for people with mental illness and the homeless will be compromised, and the city will suffer as a result, they said.
Is there any chance the budget will be changed? On this week's It's Our Money podcast, Doron Taussig and Holly Otterbein speak to a man who knows his way around state budgets: Long-time State Rep., and former head of the House Appropriations Committee, Dwight Evans. We ask Rep. Evans what Philadelphia officials might do to influence the debate in Harrisburg, and whether there's any appetite for focusing some more of the cuts on the state legislature itself.
Follow us on Twitter and review city services on our sister site, City Howl.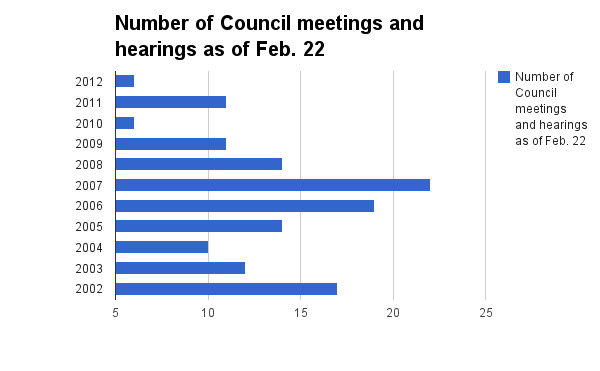 By yesterday, City Council had held a total of just six official meetings and hearings in 2012 — tied for the fewest of any year in the past decade.
Compare that to 2007, when Council had 22 meetings and hearings by that date. (Check out the graph* above to see how 2012 stacks up to other years.)
It's Our Money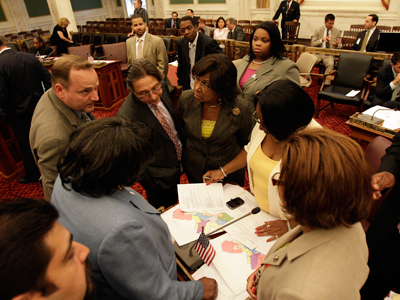 TODAY is Thursday, but don't bother going to City Council chambers; Council is not meeting. As the Daily News reported this week, Council is off for Presidents Day - a holiday that fell on Monday.
Council has a longstanding tradition of not holding an official Thursday meeting the week of any federal holiday, which is practically self-parody for a legislative body that - how to put this nicely? - lacks a reputation for industriousness.
(This is on top of the fact that City Hall was officially closed on Monday.)
IT'S FRIDAY morning in the crowded room where Philadelphians are waiting to fight parking tickets and recover impounded cars. Cliff Brenner has got a decision to make: Should I make a run for the bathroom?
Problem is, the closest public men's room is outside the waiting room, around the corner and in the parking garage.
Brenner, an affable postal worker who took the day off to be here, has been waiting an hour-and-a- half for his turn to pay his tickets and get his car back. He doesn't want to find out what will happen if he's not around when his name is called.