Archive: February, 2010
There's a story in the Inquirer today about a former Pa. Supreme Court Justice who's suing the Center City District over an assessment it applies.
The District is a "quasi-governmental" group that seeks to improve cleanliness and safety in Center City.
The specific legal issue here is that new condominium owners are required to pay a fee, whereas people who bought their unit before September 13, 2005 have the choice to opt out of it. The former Justice, Russell M. Nigro, is arguing that this violates the taxing-uniformity clause of the Pa. Constitution.
The city of Harrisburg is also having budget problems. Despite these troubles, The Harrisburg Patriot-News found, the city paid out $2.5 million in overtime last year. Most of the money went to employees of the fire department.
The department racked up a little more than $1 million in overtime last year, according to 2009 payroll information released yesterday by Controller Dan Miller on his Web site.
The city isn't exactly eager to share this information.
As you bemoan the snow out your window, read an Inquirer analysis of campaign contributions to gubernatorial candidates.
City Council is finally reforming the DROP program, which allows government employees to retire for a day, collect a lump pension sum and return to work the next day. But don't think of it as an act of supreme political courage on Council's part — the state Legislature required Council to pass legislation keeping elected officials from participating in the program, and payouts to current city officials won't be affected.
Gov. Rendell has hit the road, stumping for his sales tax plan at a Borders bookstore in Pittsburgh yesterday.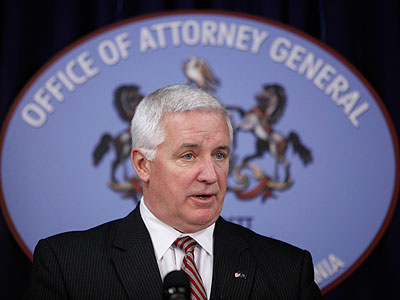 Yesterday, Republican candidate for governor Tom Corbett released his plan for government reform. You can read an overview at Capitol Ideas or the entire thing on Corbett's website.
Since Corbett has grabbed headlines as a corruption-busting prosecutor -- the attorney general has charged more than two dozen state officials with fraud and theft -- we expected the plan to call for sweeping changes. But so far the proposals can be described as modest at best.
There are some parts that would shake things up. Corbett promises to increase transparency by putting more state data online, eliminate discretionary grants controlled by legislators, and require lawmakers to pay for their own healthcare plan, which is currently footed by the taxpayers.. He also proposes prohibiting campaign contributions during the procurement process.

I've been doing a lot of thinking recently about the Tea Party movement and snow.
Snow for the obvious reason - there's so much of it.
As for the Tea Parties, I've been wondering who would clear the snow from our streets if some of the die-hard advocates of the biggest national craze since the hula-hoop got their way.
Since we're sure you love the snow falling outside your windows, we thought we'd start out with the news that Pittsburgh is expecting to get just one-third of the money it spent fighting this month's storms from the feds. No word yet on how much aid Philly could be getting.
Councilman Frank DiCicco is seeking to extend the city's 10-year tax abatement to 15 years in poor neighborhoods. One problem: The change would require the state Legislature's approval. And you all know how easy that is.
With a federal decision on tolling Interstate 80 only days away, state House Speaker Keith McCall is throwing his weight behind the effort, writing in a letter to federal Transportation Secretary Ray LaHood that opponents represent only a vocal minority. Tolling I-80 is crucial to fund Act 44, the state law that subsidizes public transit and road projects in the state.
We write a lot about what's wrong with government, but we wanted to give a quick shout out to SEPTA. The transit agency is keeping the public updated about the snow emergency on their Twitter feed.
So far, they've told people about delays on the Market-Frankford Line, Route 10 trolley, and some suburban trains. The feed will be updated constantly throughout the storm.
You can also visit their website for more information.
Catherine Lucey reports that Councilman Bill Green plans to introduce a bill to bar future elected officials from participating in DROP.
this bill may move a little more smoothly than previous attempts to reform DROP. Green plans to introduce an ordinance that would bar future elected officials from DROP. The legislation would formalize locally what is already in state law.
[snip]