Archive: October, 2011
Check out this post by Isaiah Thompson on a few hundred thousand dollars' worth of Council expenditure you might not be aware of.
Follow us on Twitter and review city services on our sister site, City Howl.
This week, Council members and Mayor Nutter joyously announced that they've agreed on two bills that would revolutionize the way business taxes work in this city.
If the bills pass, they would waive various fees for new businesses; exempt companies from paying business privilege taxes on the first $100,000 they earn; change the way the city calculates business tax bills; and exempt new businesses from paying business taxes for their first two years, assuming they meet certain criteria.
Council members Bill Green, Maria Quiñones-Sánchez and Jim Kenney, who are proposing the changes, say they'll send a message that the city is open for business — and hopefully bring new businesses into the city.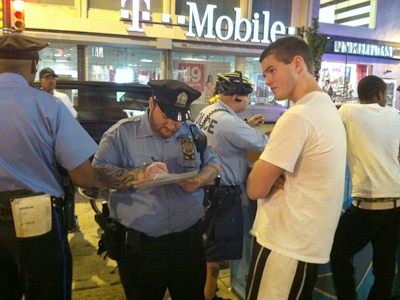 An IOM editorial in the Daily News:
Yesterday, City Council passed, by 15-1, a bill to extend the city's emergency curfew and impose fines on parents of children caught violating it.
The bill, authored by Blondell Reynolds Brown, extends Mayor Nutter's tightening of the curfew laws in response to August's flash mobs. At that time, he also made Center City and University City off-limits to minors after 9 p.m. on weekends and flooded those areas with police. Since those measures, flash mobs have been curtailed.

For now, Philadelphia's property-tax assessors get special treatment. But they might not for long.
Unlike property-tax assessors in every other county in Pennsylvania, Philly assessors aren't required to be state-certified to determine the values of people's homes.
State Sen. Larry Farnese, D-Phila., introduced a bill yesterday requiring city assessors to obtain a state certificate. It would make assessing a property without a state certificate a third-degree misdemeanor, punishable by a $2,500 fine and/or up to a year in jail.
Last week we wrote about how the neighbors of a small Germantown block called Wingohocking Heights kept getting skipped on trash day. Neighbors were frustrated because they'd put their trash out on Thursdays, but the trash truck would never come. Instead, animals would come root through the trash, leaving one big mess. We're happy to report that Wingohocking Heights has had flawless trash pickup two weeks in a row now. Neighbor Kristen Hyman is pleased she doesn't have to worry about trash day anymore.
"It sounds crazy," she wrote to us, "but the hope of not having to deal with this issue in the future really reduces my stress levels."
Not crazy at all.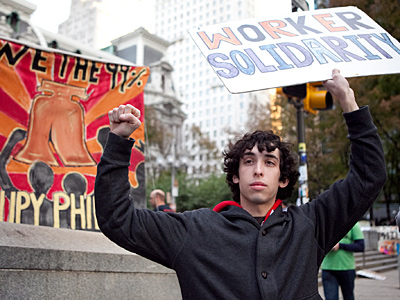 With Managing Director Richard negrin tweeting concerns about the Occupy Philly protest, IOM's Holly Otterbein took to the airwaves last night to break down the cost to the city of Occupy Philly. You can listen to the whole Newsworks Tonight show (Holly's up first) here.
Follow us on Twitter and review city services on our sister site, City Howl.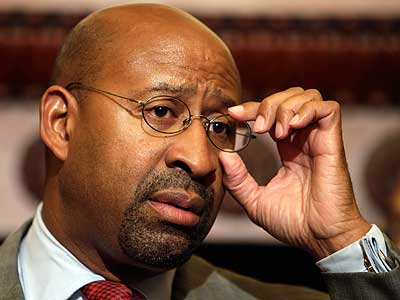 IOM columnist Phil Goldsmith says Michael Nutter has earned a second term as mayor, but laments the fact that there will not be a real election to determine this:
By 8:01 p.m., a minute after the polls close on Tuesday, Nov. 8, Mayor Nutter will be projected as the winner of the general mayoral election, entitling him to another four-year term in City Hall.
For the people of Philadelphia, that should be very disappointing. Not the result, the process.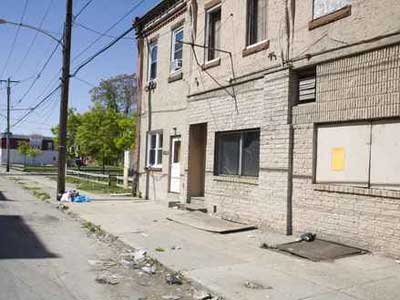 We're pretty excited over here about Licenses & Inspections' new initiative to crack down on slumlords and their unsightly vacant properties. It's been a long time coming, and we think the effort could do a lot of good for the city, if L&I keeps it up.
For a while there, it seemed like every other complaint to our Help Desk was about some problem with a vacant house, whether it was deteriorating, or stinking, or filled with rodents or housing squatters. And there was often nothing the city could do other than say it had already contacted the owners.
One notable innovation is the creation of "Blight Court," which will be one day a month in Municipal Court that's devoted to L&I lawsuits. We also think using interns to track down elusive slumlords is especially resourceful.