Archive: January, 2011
The Daily News did a spot check of police districts and found it's not always easy to get the form you need to make a complaint.
See the story, the interactive map, as well as a link to the actual official complaint form here.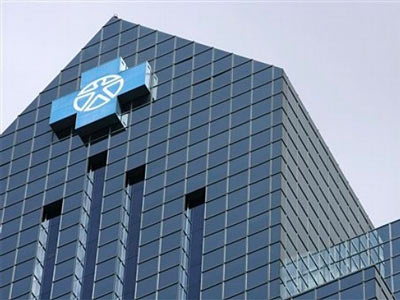 As we've noted before, Gov. Tom Corbett recently announced that he would not continue funding adultBasic, a subsidized health insurance program for the working poor. Corbett cited the state's fiscal condition -- and it's true that Pennsylvania faces a $4 billion deficit. But the other main funding source for adultBasic is in much better financial shape.
adultBasic is a bare-bones health insurance plan available to people who cannot afford coverage, but make too much money to qualify for Medicaid. The program, which relies on a small amount of state money, is primarily funded by four health insurance providers: Blue Cross of NE PA, Capital Blue Cross, Highmark (Pittsburgh) and Independence Blue Cross (commonly called "the Blues").
Though they're non-profits, the Blues are required to maintain a surplus to pay medical bills for people covered by their insurance plans. But the providers have been repeatedly criticized for stockpiling unnecessary amounts while raising premiums.
On this week's It's Our Money podcast, Doron Taussig has run into a slew of problems, and calls on Ben Waxman for help.
Unfortunately, Ben is taking his problem solving inspiration from Pennsylvania Governor Tom Corbett's government reform plan.
Ben's new mantra: Small solutions for big problems. Click here to listen.
An IOM editorial in today's Daily News:
PHILADELPHIA TRANSIT riders can finally join their counterparts in other major cities and turn their tokens and paper tickets in for more modern electronic cards. Last week, SEPTA announced it would borrow $175 million to modernize the agency's fare-collection system.
The move comes on the heels of an announcement that the agency will borrow $252 million to buy 120 new train cars and renovate the Wayne Junction interchange. Together, the funding for these three projects represents the largest amount of debt undertaken in SEPTA history.
We've been saying for weeks that the power shift in Harrisburg means a new reality for government in Philadelphia, and we found some fresh evidence of this trend yesterday when SEPTA announced it would borrow $175 million to upgrade the agency's fare collection system. The transit agency is also going to borrow $252 million to buy 120 new train cars and renovate the Wayne Junction interchange.
This is a big deal because, until now, SEPTA didn't have a lot of debt. In fact, SEPTA officials say the $427 million is the largest amount ever borrowed by the transit agency. That's unusual, since many big public agencies -- like the city, school district, or state government -- rely on financing to pay for big projects. SEPTA has always tried to rely on a combination of government funding and fares to pay for improvements to the system.
So why the dramatic change? The funding picture of SEPTA is murky at best. The agency got an infusion of cash thanks to the stimulus, but that money is scheduled to run out by the end of the fiscal year. There is also a big hole in state funding for transportation, since former Gov. Ed Rendell's proposal to toll I-80 was rejected by federal transportation officials.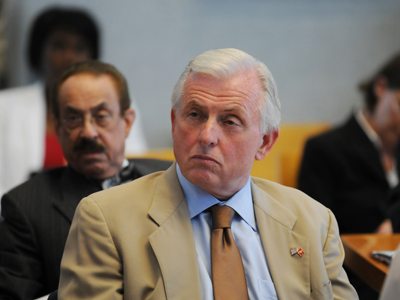 Auditor General Jack Wagner is no wide-eyed leftist revolutionary. Sure, he's a Democrat, but he also hails from Allegheny County and proudly wears the labels pro-life and pro-gun. Despite that conservative pedigree, Wagner called yesterday for something radical: a compete freeze on prison construction in Pennsylvania.

Wagner believes the state could save $50 million next year and $350 million over four years if more nonviolent offenders-- who make up 39 percent of Pennsylvania's prison population-- were placed in programs that provide alternatives to incarceration. That includes halfway houses, more leniency for minor parole violations, and drug abuse counseling. Wagner points to similar efforts in California, Michigan, and New York as proof that this approach could work in Pennsylvania.

He's right. As we've noted before, the cost of prisons has skyrocketed, including spending on new construction and outside housing. The last state budget earmarked about $2 billion for the Department of Corrections, which was an increase of $137 million from the previous year. As a result, we now spend more on prisons than our entire higher education system.

How did we get here? Pennsylvania's prison population has increased by 524 percent over the past thirty years. According to the state-sponsored Pennsylvania Commission on Sentencing, the primary cause was the introduction of mandatory minimums for certain types drug crimes. As a result, more and more people were given longer sentences and the inmate census exploded.

Pennsylvania's $4 billion budget deficit should serve as an opportunity to reassess these destructive policies. Thankfully, there appears to be growing bipartisan support to reduce the prison population. In addition to Wanger and other Democrats, calls for prison reform have come from the Commonwealth Foundation, a conservative-leaning state think-tank.

We hope our new governor is listening. Gov. Tom Corbett has promised to fill the budget deficit without raising taxes, which means he'll have to make big cuts. The Department of Corrections should be part of that equation. Given his record as a tough-talking prosecutor, Corbett might be the perfect person to sell prison reform to the legislature and Pennsylvania voters.
Follow us on Twitter and review city services on our sister site, City Howl.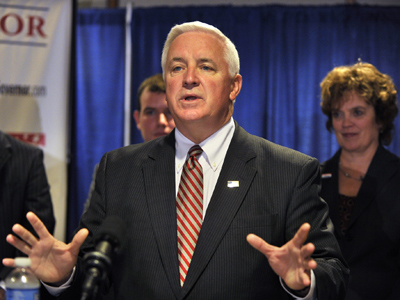 Two weeks ago, Gov. Tom Corbett announced that the state would not continue adultBasic, a subsidized healthcare plan for the working poor. Corbett said that Pennsylvania cannot afford to keep the program, which relies on both the state and non-profit insurance providers for funds.
The news wasn't exactly shocking, since Corbett has repeatedly promised to fill a $4 billion budget hole without raising taxes. That's a recipe for budget cuts. But Corbett is now trying to get help from the federal government to provide alternatives to AdultBasic.
Corbett wants to expand Pennsylvania's high-risk insurance pools, which provide coverage to people who are unable to find affordable health coverage because of preexisting conditions. The pools were created by the federal healthcare reform law passed last year.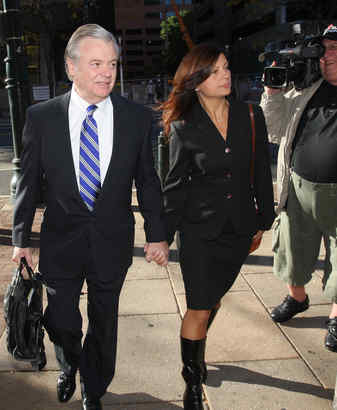 Yesterday, Kelly Kaufmann Layre, a former clerk for the city Records Department, was sentenced to two years in federal prison. She pleaded guilty to selling police incident reports and other documents at a reduced rate, netting almost $186,000 over four years.
Layre used her position as a city employee to defraud taxpayers. It's good that she was caught by the Nutter Administration, and her prison sentence should send a message to other municipal workers tempted to take advantage of their positions. But we were struck by stark differences between this case and the conviction of State Senator Vince Fumo -- as well as the big differences in their sentences.
The records clerk was was pretty much a two-bit crook, while Fumo was a master thief. We're not trying to downplay Layre's crimes -- her actions cost the city $600,000 in legitimate fees -- but they pale in comparison to Fumo. The disgraced state senator used taxpayer resources for everything from renovating his Fairmount mansion to spying on an ex-girlfriend. He was found guilty of defrauding state government and various non-profits of more than $3.5 million.