Archive: January, 2010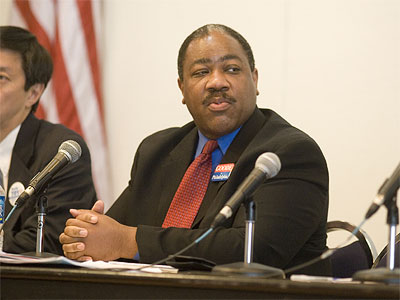 OK, so term limits for City Council probably won't happen, at least not in the near future. But that doesn't mean we can't debate the merits of the bill Wilson Goode proposed yesterday. Catherine Lucey gets us started by collecting reaction from other council-members. Predictably, most of them are against limits. Here's the gist of their argument, articulated by Brian O'Neill:
"The voters tell you when you've been in too long."
In his column, Elmer Smith elaborates a bit on the downside of Goode's idea:
Mayor Nutter got some pushback yesterday on his plan to take over the Board of Revision of Taxes. Donna Aument, a BRT employee and Democratic ward leader, filed a lawsuit to stop the city from moving employees onto the city payroll and curtailing their political activities. Aument is arguing that voters need to approve a charter change in May to restructure the BRT before the administration can move forward. The city has six days to respond.
Who knew that Harrisburg was so dangerous? Mayor Linda Thompson racked up more than $3,000 in police overtime during her first week in office, for her security detail. At the same time, Thompson has announced plans to cut police and fire overtime to help balance the city's precarious budget. Mayors in other mid-state cities, like Lancaster and York, manage to get by without security details.
You know how Philly has had some trouble getting its act together to apply for stimulus funds? We're not alone. Pittsburgh's city council passed legislation over the summer that would establish a committee to oversee the city's stimulus efforts, but Mayor Luke Ravenstahl has nixed the idea, saying he doesn't need help.
During last night's State of the Union address, President Obama vowed to push forward with healthcare reform in Washington. But even if he does manage to get a bill past the U.S. Senate, the President could face another obstacle: the Pennsylvania state legislature. About 30 Republican legislators have introduced a bill that would block provisions of the reform package.
"Do you want Obamacare?" said Rep. Matthew Baker, R-Tioga County, the bill's sponsor. "Do you want to pay higher taxes? Do you want less quality in heath care?"
[snip]
And we're back, after yesterday's Morning Money hiatus, with the news that $27 million in federal stimulus money has been given to the city to use for loans and grants to small businesses. Mayor Nutter says that the program will create jobs.
Across the state, a contentious prevailing wage law received a critical unanimous vote from Pittsburgh's City Council on Wednesday. The law would require large businesses to pay at least the median city-wide wage for certain jobs. Council could hold a final vote on the bill as early as Tuesday.
In tough economic times, New Jersey towns voted down seven out of nine school-district referendums that would have hiked taxes to pay for school construction. Voters in Pennsauken, the only South Jersey town with a referendum, defeated a proposed $34.7 million proposal that would have replaced one elementary school and closed another.
Here's something you don't see everyday: Oregon voters decided to keep a big tax increase enacted by their state legislature. Oregonians approved two ballot measures allowing the state to raise $727 million in revenue. The new taxes will help deal with a $4 billion hole in the state budget.
Oregonians voted to keep taxes enacted by Democratic Governor Ted Kulongoski in July, according to a count of ballots cast by more than half of the state's registered voters. Measure 66, which raises taxes on households earning $250,000 or more, passed by 54 percent. Measure 67, which increases corporate levies, garnered favor of 53 percent.
By targeting businesses and the wealthy, proponents parried resistance from voters who twice defeated tax increases in the wake of the 2001 recession.
Pennsylvania voters haven't made up their mind about the governor's race, according to a poll conducted by Franklin & Marshall College, but there's one thing they're overwhelmingly sure about: They want reform.
Though Attorney General Tom Corbett and Allegheny County Executive Dan Onorato hold small leads in their respective gubernatorial primaries, most voters remain undecided. Voters are not undecided, however, about the need for big changes in the state capitol.
78 percent of those polled see a need to reform state government. Overhauling campaign finance laws, changing the structure and operation of the Legislature, and considering term limits attracted strong support, the poll showed, as did looking at how state and local governments are financed.
In today's Daily News, It's Our Money's Anthony Campisi reports on an important aspect of city government's customer service: what forms of payment the city accepts for various services. His verdict? Maybe the city doesn't want your money that much after all. If it did, wouldn't more departments accept credit cards for in-person transactions? And wouldn't you be able to pay your taxes online using browsers other than Internet Explorer?
Check out Anthony's story, and our helpful chart laying out which forms of payment are accepted for city services, below.
**
A national report released yesterday gives Pennsylvania good marks for providing information about how President Obama's $787 billion stimulus plan is being spent in the state. According to the study, released by the PA Public Interest Research Group (PennPIRG) and DC-based Good Jobs First, Pennsylvania's recovery website does a decent job of explaining to citizens where the money is going.
The study examined the quality and quantity of information available on the each state's website. Each state was given a rating between 1 and 100. Pennsylvania received a 62, tying with two other states for 13th place.
"The Recovery Act has prompted states to ratchet up transparency and show citizens where money goes," said Megan DeSmedt, state director of PennPIRG. "Pennsylvania is leading the pack in some regards—for example, we're one of only two states to have an online feed that provides continuous updates on specific projects. But we only ranked 13th, and there's no reason that we can't be number one."