Archive: July, 2010
Since the chart below has both the total budget for four school districts and the number of enrolled students, we thought we'd do some quick division and find the per-pupil-expenditures of each. Here we go:
Philadelphia: $16,161
New York City: $19,909
Chicago: $12,927
Boston: $14,589
We're not sure that this changes the case Phil Goldsmith makes about administrator compensation one way or the other -- for these numbers to mean a lot, we think you'd have to consider them in the context of student outcomes, which is beyond the scope of this here blog post. But it's a number worth keeping in mind.
Follow us on Twitter and review city services on our sister site, City Howl.
Back in May, the grand jury charged with investigating corruption in Harrisburg issued a blistering report recommending sweeping changes to state government. The report touched on many areas, including shrinking the size of the legislature, campaign finance reform, and term limits for lawmakers.
One of the most eye popping portions was about a special unit in PennDOT. According to the grand jury, there is a small staff dedicated to doing nothing but running errands for state lawmakers.
And 35 state workers in PennDOT are "dedicated to handling nothing other than the paperwork received from the elected members of the General Assembly," the report states. "Not surprisingly, nothing about the work performed by this unit within PennDOT suggests that there is any need for state legislators to serve as intermediaries between their constituents and PennDOT."
IOM columnist Phil Goldsmith takes on the school district today, arguing that the administration there is "tone-deaf" to the fiscal realities of this city. Here's a little chart comparing the compensation of top employees at the Philadelphia School District to those at some other districts; as you can see, Philadelphia administrators are making out pretty well in comparison (the data here are mostly from the districts themselves; the Chicago numbers are from the Chicago Reader, which got them from the Chicago Public Schools).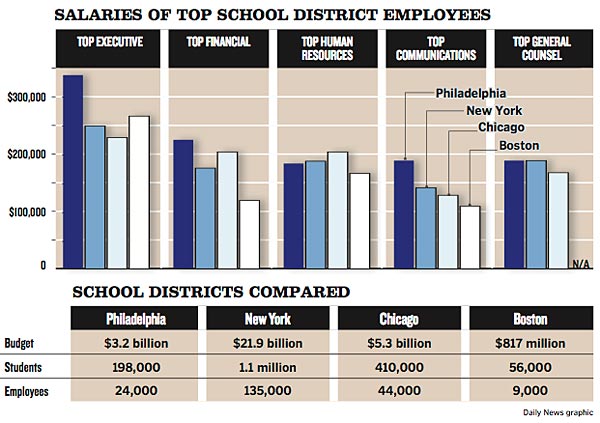 Follow us on Twitter and review city services on our sister site, City Howl.
With a toll increase in January, the Pennsylvania Turnpike is set to become the most expensive toll road in America at 8.5 cents per mile, according to the Pittsburgh Post-Gazette. Unsurprisingly, this is not a designation that Turnpike Commission CEO Joseph Brimmeier agrees with, and he testified to that effect this morning.
Who's right? Well, they both are, as the PG explains:
Shorter toll facilities, including highway spurs and bridges, typically have higher per-mile costs. A March survey by the Pennsylvania Turnpike found 10 facilities with per-mile rates of 27.8 cents or more, including a 6-mile highway in California whose users pay 45.8 cents per mile.
Perhaps you've heard something about some issues with the construction of Philly's new Family Court building. Perhaps you've heard a lot of things about it, and have completely lost track of what happened, why it matters, and what happens next. If so, check out the Committee of Seventy's In the Know about the issue, which breaks things down very succinctly. It's pretty good for getting outraged all over again, what with people being hired (using taxpayer dollars) to investigate and lobby their former bosses.
Follow us on Twitter and review city services on our sister site, City Howl.
Momentum has been building behind a proposal to deal with corruption in Harrisburg by establishing a "public integrity commission." Today, in an IOM editorial, the Daily News pushes back against the idea that this is the solution to Harrisburg's problems, making the important point that there are already reforms we know Harrisburg needs -- structural reforms -- that establishing this commission does nothing to address. Check it out:
We doubt we're alone in having reached our limit on tolerating another season of indictments, corruption and contempt for public integrity that have made handcuffs the official state jewelry, especially among powerful people in state government.
So a proposal to create a Public Integrity Commission to investigate corruption should have us more excited than it actually does.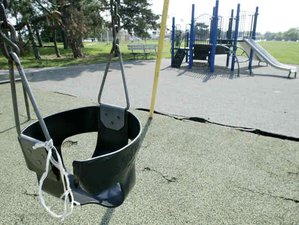 City Howl is a Web site that lets citizens post raves or rants about city services (thecityhowl.com). On Wednesdays, we publish highlights of our investigations.

THE PROBLEM: John Taylor's neighborhood park is in bad shape. When he moved to Southwest Philadelphia three years ago, Taylor liked taking his grandkids to Eastwick Park across the street from his house.
No more. The play area has fallen into disrepair. One of two playgrounds is rusted and graffiti-covered. The safety matting under the swing set has deep holes in it, and all but one swing has been removed (the remaining one, an infant swing, is broken).