Archive: March, 2012
Last year, the city reaped more than $500,000 from "payments in lieu of taxes" from for-profit businesses getting tax breaks. Developers like John Westrum, Dyott Street and Berks Street Corp. are a few of the contributors.
Why would a business pay the city voluntarily?
Pennsylvania gives state and local tax breaks to businesses that set up shop in blighted areas known as "Keystone Opportunity Zones."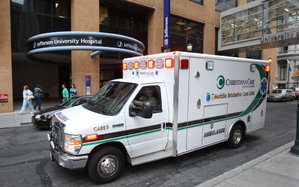 Mayor Nutter wants residents and businesses to fork over an additional $90 million in property taxes in the fiscal year that begins July 1.
But many well-known institutions on valuable land have nothing to worry about — like the University of Pennsylvania, Thomas Jefferson University Hospital and Drexel. They're nonprofits, so they don't pay property taxes.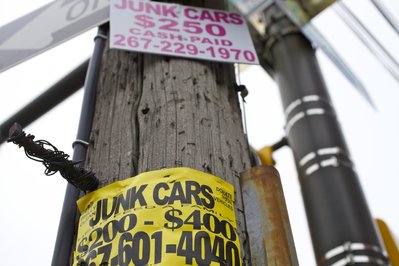 While Councilman Curtis Jones and Councilwoman Jannie Blackwell were proposing to legalize those obnoxious "We Buy Houses!" signs last month, the Nutter administration was quietly cooking up some sign-fighting tactics of its own. Its new plan to fight back against so-called bandit signs is two-fold, said Brian Abernathy, chief of staff to the Managing Director: ramp up enforcement with a staff dedicated to tracking down offenders, and get city agencies to focus on taking the signs down.
What was the city previously doing to rid our utility poles of these blasted signs?
Not much. In 2010, the city wrote only eight tickets for illegal signs. When we called the Streets Department and Licenses and Inspections to ask about current enforcement, they both declined to comment.
Last week, Council held a hearing about the city's budget in the heart of a Southwest Philadelphia neighborhood. In today's podcast, reporters Holly Otterbein and Juliana Reyes talk about how the meeting drew lots of smart, passionate residents, and why this proves that events like these should be the rule, rather than the exception.
Currently, Council members hold community hearings like this infrequently. And they still haven't scheduled a single hearing about their own budget.
Philadelphia's property-tax system is undergoing monumental changes.
So was the property-tax system in Allegheny County, home to Pittsburgh ... until that plan went belly-up this year.
On Friday, I took to WHYY's airwaves to report on Allegheny County's mistakes, and explore whether Philly can learn any lessons from the debacle across the state.
It's Our Money
The TV show "Parks & Rec" likes to send up the absurdity that can be community meetings, portraying them as long, boring and punctuated by unhinged residents shouting about UFOs and national security.
Here in the Cradle of Liberty, we know better. Maybe because we've been at it for so long, the city's residents are known for being informed, and more importantly, showing up to fight for their beliefs. The latest proof of this: Wednesday night's budget hearing at the St. John's AME Church in Southwest Philly.
More than 70 people crowded into the church's basement. The majority of folks who sounded off on the city's budget — including block captains, union members, civic leaders and developers — were smart and passionate.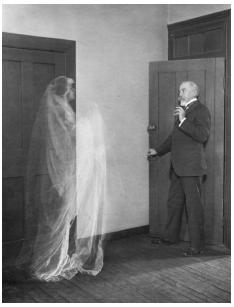 This is the fifth installment of the "Philadelphian Horror Story" series, in which we tell you about the monsters lurking in the city's budget.
If the city sells off its bridges, buildings and parks, will that choice later haunt residents like the terrifying spirits of Poltergeist?All the stars seem to be aligning for the city to soon peddle off large properties or utilities, like its airport, roads and parking meters. Mayor Nutter has created a task force to examine the idea, known as "asset sales." A financial adviser says the city could possibly make almost $500 million from hawking Philadelphia Gas Works.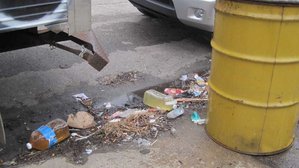 THE WATER bottles lying in a pile on Buttonwood Street were not filled with water. Their contents were a mysterious, yellow liquid - one closer to brown, the others the color of lemonade.
Like Cris, the Callowhill resident who told us about the bottles, we assumed it was urine. But in the name of journalistic integrity, we had to be certain. Yes, readers, we opened the bottles and smelled them. Fortunately (or unfortunately), it took only one whiff: definitely urine.
But let's start at the beginning. Last month, Cris, who keeps us updated on quality-of-life issues in Callowhill, let us know that there was a big pile of "urine bottles" on Buttonwood Street near the Reading Viaduct. The pile, about 10 half-liter bottles deep, had been there for at least a month, he said. He also alerted 3-1-1 via Twitter.