Archive: March, 2010
There are, of course, numerous very important distinctions between this story, about Camille Barnett working two years and being entitled to a $50,000 city pension, and this story, about a revenue department employee who allegedly sought a $5,000 cash payment to move along a tax abatement application.
But one thing they have in common is that they will not make Philadelphians any happier about this story, about Councilman Frank DiCicco proposing a property tax hike.
It is not a pretty day for government efficiency.
Matthew Yglesias says that in a few years, Washington is going to need more tax revenue, and that the thing to tax more heavily will be drinks. Not sugary, drinks, though. He quotes Mark Kleiman:
The average excise tax (Federal plus state) on a can of beer is about a dime. The average damage done by that can of beer to people other than its drinker is closer to a dollar. Those costs consist mostly of crimes, accidents and the health care costs redistributed through insurance—and the one-dollar figure doesn't count the costs to the families and friends of drinkers.
(To be clear, the quote focuses on beer, but Yglesias is talking about alcohol in general.)
Yesterday, City Council held budget hearings focused on the City Treasurer, Office of the Finance Director, and the Department of Revenue. One big item of discussion was the tax amnesty being organized by the Department of Revenue. Here's what Council, and the administration, had to say about it:
Overall, there was a lot of support for the tax amnesty, which would eliminate penalties and half of the interest due on delinquent taxes if payment is made during the short period when the amnesty is offered. Councilman Curtis Jones said he thought the program sent the right message and would encourage people to pay what they owe in the future.
Councilman Frank Rizzo asked how the administration planned to let people know about the tax amnesty. The city will spend about $1.4 million on advertising and outreach, said Keith Richardson, Revenue Commissioner. The Department of Revenue also plans to work with other public agencies, like SEPTA and Philadelphia Gas Works, to spread the word about the amnesty.
Councilwoman Maria Quinones-Sanchez raised the issue of making sure that tax amnesty information is also available in Spanish. According to Richardson, there are already plans in the works to publish materials in multiple languages.
The city hopes to raise about $40 million from the amnesty, minus adminstrative costs. It will begin on May 3 and last 53 days.
Follow us on Twitter and review city services on our sister site, City Howl.
OK, maybe that's too strong a headline. Maybe we should say something like, "One incumbent advantage to be curbed slightly?" or even, "Existing rule regarding still-formidable incumbent advantage to be strengthened into law?"
On Tuesday, the Pennsylvania House State Government Committee unanimously passed legislation prohibiting legislators from assisting their re-election efforts with taxpayer-funded newsletters.

Ever since Mayor Nutter called for a sugar tax and a $300 trash-collection fee to balance the city budget, the predictable alternative solutions have been offered up: Cut waste, eliminate patronage, streamline government.
No one should be under the illusion that the city can cut its way out of the current crisis. Not by a long shot.
When it comes to national finances, $150 million may be a drop in the bucket, but for Philadelphia it's real money.
The Daily News takes a look at Chicago, the only city that has successfully implemented a soda tax.
Gubernatorial candidate Joe Hoeffel wants to double the amount the state contributes to PennDOT to replace crumbling transportation infrastructure.
Top Democratic lawmakers have threatened to cut funding to Attorney General Tom Corbett if he continues with his plan to sue to stop implementation of the federal health care overhaul.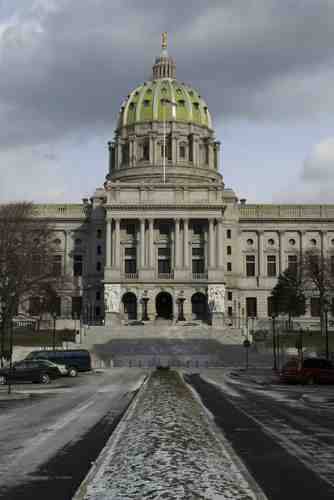 As we noted this morning, the PA House took the unusual step yesterday of passing a state budget 100 days before the June 30th deadline. Democrats are talking up the vote: Rep. Dwight Evans told Daily News columnist John Baer: "We need to get this done. People want us to make this work."
But Republicans are warning that it's not time to break out the champagne. We reached out to Erik Arneson, a spokesman for the Senate GOP, for comment. He called the swift passage a "pleasant change," but said that Republicans, who control the state Senate, see major flaws in the spending proposal.
"The bill they passed does not account for the still-growing deficit," said Arneson in an e-mail. "The governor's spending plan anticipated a year-end deficit of $525 million. We now believe that will exceed $800 million by the end of June, so that's a hole of about $300 million."