Archive: February, 2012
There's an interesting piece by Richard Thaler in the New York Times this morning about the ways governments encourage civil compliance in behaviors like paying taxes and recycling. The most common, it says, are exhortation ("please recycle! It's good for the city!") and punishment ("Recycle or we'll fine you").
Thaler recommends another type of approach:
As every successful parent learns, one way to encourage good behavior, from room-cleaning to tooth-brushing, is to make it fun. Not surprisingly, the same principle applies to adults. Adults like to have fun, too.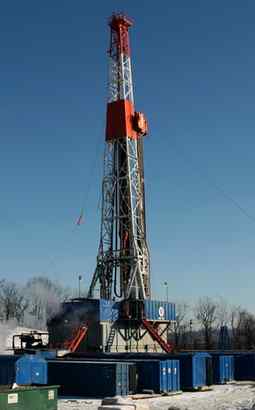 What follows begins an occasional series of editorials that we will be excerpting or running in full from newspapers around the state. We're doing this to provide readers (and ourselves) a deeper perspective on state issues, and as a reminder that Philly is part of Pennsylvania, though we sometimes pretend it's not. The following is from Matthew Major, opinion editor of the Chambersburg Public Opinion:
The Pennsylvania Senate voted last week to enable an optional fee to offset environmental and infrastructure damage caused by Marcellus Shale natural-gas drillers, sending the bill for a House vote that could place the bill on Gov. Tom Corbett's desk this week.
After years of frenetic activity which has so far produced some 4,000 natural-gas wells in Pennsylvania, and just as many years of legislative inaction - this is all that Pennsylvania citizens are getting in terms of regulation and taxation of a highly destructive industrial endeavor.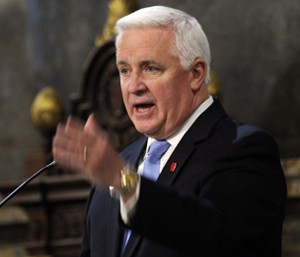 You may have heard that Gov. Corbett's budget includes proposals to slash state higher education funding, and that, of course, the guv has once again avoided proposing any tax hikes. But in this week's podcast, the It's Our Money team dug deep into the budget, and unearthed some interesting secrets.
Like: There are a couple of interesting places in the budget that got funding bumps, amid all the cuts. We'll tell you what they are.
And did you know that the state is actually proposing giving cities like Philadelphia a great deal more freedom with this budget? But there's a trade-off ...
IOM's Holly Otterbein reports on efforts to collect more than $1 billion in court costs owed to taxpayers ... and how not everyone whose being asked for the money necessarily owes.
*
EVELYN PINER is stuck in a Catch-22.
A DN editorial:
THE GOOD NEWS is that the General Assembly has finally approved an impact fee for Marcellus Shale gas drillers.
The bad news is that it's too little, too late, and way too weak to have much impact on anyone but the drillers, who must be holding secret victory dances about how much it favors them.
In addition to unveiling his choices about how much to spend on different priorities, Gov. Corbett used his budget yesterday to announce some changes in how government will dole out money.
From the administration's "Budget Overview":
The budget will begin to fundamentally transform the relationship between the state and local governments and the delivery of critical services in education and human services. The budget will place several K-12 education funding streams into a block grant, providing greater flexibility for local school districts … In human services, a number of state-funded and county-administered programs will be converted from various categorical programs to a single block grant.
John Baer says there are no mysteries about Gov. Corbett's philosophy, and that this budget is likely to pass mostly as-is, although some of the higher ed cuts may be restored.
In an op-ed long analogy, Nathan Benefield says Corbett's budget "extinguishes the immediate flames of another budget deficit. But lawmakers must go further to fireproof Pennsylvania's economy, preventing the smoldering embers of fiscal irresponsibility from becoming an inferno that will burn down our fiscal house and leave future generations of Pennsylvanians to build only from our ashes."
Sharon Ward, on the other hand, says Corbett had made tough choices -- but the wrong ones, she thinks: Corbett has chosen to "reduce investment in higher education and our schools, especially those that serve the poorest kids. He has made a choice not to provide health care for needy children."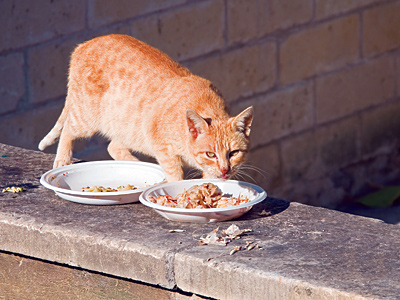 DUSTIN Laws was surrounded. There was the yowling at night. The cat squatting in his flowerpot, claiming it as a litter box. And, of course, the frisky felines right in front of his house, doing the deed.
"It's, like, take it somewhere else!" Laws said.
Stray cats were taking over his tiny Queen Village block.