Archive: November, 2011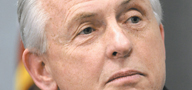 Gov. Corbett may not care whether the state makes money off of privatizing liquor, but presumably he cares about this question: Could privatization lead to higher liquor prices for consumers?
One of the fundamental arguments for privatization is that competition among sellers would lead to better selection and lower prices for consumers. But we've known for a while that it's unlikely privatization would lead quickly to a dramatic price drop. In order to avoid forfeiting lots of state revenue, most privatization proposals include high taxes on wine and spirits, post-privatization. In fact, State Rep. Mike Turzai, one of privatization's chief proponents, produced a spreadsheet this summer suggesting that under his plan, most prices would fall within a dollar of current prices.
Today, Auditor General Jack Wagner announced that an analysis conducted by his department suggests that prices would "inevitably" go up under privatization. From the press release:
Today, IOM's own Holly Otterbein reports that the School District's top budget official owed back property taxes for two years, until Monday, when Otterbein contacted him. Michael Masch settled the $8,347.93 debt right away.
This is not the first time Holly has helped collect money from officials or politicians. Last month, she wrote about nineteen candidates from this year's primary election who owed a total of $17,500 in unpaid campaign finance violations. $3,400 was coughed up immediately.
This brings Holly's collection total thus far to $11,747. We might have to make an actual graphic for this.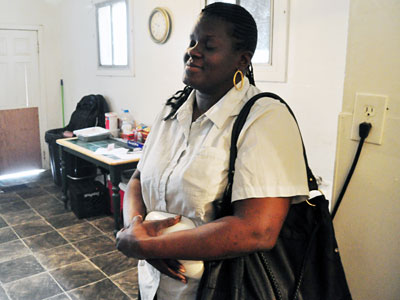 NEARLY TWO weeks ago, Gregory Loper was killed, allegedly by a driver with a history of driving under the influence, on Lehigh Avenue in Kensington. After the paramedics took Loper's body, the scene remained grim. On the sidewalk in front of Roy and Lessie Appenzeller's rowhouse lay Loper's overcoat, equipment used by the paramedics and large bloodstains.
"Everything was just left on the sidewalk," Lessie Appenzeller said.
The Appenzellers and their neighbors were shocked and saddened by the accident, but the end of the night - bloodstains still on the pavement - led to an inevitable question: "What are we supposed to do about this?"
An IOM editorial on last week's news that the city is cracking down on tax delinquent city pensioners:
File this under "Better late than never." The Nutter administration announced last week that it's cracking down on about 2,500 city retirees who collect city pensions – and owe a grand total of $12.9 million in back taxes.
The retirees will be given a chance to pay up or enter a payment agreement, and if they don't, the city can start deducting as much as 25 percent from their pension checks. The average city pension was $18,363 last year.
Why is the Free Library leasing computers, instead of buying them?
That's just one of the questions that left us scratching our heads after today's Council finance committee hearing, where lawmakers debated several bills about how to use your taxpayer dollars. Here's the highlight reel:
Council considered a bill that would allow the Free Library to enter into an agreement to lease computers and related equipment. Councilman Bill Green asked Jim Pecora, the Free Library's IT director, if it had compared the costs of leasing computers to buying them. Pecora said the Free Library has, but that the analysis was done years ago. Green made the good point that computer costs have gone down in recent years, and asked for a new analysis. The bill passed out of committee.
Another bill on today's agenda would reform the pension plan for Philadelphia Gas Works (PGW). Currently, employees contribute nothing toward the pension plan. Under the bill, new hires would contribute 6 percent of their compensation. PGW's CFO Joseph Bogdonavage said that union Local 686 supported the changes, and that they would eventually reduce annual pension costs by 2 percent.
The Nutter administration came out to support a series of bills that would allow the city to implement a $12.3 million energy-savings project and finance it through bonds. The project would focus on reducing energy bills at City Hall, the Municipal Services Building, One Parkway and the Criminal Justice Center, which now cost $5.2 million a year. According to the administration, the changes would save $1.4 million in the first year. Councilman Darrell Clarke said he supported the savings. But he questioned whether borrowing money to save money was a sound financial decision, and floated the idea of selling off city assets to fund the project instead. City treasurer Nancy Winkler responded that the borrowing comes at "close to zero interest." The bills passed out of committee with some amendments.
The bill that would change the dreadfully-named "business-privilege tax" to the "business income and receipts tax" got committee-level approval. Planning Commission chairman Alan Greenberger testified that the new name would help send the message that "Philadelphia is a great place to do business." We're guessing he also hopes that the "business income and receipts tax" won't be the butt of countless jokes.
Follow us on Twitter and review city services on our sister site, City Howl.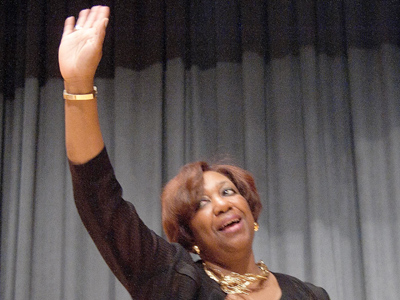 Update 4: A limerick from Brett Mandel:
There once was a supe named Ackerman
Who pissed off her mayoral backer-man
We know there's an actual Occupy Harrisburg, but today's DN editorial refers specifically to the need for voters to take a look at the automatic pay raises that state elected officials are receiving this week.
Follow us on Twitter and review city services on our sister site, City Howl.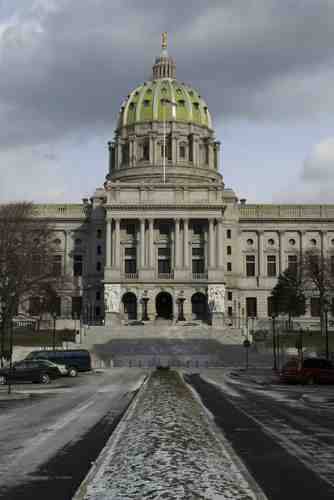 This morning we tossed out the question, what's the best way to determine the salaries of elected officials?
We asked because Pennsylvania elected officials are due to get an automatic pay raise this week. That sounds offensive, of course, given PA's economic situation, but there is a rationale for making officials' salary adjustments automatic, rather than leaving it in their hands: It reduces the risk that they'll overpay themselves (the likely outcome in Pennsylvania), or that they'll duck a risky political issue and underpay themselves, which would make it harder for folks from all walks of life to run for office.
(Important side note: It's true that many officials will be donating these raises to charity, but as Eric Epstein observes here, the raises will still count toward their pensions. He also offers this helpful reminder: "The raises are on top of defined benefit pension plans, free parking, generous health benefits, per diems, perks and PSAs.")